The Tobias Invasion: The pandering that I see evangelicals do is so sickening and egregrious, I am beyond being able to express it. But the Bible denounces this behavior, from the pages of Genesis to Revelation. Nowhere in scripture is sychophancy, which panderers are guilty of, approved. Nowhere! When someone is not righteous, you don't see men of God in the Bible bowing to him and commending him! As we know from Elisha, just to mention one prophet, men of God refuse favors from heathens who want to buy God's favor if they can. That person is rebuked--or the man of God is guilty too, complicit with him in his unrighteous acts.
Yet today we see the panderers out in full force and operating in the evangelical ministries, especially those we see on Christian TV. Many evangelicals seem to want to outdo each other, pulling their robes up over their haunches, to bow and scrape and do little dances before every celebrity who comes down the pike. Oprah and Dr. Phil, two celebrities from the corrupt world system of entertainment, are feted and adored and allowed free access to Christian TV! Why are they so approved, when these two individuals promote everything non-Christian and even anti-Christian I can name and the Bible hates? Why?
It is the Tobias Invasion we are witnessing. Tobias, an unrighteous heathen, because of his connections with members of the priestly or temple personnel, is given a room in the Temple for his use and lodgings. This happens while Nehemiah is away, back at the court of the Persian king, busily attending to pressing state matters there as the king's chief minister. When he returns and finds this ungodly heathen installed in a holy Temple chamber, he is absolutely furious, and rightly so. Tobias, by his presence, defiles the Temple, which is supposed to be holy and to be kept holy by its guardian priestly class. Nehemiah throws the ungodly bum out, kit and kaboodle. Sofa, chairs, bed, pillowcases, books, dishes, blankets, candlesticks, cutlery, wash basin, etc.,--out it all goes with him into the gutter of the street! Bad rubbish is thus dealt with, and he was definitely bad rubbish! Nehemiah was a true man of God and he would die rather than allow the holy to be mixed with the unholy. This happened during the rebuilding of the walls of Jerusalem and the restoration of the 2nd Temple.
Was this the first time the holy was mixed with the unholy? Hardly! The Jews had a hard lesson to learn in this matter. But we do too! We do too! Today we mix the holy with the unholy, when Dr. Phil goes on Daystar and plugs it to the viewers, using his worldly reputation in the "entertainment world" to advance Christian TV. WE DON'T NEED YOU, DR. PHIL, TO PURVEY CHRISTIAN TV TO THE WORLD! WE CHRISTIANS WILL SUPPORT IT AND HAVE SUPPORTED IT. YOU ARE DOING CHRISTIAN TV NO SERVICE AT ALL. RATHER, YOU ARE DEFILING CHRISTIAN TV AND SETTING IT BACK. Shame on poor Marcus Lamb and Joni Lamb for allowing this to happen. They see no difference between him and Christ, apparently. They do not discern him as an unholy man, which he is. They draw no line between their Christian ministry and the satanic world system--but God does! The Holy God of Israel does!
Other Christian ministers have spoken so commendingly of Oprah too (they actually fawn on her and try to rub off some of her Vanity magazine glamour onto themselves), which is the same thing--mixing the holy with the unholy. Shame on them too! What kind of message is this sending to the people of God, that such practices are okay with God? They will never be right with a Holy God!
This sin goes back to Cain originally (and even furthe back to Satan himself, of course, who rebelled in the holy courts of heaven with his sin of pride and presumed to make himself God and remain there, an unholy being ruling heaven!). Cain mixed the unholy--his sin-stained offering--on the holy altar of God. He thought it was okay, and would be accepted as okay by God. He was dead wrong. God let him know it, and then what did Cain do? He didn't repent, he got furious. Since he couldn't attack God, he attacked his innocent brother, who had been approved by God by offering a right sacrifice on a holy altar to God. For that Cain hated Abel, who was approved and made holy by his sacrifice, and he murdered him. So mixing the holy with the holy was committed by Cain and led to murder.
We see this sin in Nadab and Abihu. Have you ever heard the old hair cream expression of the 1950s, "A little dab will do ya!"? I oiled my own more abundant teen-aged mop back then, and no one used just a little dab, it was "the more the better," so your hair was thick with this grease before you put the tube down! And everywhere you lay your head, on a pillow or a car seat, anywhere, was soon stained with it. But in the case of the two sons of Aaron, a little dab of fire carried in by Nadab and Abihu, kindled in their censors from "strange fire," which was not the perpetual fire in the Tabernacle that God called holy but fire from another source--that unauthorized, unscriptural fire was regarded as impure in God's eyes, and He struck them dead before the sanctuary.(Lev. 10:1). Struck them dead! We might think that wasn't such a bad sin. What does it matter, fire is fire--right? Wrong! God always looks at the source--the source is everything to Him. What is the source of our religious acts of worship and service to Him? Most of the music now being performed in Christian venues, for instance, is no better than unholy fire--it makes all the difference to God, if not to our worldly, warped minds. We may be entertained, but God is not entertained! He is insulted!
We also see this sin in King Asa of Judah, who was a righteous man before God and man until one day pride grew in his heart and he decided he was so great a king and so exceptionally good a man that he could do what only the priests were commissioned and anointed by God to do: operate as a priest only could in the holy place of the Temple. The priests knew this was an outrage against God, absolutely forbidden, a true abomination, so they put their lives on the line and moved together, making a wall of flesh and bone in front of the approaching king, a ruler who had great power and could have them all executed with a single order to his military commander. They rebuked him, and tried to prevent him, nonetheless, though they must have thought they were signing their death warrants. But King Asa wouldn't be stopped by anyone human, and certainly by no legitimate priests of the Temple, he was grown so arrogant. He proceeded into the holy place with his unholy offering, and, sadly, he came stumbling out a leper! Leprosy to cover him as sin of rebellion and blasphemy had covered him! That was God's response. It is amazing God did not strike him dead on the spot for his defiling the Temple. That was mercy, just striking him with leprosy for the rest of his days. Up to then he had been a king of illustrious deeds and reputation. Up to then! Then one big misstep--and he was ruined by his own impure and unholy deed. It was a self-inflicted tragedy. Now he had to bear the curse of leprosy in the eye of all his pitying people who shrank away on either side if he ever went around in public--which he did rarely, if ever, as the Bible says he kept to his own house the remainder of his days. How very sad! God had blessed him above so many other kings, but that was not enough. He had to try to rob the priests of their duties and privileges, and for that he paid a very terrible price, though his life was spared.
Tobias in the Book of Nehemiah has already been mentioned. We can pass on to our time, and we have mentioned Dr. Phil's current "lodging" in the studios of Daystar, Christian TV, and making endorsements for it on Daystar (not to mention his face appearing on Joni Lamb's credits for her "Joni" program). Both are highly commended on Christian TV channels, TBN and Daystar, in the most shameful way. I beg to differ. They are not commendable! Despite their do-goodism, they are primary promoters of the pagan, anti-Christ, hedonistic, secularist society and culture that is defying God and His true Church today and ruining the lives of countless Americans. Yet they have been given the endorsement of these chief TV ministries and networks. Shame on the Crouches and the Lambs for this, for mixing the holy and the unholy, and I hope it is from ignorance, not knowingly! But pity the day they ever meet up with the likes of the Prophet Nehemiah, as I would not like to be there to see the hair flying (for he was known for plucking out beards and punching the people of God when they got out of line). But, mercifully, they will not meet him first, they will meet their own conscience in the dead of the night sometime, and be rebuked. They will cry and get right with God, hopefully. They will have a chance, with only the Holy Spirit speaking to them from the Word, to repent and change their ways. If they do so, they do not have to be taken to the woodshed by God, but if not in this life, then it will be at the Judgment Seat of Christ. Please pray for these dear saints who have been used so greatly by God--just as King Asa was. They have blended in a number of respects with the pagan culture and world system in ways our grandparents would not have imagined Christians doing--but it is so common nowadays. Too common! But it will not be right, no matter how many Christians of high responsibility and leadership do it.
Dr. Phil, this Tobias of a man, is not so hard to place. He uses the mind control techniques of psychology (how he likes to accuse others of mind control, of which he is a black belt master!), not the Bible. You never hear him recite scriptures or call attention to what Christ said. At least I don't recall I have ever heard him recite scripture, over a period of several years of being forced to hear him by a fan of his in my vicinity. He also uses his own psychological training and the aid of "experts" he has backstage, who are all adept in various therapies and psychologies and medical matters. This is the essence of modernism--the resort to men's knowledge, intelligence, and assumptions. Along with his psychology, is his assumption that people are "good." He is always telling people they are good, no matter how terrible they behave. He always sees a "good person," he says to them, despite how monstrously they behaved and are still behaving, destroying others and themselves too. This is the liberal doctrine of "self-esteem," which liberals concocted to manipulate students to do what they want them to do. "Good people" behave more nicely, don't they? That is the assumption. But it isn't true at all. People are fundamentally flawed with sin, and they are sinners with depraved hearts, they are not good! This philosophy of Dr. Phil's is not Christianity, it is anti-Christian, it is modernist human psychology and positivism and even Darwinian evolutionism. The atheist Voltaire made fun of the positivism of his day, with a Dr. Pangloss in one of his books whose mantra went: "Everything is getting better and better in every way and every day!" This positivism dies hard, even in the face of the realities of sin and depravity and a constantly degenerating world. Liberals, despite World Wars and more catastrophes to come, still view people this way, as we know and so Dr. Phil is a liberal too.
And didn't his mother ever wash his mouth out with soap when he was a naughty boy and was trying out his first swear words? He didn't learn his lesson, evidently, for he can swear like an Oregon logger and be bleeped again and again on his own show, but his own foul mouth doesn't bother him in the least. The other day I heard Christ's name being blasphemed on his show. It didn't bother him at all to hear Christ blasphemed. He let it go unbleeped.
Dr. Phil is a classic Tobias-type, indeed, but the present-day evangelical ministries on TV and off do not recognize what a Tobias is, though it is plainly set forth in Nehemiah. Even if some Christians are uncomfortable with his swearing, his foulness, his absolute reliance on human ability and knowledge to reform people without the aid of the Bible and of Jesus Christ's transforming power and salvation, they do not oppose him. The wouldn't dream of saying one word in reproach to him. He views them, I suspect, as useful fools, backward and ignorant religious types who have somehow made it big in the TV jungle. Instead of being shown the door, he is welcomed in, along with all his unholiness, and awarded a veritable red carpet reception into the holy places of Christian circles today! Again, shame on us!!!!

SO WE HAVE CHOSEN OPRAH AND DR. PHIL, WHICH IS TO SAY, WE HAVE CHOSEN TO ENTERTAIN OURSELVES THAT WE CAN HAVE GOOD WITHOUT GOD! IT TAKES NO PROPHET TO DISCERN THE TIMES AND TELL YOU WHAT IS HAPPENING TO US, WE HAVE THE BIBLE, AND THE BIBLE SAYS THESE THINGS WOULD BE HAPPENING. AT PRESENT, THE LORD GOD IS BREAKING AMERICA'S STAFF OF BREAD--TO BRING US TO REPENTANCE AND BACK TO HIM, THAT IS HIS MOTIVE, NOT TO PUNISH ALREADY SINFUL AND CONDEMNED PEOPLE, WHO ARE CAPTIVES OF THE DEVIL AND DO HIS WILL, NOT GOD'S. THE LORD GOD IS ALSO BREAKING THE STAFF OF BREAD IN THE MOST AFFLUENT WESTERN NATIONS WHO HAVE FORGOTTEN OR ABANDONED GOD, AND THE POOR NATIONS ARE SUFFERING TOO, PERHAPS GREATER THAN THE WEALTHY NATIONS; THIS TOO IS NOT GOD'S MOTIVE, TO PUNISH THE POOR AND OPPRESSED. LOOK WHAT HAPPENED IN THE THIRTIES. AFTER MORE THAN A DECADE OF RUNAWAY PROSPERITY (MAINLY FOR THE TREASURE CHESTS OF THE ELITES, WHO IGNORED THE POOR AND THE FARMERS STRUGGLING TO MAKE THEIR LIVINGS DESPITE LOW PRICES FOR THEIR CROPS AND LIVESTOCK), AMERICA FELL TO A DEPRESSION. THAT DISASTER CAME AFTER A LONG PROSPEROUS PERIOD WHICH DID NOT RESULT IN A TURNING TOWARD GOD; IT WAS THE OPPOSITE. PEOPLE WERE TURNING MODERNISTS IN THEIR PHILSOPHY, THE NATION WAS ABANDONING GOD. SO THE NATION SUFFERED A TERRIBLE DEPRESSION, THEN FOLLOWED CLOSE ON ITS HEELS EVEN A HORRIFIC WORLD WAR FOUGHT IN TWO WORLD WAR THEATERS, ALL ACROSS EUROPE, AND THROUGHOUT MUCH OF ASIA. AND THOSE WARS INCLUDED BOTH ATLANTIC AND PACIFIC OCEANS AS PART OF THE WAR THEATERS! DID WE LEARN FROM THAT? NO. WE CONTINUED TO TURN MODERNIST IN PHILOSOPHY AND ABANDON THE GOD OF OUR FOUNDING FATHERS. GOD GAVE US UNPARALLELED PROSPERTIY, THAT WE MIGHT REPENT AND TURN BACK TO HIM AFTER BEING GIVEN MORE THAN ANY OTHER PEOPLE AND NATION HAS EVER BEEN GIVEN. WE BECAME THE ENVY OF THE WHOLE WORLD. BUT DID WE TURN BACK TO HIM? NO. WE DID NOT TURN BACK TO GOD, WE CONTINUED TO TURN SECULARIST AND ARROGANTLY CAST GOD OUT OF OUR CULTURE, OUT OF GOVERNMENT, OUT OF OUR CHURCHES AND SYNAGOGUES, AND OUT OF OUR DAILY LIVES. WE ARE NOW SUFFERING THE ECLIPSE OF OUR WORLD POWERS AND THE DOWNSIZING OF OUR ECONOMY AND ULTIMATELY THE DEFEAT OF OUR MILITARY, WITH PERHAPS AN EVEN MORE DISASTROUS ATTACK BY MUSLIM TERRORISTS ON OUR MAJOR CITIES COMING SOON, JOINED IN BY ALLIED ENEMIES OF THE U.S. SUCH AS NORTH KOREA, VENEZUELA, CUBA, IRAN, SYRIA, ETC. WE ARE ALSO SUFFERING THE AUTHORITARIAN, SOCIALIST MAKEOVER OF OUR ECONOMY AND GOVERNMENT BY THE MOST RADICAL LEFTIST PRESIDENT THIS COUNTRY HAS EVER SEEN. ISN'T THIS ENOUGH TO OPEN OUR EYES TO OUR ABJECT AND PERILOUS CONDITION? WILL WE REPENT AND TURN BACK TO GOD? WILL WE?
Psalm 118 applies to us, Fellow Americans: We must put no confidence in man, but put all our confidence in God. Government cannot save us, and as for emergencies and disasters, you might as well be resigned to the fact the Federal Government is worse than useless. If we ever wanted to know how the government will function in any big, national emergency, it will behave exactly like it did on 9/11. IT TURNS TAIL AND VANISHES INTO UNDERGROUND BUNKERS. It runs for cover, to save itself, not us! So much for the Federal Government of the United States and the President! Meanwhile, we are left utterly exposed and helpless to attack and must fend for ourselves. That is what they tell us now to do: fend for ourselves, put away some measely amounts of food and water and find some hole to climb into "for the duration" or a couple weeks. That isn't possible, not for most people, who live in urbanized settings. There is no place to go, where one might be safe. We citizens don't have the option of bunkers and underground Hiltons such as the Government will enter at the first sign of a major attack. THAT is what all our tax dollars got us: a run-and-hide U.S. government. When it judged safe, the "government" will come out of hiding. But not until then. Isn't that a good reason to trust first and foremost in God Almighty, since human government is not going to be there for you and me when we need them most???? "He who dwells in the shelter of the Most High will rest in the shadow of the Almighty."--Psalm 91:1, NIV.
Let's not be fooled! The Devil goes to church too and claims to be a Christian.
Hitler coming out of church after a service: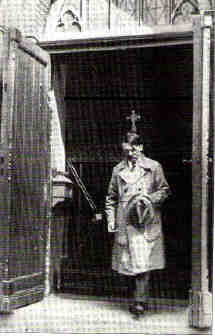 Did you know that Jesus, walking the Emmaus road with these two disciples, first used the chronological method to teach unsaved souls the way of Salvation, starting with the Old Testament, a method which the New Tribes Mission uses so effectively to reach tribal peoples across the globe? We might well use it here in America, for there is virtually no Bible knowledge in Americans to speak of, even in those sitting in the pews every Sunday! We have become the Dark Continent! How can Christians remain true to Christ without firm, Biblical foundations? They may be saved, but how can they mature and grow and produce the eternal fruit that God wants from their lives and witness? They will probably wander off into cults, or lose faith altogether, for their faith cannot really meet the tests and tribulation that surely will come. Jesus knew what His disciples would face, so he taught the disciples that walked the road to Emmaus in the very best way to give them a foundation that would not fail them during the tough times he knew lay ahead of them. Chet Plimpton of the New Tribes Mission Executive Board has this wonderful message for us revealing what went on with the two disciples, sad and dejected, on Resurrection Day, who thought it was all over with them regarding Jesus, who had just been crucified.


THE EMMAUS WALK MISSION STATEMENT:
Jesus Christ first, and all the rest will fall into line.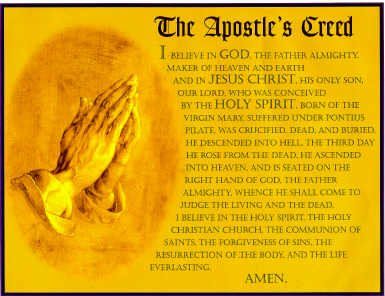 "Sic Semper Tyrannis," "Thus Ever to Tyrants"--Virginia's State Motto, which present-day Virginians do not follow any longer, but it still expresses the integrity and patriotism and love of freedom that burned bright in their forefathers, qualities of character that we should all seek to emulate as Christians living in America.
Spiritual or otherwise, there is only freedom and liberty in the Lord Jesus, deliverance from all bondage, sin and death. Tyrants have no role to play in His kingdom. God alone is Sovereign over the earth and also America. We need no other King and Master. All our freedoms and rights come from Him, and what man has given us, man can take away (as we see in America, our freedoms eroding day by day due to court fiats and also oppressive bills of state legislatures and Congress and executive orders of the Barack Hussain Obama). Beware a leader whose followers in the Washington community talk glibly of him being a "god." He is no god, no divinity. He is a false god, if he is anything of the sort. He is also nationalizing U.S. banks and industries and suborning freedoms in every area of our society, freedoms the Constitution and the Bill of Rights guaranteed us and also acknowledged were inalienable rights granted us first by God Almighty our Creator. This "god" cares nothing, obviously, for inalienable, God-given rights of man. He will take God's place, as a usurper, not legitimately, employing unjust laws and sheer executive power of the presidency to do so.The damage he he and his crew in Washington and at the White House are doing to this once free nation may be irreversible. We may never recover our freedoms and liberties in America.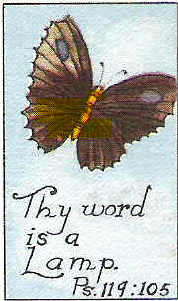 (c) 2008, Butterfly Productions, All Rights Reserved

All Emmaus Walk Students, to earn a Certificate, must complete the 10 required courses and the 6 elective courses, and must write to the Founder and Director regarding their candidacy and for access to answers for quizzes and tests. center>
The Previous Home Page can be accessed at:


SOME UPCOMING THUNDERBOLTS TO SHAKE YOU OUT OF THE COMFORT-CRAVING, SLEEPING CHURCH AND BACK INTO FULL CONSCIOUSNESS:
When you see the likes of Barak Hussain Obama claiming the is a Christian and yet lying to the American people with almost every word that passes his lips, it is confusing people as to who and what is a Christian anymore. People tend to believe the claims, even though the life does not back up what is claimed. Claims are being judged sufficient proof of being a true Christian or not. There are no longer any "false" or "counterfeit" Christians. All Christians are equal, good or bad. This is false teaching. The Bible is not written in the gray zone, where there are no absolutes, where good can dialog with evil and seek to learn from evil (this is the contemporary spirit of compromise that holds that all contrary points of view are equivalent and hold equal weight in the arena of ideas, a spirit that puts saints along side sinners and on the same footing, that seeks to find common ground between Hitler and the Jew murdered at Auschwitz, the terrorist and his victim).
"What is a Christian?" from the Herald of Hope Paper, 1975, with "Who I am in Christ," from God's Word, Scripture by Scripture, 1-69. We also want to include portions of "The Power of the Blood," by H. A. Maxwell-Whyte as a companion piece to T. L. Osborn's message on the Blood of Jesus Christ. In connection, Billy and Franklin Graham's latest Decision magazine carries the theme, the Blood of Christ, in all its main articles. We also want to feature "Modernism and Tomorrow's Church," by Y. L. Ylvisaker, which is a companion piece to our already featured, "Good Without God," by W. E. Sangster, which shows the disaster for the church and for Christian faith in individuals and in society when goodness is divorced from morality, God, and the Bible. You should check out at the library or buy at Wal-Mart or a Christian bookstore or order on-line the video or DVD film, "Time Changers," which deals with the same issue ina most dramatic way you will find fascinating, as it uses time travel to make its point more graphic, by transporting a church school professor with a book of theology about to be published to the streets of today's Manhattan urban jungle. His discoveries conclusive convinces him his theology is wrong, that good cannot be divorced from God and still remain good. TBN also has this film on DVD, and I received a copy from them.