GOD SAYS TO CONGRESS AND THE UNITED STATES OF AMERICA: ENOUGH IS ENOUGH! Congress has CHOSEN NOT TO PASS (and there were so-called "Republicans" voting against it, or playing the coward and abstaining or not showing for the vote) the Marriage Amendment Act, upholding traditional marriage of one man and one woman, instituted by God Himself with Adam and Eve, the progenitors of the human race. This is God's truth, preserved in the Bible, the Word of God, afffirmed as such by the U.S. Congress. How can Congress, affirming the Bible as the Word of God, withhold its endorsement of the divine institution of marriage and defend its sanctity? This lawless, runaway Congress during President Bush's two terms has to be under the powers of sorcery, the spirits of the New Age which is anti-Christ, blasphemous, immoralist, hedonistic, and drug-ridden, humanistic, yet somehow hating man as a species and preferring the animals over mankind.
This Congress is so weak and cowardly and compromised that it cannot even vote through a bill or amendment to defend the glorious Stars and Stripes, the U.S. flag, against desecrators (calling it "free speech" when they trample it, burn it, and rip it to shreds in public "demonstrations" (riots), the very flag which we send our soldiers to fight and die for! If this Congress has its way, English will not be the official language of the U.S. If this Congress has its way, social security benefits will be granted to illegals. The list goes on an on, infamy after infamy.
This Congress would never have found the resolve sufficient to fight King George the tyrant and press on until we had gained our freedom and independence as an American people. This Congress stands for nothing but its own political expediency and privileges and ambition. A Congress that cannot defend morality, the U.S. Flag, marriage as sanctifed by God, the right to life of the unborn that God himself sanctioned, English our Mother Tongue, and social security for legal citizens only--this Congress has become a worthless institution, according to the Word of God. Forget the Constitution--it was warped beyond restoration years ago by the acts of Congress and the rulings of the Supreme Court! This state of America is the ultimate insanity of a demoralized, amoral U.S. Congress--it authorizes and institutes what God declares vile and abominable in His holy Word, and thinks it can do so with impunity! It, along with the Supreme Court justices, has become anti-God, anti-truth, anti-man--if the truth be made known. George Washington would climb up and rip his statue off the top of the Capitol Rotunda and everywhere it is found today in Washington. If you know anything about this man's anger against unrighteousness, it is a "done deal" that he would order the Washington Monument torn down, if he were back here in America, able to see what we have done to the nation and to the government in the name of tolerance and diversity and multiculturalism and Oprah's "you can have it all" gospel of narcissism. God will have to deliver us--even though we have strayed so far there is no turning back on our own volition. Only God is our hope now, for men have betrayed us into the hands of vile men and vile women.
One incident that David Barton of Walbuilders relates about George Washington tells something of Washington's righteous character and what he expected in the behavior and the level of civility of people around him. It was a dinner that George Washington and his wife Martha were having as hosts to a number of invited guests in their beautiful home, and everything was proceeding in a genteel fashion as usual (or so it seemed to everyone but the host) when suddenly Washington's knife and fork crashed with a shocking noise into his plate that startled the whole company. There was a terrible silence, as Washington's steely, gray eye fastened on the man responsible for the profanity he had heard uttered at his table, and the dinner ground to a standstill. No one could say anything but simply stare at the man responsible for Washington's indignation. The man who had uttered the profanity realized he had crossed a dreadful boundary and apologised. Only then did Washington take up his eating utensils, and, the incident branded in the memories of all, the dinner resumed.
Can you imagine this happening today at any Washington state dinner? It wouldn't happen. State dinners in Washington are full of profanity and obscenity, and no one says a thing against it.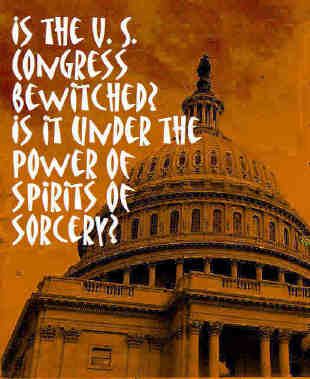 HOW CAN WORLD TERRORISM ORIGINATING IN THE JEHADIST-SUPPORTING ISLAMIC COMMUNITY BE IGNORED BY THE DEMOCRATS AND THE U.S. ESTABLISHMENT? IS THE U.S. GOVERNMENT, AS THE OLD SONG GOES, "BEWITCHED, BOTHERED, AND BEWILDERED"? When the Muslim terrorists hijacked U.S. commercial aircraft and used them to make applesauce of the Big Apple and the Pentagon, 9/11, after the initial shock wore off, was completely dismissed by the Democratic leaders as irrelevant or a mere anomaly, almost as if it never happened!
I have to wonder what goes on in the psyches of Congressional legislators, who once were mere minutes away from being wiped out by a terrorist commandeered commercial jet (and would have been killed in a fiery cataclysm, if the Christian men on board had not bravely fought the terrorists who had taken over the plane and sent it on a suicide dive into a Pennsylvania field). You and I all saw the fine show Congress put on for us. These Congressmen and women stood on the steps of the Capitol gamely singing, "God Bless America", though many were no doubt gritting their teeth in the effort. How could they then go back in and work on legislation that they knew would help destroy America, joining the terrorists, in effect, if not philosophy? How could Democratic leaders in Congress after 9/11's close call at the Capital forget how they stood on the Capitol steps and sang "God Bless America," and then during President Bush's first term continually fulminate against morality and Christians and attack America's efforts to give Iraq the first free election in its thousand years or more of Islamic repression?
How could these same Democratic leaders, including Hillary Clinton, vote for a war in Iraq, which they declared was right and necessary, then become turncoats denouncing it as the President's unilateral and arbitrary gambit while the Congressional Record shows they voted and even spoke unreservedly for going into Iraq?
Hypocrites! Liars! Their own speeches show conclusively they are conscience-seared reprobates, utterly without shame. They cannot help lying to us, the American people, even when the lies are publicly recorded. Secure in their party machines and the fanatical support of their special interest, radical groups within the Democratic Party, they hardly care what the record says about them and their Benedict Arnold-like shifts from pro-Iraq war to anti-Iraq war.
In connection with the bewitchment of the Congress and Whitehouse, in the report from the American Center for Law and Justice (ACLJ), given by Jay Sekulow its chief counsel, we learn that U.S. military regulations now forbid the use of the name of Jesus by chaplains! Imagine, our military, committed to the defense of our nation, forbidding trhe name of Jesus to be named by U.S. chaplains in prayers! We are becoming atheist and anti-Christ, in the U.S. armed forces, while accepting Satanist chaplains at taxpayers' expense! What good will the armed services be if they reject the name of Jesus, the only saving Name on earth? As our Founding Fathers well knew and affirmed, we are not saved by our armed might, which has become known as the U.S. Army, Air Force, and Navy--it is God who is our Mighty Fortress and Strong Tower. We do not trust in chariots, or the strength of men, but in God we trust! This is written in the U.S. Capitol House of Representatives, over the doorway on the inside of the august chamber. Will it be excised, by order of the Supreme Court? Obviously, this policy of excising the Name of Jesus from our public military ceremonies and chaplains' prayers will doom our defenses. They will be perforated like a sieve, and anyone who wants to will be able to penetrate into our nation with weapons of mass destruction. Any nation that rejects God will be destroyed! You can bank on it (as history proves it, over and over). We too will be destroyed, if these military rulings are not overturned by a Presidential decree. Contact the ACLJ to sign a petition and also send letters prepared by ACLJ to your representatives in Congress and also to your state governor (if American). This movement spearheaded by an atheist (actually, secular humanist) organization called "Freedom From Religion," must be stopped. You can make a difference now, in the battle to save America from all our foes, inside and outside our borders. If we allow this to happen, we might as well concede total victory to the secular humanists over America, and surrender unconditionally.
A recent, typically sophisticated and idiotic Today show featured astrology, and it was recommended for "fun" and low-key, "harmless" advice. The blonde little missy serving as hostess also showed Nancy Reagan with her husband President Reagan, and told how she had frequently consulted astrologers to aid her husband in his presidency. What a shame to our country she brought upon us! Did she ever repent and apologize for this outrage? I have not heard of it. She compounded her bad example by going before the cameras in promos for stem cell research, using human embryos! What a terrible example she was to the younger generation on these two counts. I was a user of horoscopes when I was living as a backslidden Christian, and one of the very first things the Lord told me that had to go in my life was checkstand horoscopes! It was such a little thing in my view, which I picked up at the checkstand of a store--but God made it clear to me that it had to go, or else! Not wanting to risk losing Him, I obeyed his command, and over twenty years later He is still in my life as Lord and Savior. But what if I had refused? What if I had made lame-brain excuses and continued to pick up those "harmless" horoscopes at the store checkout stand? I would probably have gone back into the world, and died there, and at this moment would be in the flames of hell along with all the astrologers, psychics, witches, and sorcerers of the past! The hostess of the Today show--she would do well to consider the warnings in scripture against witchcraft in all its forms and manifestations. None of them is harmless--for they doom a soul to hell, or the Bible is lying.--Ed.

FULL-BLOWN SECULAR HUMANISM THRIVES IN IGNORANCE LIKE HIV VIRUSES IN A PETRI DISH AND PREYS MOST EFFECTIVELY UPON THE IGNORANT YOUNG OF AMERICA. AMERICAN YOUTH DO NOT READ, THEY WATCH VIDEOS AND TV AND PLAY VIDEO GAMES OR GO TO THE MALL THEATERS AND HANG OUT. THEY DON'T THINK FOR THEMSELVES, THEY JUST MINDLESSLY, UNCRITICALLY, CONSUME HOLLYWOOD'S TRASHY PRODUCTS. THEY CANNOT HELP BUT SWALLOW THE WHOLE MINDSET OF THIS FALLEN WORLD RULED BY SATAN, BECAUSE THEY GIVE THEMSELVES NO MEANS OF COMPARISON. BUT WHERE THERE IS TRUTH AND FACT, SECULAR HUMANISM BEGINS TO WITHER AND DIE, WHEN ITS PRIMARY FOOD SOURCE, IGNORANCE AND PREJUDICE, ARE DENIED IT: Joyce Meyer's magazine, "Enjoying Everyday Life, December 2005, pages 7-8, carries David Barton's fine article, "Founding Fathers and Deism," which should settle the question on the side of truth and fact whether the Founding Fathers were Deists or not.

CENTER FOR WOMEN IN CHRIST AND ISSUES REGARDING WOMEN:
FEMINISM WAS GIVEN A PARTIAL BIRTH ABORTION BY SECULAR HUMANIST FEMINISTS. IN OTHER WORDS, FEMINISM WAS DELIVERED BRAIN-DEAD, PUNCTURED BY THE ANTI-CHRIST SPIRIT OF THIS WORLD. IN THE HANDS OF SECULAR HUMANIST, ANTI-CHRIST LEADERS, FEMINISM HAS UTTERLY LOST ITS MORAL COMPASS (AND ANY LOGICAL RATIONALE IT MAY HAVE HAD) AND HAS BECOME ANTI-WOMAN, ANTI-FEMININE (HAVE YOU SEEN THE BREASTLESSNESS (WHICH IS GLORIFIED IN FEMINIST CALENDARS FEATURING BREAST CANCER SURGERY SURVIVORS), THE MOUSTASCHES, THE LACK OF ANY MAKEUP, THE BOYISH, PAGE BOY HAIRSTYLES, THE UNISEX WARDROBES OF THE FEMINISTS?)AND ANTITHETICAL TO WHAT GOD CREATED HER TO BE. IT IS HARD TO CONCEIVE A MORE UNAPPEALING, FRAUDULENT EXCUSE FOR A HUMAN BEING THAN THE EMANCIPATED FEMINIST OF THE 21ST CENTURY: So far, feminists in America have missed their grand opportunity to advance the cause of oppressed women, by rejecting Christianity and Christ and the Ten Commandments. The rights of women were principally championed by Christian women, not Islamic, secular-humanist, atheist, or amoral women! Christians led the way to a beTter life for women--but the movement was hijacked by radicals, and thus was perverted into what we see today.
Only Christ and Christianity have advanced women on this earth--as history records again and again. Atheism, socialism, secular humanisms, feminism, have done next to nothing for bettering the condition of women. Feminists are not emancipating themselves; rather, they are enslaving themselves and other women to a liberal agenda that does not advance women but makes them political porcupines you better keep clear of (and selfish, self-centered ones at that!).
Amoral, profane, haters of men and marriage, arrogant, they have doomed their own gender if they get their full way. What an irony! Emancipation that oppresses and degrades! These same feminists would be enslaved, even executed by their allies--the men who wield power in patriarchal Moslem societies and nations. Yet these feminists of America run to patriarchal Muslims who would treat them worst of all, rather than acknowledge and be thankful for the freedom, value, and fulfilling life only Christ can give a woman!
ULTRASOUND IS A TWO-EDGED SWORD, CREATING A GLOBAL FEMALE GENOCIDE: Ultrasound has changed the minds of many couples that were considering abortions the moment they saw the baby (not the mass of tisssue an unborn child is claimed to be by Planned Parenthood quacks) sucking his or her thumb and making other movements that clearly showed a little human being inside the mother's womb. A child can even recognize his or her mother's voice! This is a wonderful technique, but it has also been used to determine the sex of the child, and in the East the preferred sex is almost always male. Females, detected in the womb by ultrasound, are quite often aborted. Girls are too expensive to raise, since they require dowries in Eastern marriage arrangements, and then they leave the home with the money and transfer it to another household. Boys, on the other hand, can be counted on to support their parents in old age. Consequently, girls are most often aborted, and the boys are kept. Huge numbers of boys are born, and few girls, in many Eastern countries. This amounts to female genocide. Have the human rights organizations done anything to showcase this at the United Nations? The silence of such organizations is deafening. In China something like 60 million young men will never be able to marry--there are no young women available, they have been aborted. What a calamity! What will these young men do? When they realize what they have been denied, they will be unconrollable. China will become an imploding society that will engulf the whole world in its convulsions. Rather than lost total control, China's dictators will have to send these millions of totally frustrated young men off to war as cannon fodder in the Middle East, or face them at home. You can just guess what will be their decision!
Again, if the point still isn't clear: China's one child policy has also led to the killing of countless unborn babies, most often female. There are now sixty million young men in China who will never know a normal life and marriage. How will they cope with that? What are the human rights activists and feminists saying about this? Hello? Hello? I say there, hello?--Ed.

Big Bad Corporations Spotlight Center:
"Weighed in the Balance, and found Wanting: FEBRUARY'S WOLF IN SHEEP'S CLOTHING: BELO CORPORATION, DALLAS, TEXAS!
THE EMPIRE OF LIES IS ALIVE AND WELL, AND KNOCKING DOWN YOUR FRONT DOOR!
I loved it when I heard certain ultra-Orthodox Jewish rabbis in New York call the United Nations "the house of lies." That is better than anything Bolton said about this incurably corrupt, inept organization. The Israelis call the Arab states something very similar. Israelis, who have them as close neighbors, call the Muslim Arab states "The Empire of Lies." That they are! But in America we also have an empire of lies too and suffer daily, hourly, prepackaged, meticulously-orchestrated assaults on our moral fabric as a nation by the falsehoods, fabrications, slanders, plain nonsense and stupid facts, and pornographic filth it constantly spews forth.
This empire of lies is centered in the entertainment and news media industries.
I ask you not to support Belo Corporation, with all its affliates and subsidiaries, for this Hydra-headed corporation (masquerading as a caring, compassionate, cultured, philantrophic corporation with its grants to public TV feature series and community interests) shamelessly promotes gratuitous violence and lies and hatred of Israel and the spread of violence in America through their broadcasting. They have done this for many years, and we are reaping the bitter fruit daily of their subsidiary KING TV, broadcasting from Seattle, Washington.
People are dying, brutally murdered, I firmly believe, due to their hateful content broadcast almost daily against the military, against Christians, against Jews and Israelis. We have had a Muslim man from Eastern Washington attack the Jewish Federation headquarters in Seattle, shooting and killing innocent, defenceless women workers (one of them pregnant), and yet the liberal Jews in Seattle are so in league with secular humanism that they cannot connect the dots and fail to hold the local news media responsible to any degree for instilling this virulent hatred in Muslims for Israel and the Jews. If they had done this same thing to Americans of Norwegian descent, we would probably see attacks on shopkeepers in Poulsbo, and Ballard, and Edgewood, and other Norwegian-settled communities of Washington State--for the effect is to demonize the innocent people they are continually attacking until someone with a weak grasp on reality, or someone with a fanatical streak, flies off the handle and commits atrocious crimes against the people the press and media have demonized.
We in Washington State have lately witnessed an entire family murdered by a neighbor man, the two little boys, mother, and wife of a soldier fighting for Iraqi freedom over in Iraq were massacred and the house burned down over their bodies! Yet no one dares called the media the true culprits. No one dares call the local Seattle-based TV news channels and their hateful parent in Dallas, Belo Corporation, to account for their constant attack on the U.S. effort to bring democracy to a people who have never known anything but brutal dicatorship for decades.
Our TV networks and news channels are responsible before God for this, and so I name them for what they have done and are still doing, thinking themselves immune and able to do these evil things day after day without a God in heaven taking careful note of every lying and hateful word they give their puppet-like news anchors and newspeople. Lord God, you have seen it. Bring the owners and supervisors of Belo Corporation of Dallas, Texas, to accountability soon. Take away their standing on Wall Street in the Stock Market. Remove their chief investors. Reduce their ratings. In Your Holy and righteous Name, Jesus, I pray this. Amen!
Celebrity Center:
HOW A RICH, TALENT-BLESSED FOLK SINGER CAN GO FAR WRONG AND FAR LEFT IN AMERICA:
A reprobate American, Joan Baez has recently praised the Dixie Chicks as "brave." What earned them this accolade from her at the Grammy awards presentation? Well, the "Dixie Chicks" had gone to Britain and used the opportunity to bash Bush to their little, shriveled hearts' delight. That earned them the plaudits and praise of the likes of Ms. Joan Baez, the bisexual siren of the 1960s Woodstock generation! As Lars Larson played the clip of her little anti-American speech praising the anti-American Dixie Chicks, I listened with amazement, that anyone could be such a fraud as she has made of herself! She should run alongside of Mr. Baraq Hussein Obama, as he stands on a platform promoting partial birth abortion, gay rights, same-sex marriage, and the striking down of parental rights over their own children. In these last minutes before the Rapture, we can see the fast progression, or devolution. of human beings into devils. These people may look and talk like human beings, but they are fast turning demons in human form. The Anti-Christ, whom they will serve, even as they prepare for him now, will be an arch-devil in human form. Later in his administration as world-ruler, Satan will take up actual residence in him, possessing him, and he will become totally devilish. That is the monster that Joan Baez will praise, if she lives long enough, just as she has prepared herself by praising the Dixie Chicks.
HOW BEST TO REACT TO THE ANNA NICOLE SMITH TRAGEDY AND SOAP OPERA LIKE MEDIA FEEDING FRENZY SURROUNDING HER DEATH: The news has been full (as a garbage truck is full to overflowing) of Anna Nicole Smith's death and embalming and being shuttled from this place to that place. We are all aware of it, whether we want to know about it or not. She is the sign, to my thinking, that we have not learned a thing about the true meaning of her life and death. She has no doubt (in my mind) gone to hell to join her son here (who seems to have died, like her, from a bad concoction of drugs), and no one seems to care (most Americans no longer believe in hell and the Devil anyway). She was a sort of clone to Marilyn Monroe, whom she copied continually as her idol. She seemed to think that her highest destiny was to be a sexpot, a Playboy's "playgirl" and stripper with unlimited millions of dollars, who pursued the bright lights and the adulation of lustful men (no matter how old)--and she ended taking one drug cocktail too many and choking on her own vomit in a million dollar luxury hotel suite in Florida. Did no one try to warn her? I have neard of no one who warned her. She was a wasted, misdirected life that could have known real purpose and meaning and joy in Christ--entirely thrown away on the Devil and the world. What a terrible waste! But blind and celebrity-mad, lusting America does not think so! America is mad about gossip and sleezy scandals of the celebs, and every news channel features Anna Nicole Smith, also giving us mug shots of the two scumbags (one black haired, the other blond) fighting with their high-pay lawyers in a paternity wrangle, not over the child so much as over the umpteen millions involved in the dead mother's estate.

Do the two contending "fathers" of the child care about the surviving daughter? Not a bit! They only want the immense amount of money, which will take them to hell too to join Anna Nicole and her son. Let the Devil lose the next round. Let the daughter be saved! Pray for her--that she not be caught up in the same drug-sex-glamor trap her mother was caught in and died in. Have compassion for the innocent daughter--the only innocent person involved in this scandal--don't just watch the endless TV shots showing the wretched Anna Nicole exposing practically everything of her breasts in picture after picture. Turn this garbage off and open your Bible, read Proverbs, and pray for these two men fighting over the money, and for the innocent baby daughter. What is worse than these two men and their lawyers is the U.S. media and the sleazy pulps and celeb magazines which are profiteering, to the tune of mega millions, off the wretcheness of this woman and her son, not to mention the surviving daughter. I cannot imagine an industry so cold and callous and hypocritical as the U.S. media and entertainment industry. Low animals can not be expected to act according to their consciences, for they have none. Our media and entertainment industries have people with consciences, but their consciences are obviously seared, and they are reduced to animals--smiling, lying animals, using every means to make money, no matter how untruthful and hurtful to innocent people.

THE BEST-KEPT SECRET IN THE U.S. PUBLIC SCHOOLS IS FINALLY OUT OF THE SECULAR HUMANIST'S CLOSET: A BRITISH CHRISTIAN ALMOST SINGLEHANDEDLY STOPPPED SLAVERY IN ITS TRACKS!
In school did the instructors tell you anything about the courageous, indefatigable 19th century British parliamentarian who almost singlehandedly ended slavery in Britain and the British empire? Chances are, you never heard of him in school, and if you did, it was only a fleeting reference.
Now it is time to pull back the curtain secular humanists have long drawn over the history of slavery and the hero who, like David the shepherd boy, confronted it and brought it crashing down!>
This latter-day, heroic David was William Wilberforce, and he knew John Newton and revered him after he accepted Christ and repented of his evil life of slave-ship captain and became a humble country parson serving a God-fearing, Bible-based congregation the rest of his life. John Newton, on the other hand, saw great promise in the sickly Wilberforce, and encouraged him to press on. Wilberforce, who had investigated the slave trade in Britain, going by night with lanterns to see for himself what was going on in the ports, hated it passionately, so that he could not live except he do something to end this terrible inhumanity against man. It took him over twenty years of furious debate in Parliament before the nation's lawgivers were moved to end slavery once and for all. If Britain had not done this, America might have continued decades longer with slavery as an institution. Slavery was extremely profitable (exactly as abortion is extremely profitable in America), and to give it up was like asking the nation to give up its iron industry, a mainstay of the economy of that time. But Britain did give it up, and not only survived, but thrived as never before. America finally did give up slavery too, and thrived as never before. Yet slavery has now come to be one of the most profitable and widespread industries in the world. It exists in the form of sexual gulags, the traffiking of young girls, women, and even boys in a highly organized, international sex slave system that affects every nation on the earth, enslaving and degrading and eventually killing millions. This slavery too must end! We need another William Wilberforce to stir up the dead conscience of Christians and the non-Christian world. Slavery is alive and well in Sudan, where the Muslim militias attacking and enslaving mainly black Christian boys and girls are supported and supplied by the Islamic government in the capital and Islamic hellhole Khartoum (though they deny it to Amnesty International and others who like Franklin Graham who are fighting to help the enslaved Christians from Dafur, southern Sudan, regain their freedom). Rod Parsley of Breakthrough Ministries, Columbus, Ohio, is especially effective in buying the freedom of these enslaved Christian boys and girls, and reuniting families split by Muslim militia raids on their villages. Slavery exists in other Muslim countries as well. The Arab oil states can afford to bring in millions of women from the Philippines to work as maids--but they are often abused, sexually molested, and beaten by their Arab employers who do not respect these hired foreign Christian women. It is a scandal what happens to these poor women who are forced by a low economy in the Philippines to leave their families and homes to go to Saudi Arabia, Kuwait, Egypt, and other Muslim countries to work and then suffer from rapacious, lustful employers and their sons. How many human rights organizations care about these women? It is sometimes reported on the BBC about the most egregrious cases of abuse, but there is virtually a blackout (imposed by a sort of conspiracy to say nothing) about them in the press. It is a non-problem, as far as the secular human rights watchdog organizations are concerned, or we would be hearing far more about it--not just an occasional report.
You can learn about William Wilberforce and his epic struggle to end slavery by seeing the newly released film February 23, "Amazing Grace," produced by Ken Wales, who was given his start by Walt Disney. This film will embolden us, it will be a life-changing experience for all of us, making us fight for the unborn and the sex slaves of the international sexual gulag, not to mention the Filippino maids in the Middle East and the enslaved black Christians of southern Sudan (Dafur).
The story of William Wilberforce, written by Ken Wales, producer of the movie "Amazing Grace," is available too at your bookstores. It is called" The Amazing Grace of Freedom," by Ken Wales.
WILL THE CLOCK OF CIVIL RIGHTS BE REVERSED IN AMERICA AS IT IS REVERSED IN MUSLIM NORTH AFRICA AND AFRICAN SAHARAN COUNTRIES? WILL THE UNITED STATES OF AMERICA BE ENSLAVED UNDER THE WHIP OF AN ISLAMIC SLAVEMASTER? THERE ARE TWENTY SEVEN MILLION SLAVES WORLD-WIDE, ACCORDING TO KEN WALES, AND IF IT IS FLOURISHING IN OTHER COUNTRIES, IT CAN ALSO EXIST HERE! WHERE ARE ALL THE ABDUCTED CHILDREN IN AMERICA GOING? WHERE ARE THEY? SOME ARE, WE KNOW, IN BANKOK'S CHILD BROTHELS WHERE U.S. HOMOSEXUALS GO TO ELUDE U.S. LAWS AGAINST PEDOPHILIA, BUT WHAT ABOUT ALL THE OTHERS? ARE THEY LANGUISHING IN MIDDLE EASTERN COUNTRIES OR IN AFRICA SOMEWHERE? OUR GOVERNMENT WON'T TAKE THIS TRADE ON, AND FAILS TO EVEN LOOK INTO IT--IT LOOKS THE OTHER WAY. WE ARE A RECRUITING GROUND FOR SLAVERS, WHO BUY AND SELL AMERICAN CHILDREN, FROM BABIES TO TEENS, THEN TRANSPORT THEM TO COUNTRIES OVERSEAS. THEY ARE NOT KILLED RIGHT AWAY, BUT ARE TORTURED, AND MOLESTED, AND WHEN THEY DIE, MORE ARE SHIPPED IN. THIS SEX GULAG IS WORLD-WIDE, AND AMERICA SUPPLIES MANY, MANY THOUSANDS OF INNOCENT CHILDREN TO IT YEARLY. BUT SLAVERY IN AMERICA? Yes! Unthinkable as it now is, it can happen here too! It was here at one time, and it certainly can come back--given the Islamic reconstruction of America after its defeat of secular humanism.
Islam, which enslaves its own people under the Sheriah, the Islamic civil, moral, religious, and governmental code, enslaves everyone else too--persecuting, killing, and subjugating Christians and Jews wherever it can. The Sheriah, when implemented by the clerics, becomes a Theocracy. Iran is an example of an Islamic "Republic" or Theocracy. Clerics rule all of government and society. Only one relgious faith is tolerated and promoted--Islam. Only one mode of dress for women is tolerated--Islamic from the neck to the ankles, with the head scarf clamped in place like a helmet. Only one moral code--Islamic. Only one Word of God is preached--the Islamic Koran. Only one "church" is allowed to assemble or build houses of worship--Islamic. Only Islamic courts try civil and religious cases. Only Islamics get the best jobs. Only Islamics get the best contracts in business. Only Islamics (hey, men, how about this great way to promote domestic tranquillity?)...are allowed four wives, and unlimited offspring by those women (Osama bin Ladin, despite his busy schedule plotting terrorist attacks on America, has fathered over twenty little bin Ladins, it is reported), and the freedom to say, "I divorce you," to an unwanted wife and then the freedom to take a younger, prettier wife in her place. Mohammed married a nine year old girl, younger than even the discredited, movie-making satyr, Woody Allen, would have run off with!
Only Islamics can kill an innocent person (a wife, a sister, a mother, who are doomed by just one word of any man of the household, however young, questioning their virtue) and be counted honorable and a defender of Islamic society and family--this is called "honor killing." Only Islamics can attack and steal the money and property of non-Muslims people and not be prosecuted and brought to justice. Only Islamics can kill non-Muslims and fade back into their respectable Muslim families and not be reported for committing murders Islam does not call crimes, since Islam teaches that Christians and Jews are monkeys and swine who do not possess the right to live, since they are not human beings. Only Muslims can kill former Muslims who converted to faith in Christ, and dismember them and then take the inner organs and parade them through the streets of their towns and cities (such as they did not long ago in Ramallah, according to Walid Shoebat).
Even proud and free and democratic America will face the return of slavery, just as it is flourishing today in Sudan and other Moslem countries. Our laws will be changed to the Sheriah, and it will become legal to enslave Christians and Jews, making them work for nothing in appalling conditions, and even rape and maim them, all without censure by the Moslem clerics. They will be sold again, in slave markets set up in American cities, or offered on the Internet. America will become a 7th century Islamic society after the Islamic theocracy takes over. This appalling, frightful fate will engulf Europe before America, but it will happen here too--unless there is a great Third Awakening of the Christian Church, a nation-wide repentance and revival of faith in Jesus Christ--the only Lord and Savior God has offered the fallen world--who is the only source of our civil and religious freedoms and liberties (a fact which is attested in countless official charters, constitutions, and documents, and even Supreme Court rulings and the statements and Bible inscriptions inscribed in the stones of official buildings of the U.S. Capitol). Secular humanism has prepared the way for the takeover of America by the Islamics--and they will hand America to them, just as they are handing America to them right now in California (where children in some school districts are required to say Muslim prayers and study the Muslim religion, but not Christianity).
NO TREATY OF WESTERN NATIONS WITH MUSLIMS IS WORTH THE INK AND THE PAPER USED TO MAKE THE TREATY! There can be no co-existence between Islam and the West, between Islam and Western governments and democracies, between Islam and Christianity, between Islam and Judaism. Islam itself forbids such a co-existence. Howso? "Hudna treaties" are treaties signed by Islamic representatives with UN officials and Western ambassadors and equally gullible U.S. Secretaries of State, but "hudna" is an Islamic code term that signifies "temporary" and "non-binding." Whatever treaty an Islamic signs, he does not mean to keep. He signs it to buy time to recoup his resources and weapons in order to launch the next assault and attack. Hezbollah is doing this at this very minute in southern Lebanon, rearming to attack Israel with Iranian and Russian rocketry, even while it is assaulting the Government headquarters in Beirut to create a diversion and draw attention away from its chief objective, the next attacks on Israel's northern territories.
It is foolish for the West to think that this doctrine of "hudna" does not operate. The Road Map of Peace is based upon an absolute fallacy, that "hudna" is not an Islamic doctrine and policy. The Road Map to Peace, or any such attempt to bring Islamic states and rulers to the peace table with Israel and the U.S., is based on a sheer misunderstanding that dooms the peace fromt the onset. At this moment (February 20, 2007) the U.S. is moving to reestablish the Roadmap to Peace, which really amounts only to the slippery slope to captitulation of Israel into the hands of its Muslim foes and enemies.
CANADA IS A SECULAR HUMANIST SOCIETY, BENDING OVER BACKWARDS TO PLACATE THE FANATICS OF ISLAM: The immigration office of Canada has recently turned back from its border a Christian and a former Muslim terrorist, now turned a highly reputed authority on the Muslim agenda, preferring to remain in ignorance and danger to facing the issues square, front and center. Canada is doomed, by such ignorance and refusal of the facts about Islam! I would move, if I were Canadian! America too is surely doomed, if we do not face the facts which former Islamic terrorists and Arabs who were Muslims are able to tell us. Do we want Dearborn, Michigan, to be our U.S. capital? It is well on its way to supplanting Washington, D.C., with the full compliance of the F.B.I, Homeland Security, the Presidency, and the U.S. Congress. There will be slaves bought and sold in Dearborn, Michigan, and we will watch and see nothing will be done to stop it, because America has, at the top, already bowed to Sheriah Law and the Islamic theocracy created by Mohammed and his followers.--Ed.

ROMAN HISTORY IS BEING REPEATED, EVENT BY EVENT, MOVEMENT BY MOVEMENT, IN 21ST CENTURY AMERICA. HAVE YOU READ ROMAN HISTORY--IT IS ABSOLUTELY UNCANNY HOW SIMILAR WE ARE WITH THE ROMANS. ROMANS WERE PRACTICAL, WITH A PRAGMATIC PHILOSOPHY OF WHATEVER WORKS IS RIGHT. MOST AMERICANS ARE PRACTICAL, SUBSCRIBING TO THE SAME PHILOSOPHY. ROMAN WERE SURPASSINGLY GREAT ARCHITECTS. AMERICAN ARCHITECTURAL AND BUILDING HAS BEEN THE GREATEST IN THE WORLD--UNTIL JUST RECENTLY NO OTHER NATION COULD EQUAL OUR PROJECTS. AMERICANS ARE ADDICTED TO SPORTS AND GREAT SPECTATOR EVENTS, ROMANS WERE ADDICTED TO SPORTS AND GREAT SPECTATOR EVENTS (THEIR CIRCUS MAXIMUS HELD EVEN MORE PEOPLE THAN OUR BIGGEST ASTRODOMES AND OUTDOOR AMPHITHEATERS). AMERICANS ARE ADDICTED TO PLEASURE AND FOOD AND WINE--ROMANS WERE TOO. ROME WELCOMED BARBARIAN ALLIES AND USED BARBARIANS TO FILL THE THINNING RANKS IN THE IMPERIAL ARMIES--AMERICA IS TURNING TO NON-AMERICANS TO INCREASE ITS WORK FORCE, TAKING IN ILLEGALS BY THE TENS OF MILLIONS, PEOPLE WHO DO NOT CARE TO LEARN ENGLISH OR EVEN TAKE AMERICAN CITIZENSHIP. AMERICANS LOVE MONEY AND ARE ENGROSSED IN BUSINESS AND MONEY-MAKING, WITH MONEY AS A GOD--AND SO WERE THE ROMANS! AMERICANS ARE OBSESSED BY PORNOGRAPHY AND PERVERSE SEX, LUXURY AND PRESTIGE AND POWER--SAME AS THE ROMANS! AMERICANS LOVE VIOLENCE, AND THE ROMANS ADORED IT TOO. AMERICANS AND ROMANS--THEY ARE A CLOSE FIT, INDEED. We are also declining in the same ways as the Romans did. This is clearly the case--since the disintegration is now glaringly apparent. The floodgates of pornography, witchcraft, hedonism, and lawlessness, treason, abuse of the elderly, abuse and murder of the young and the unborn, and open blasphemy of God, opened by the Warrren Court in the 1960's and followed by succeeding Supreme Courts, have invaded America just as the old Roman Empire was invaded by barbarian tribes and alien nations. We also have opened the borders to millions of illegal Mexicans--which seem to have no regard for English and for our laws, since they contribute to a great rise in the crime rate, even while they apply for benefits of all kinds, including social security benefits which are only warranted for legal citizens. No doubt the graybeards of the Roman Senate, ineffectual body that it was during the Imperial Period from the time of Julius Caesar on to the last ruler of Rome, the effete, powerless boy-emperor Augustulus Romulus, debated the pros and cons of enlisting barbarian tribes as allies and the granting of certain empty tracts of depopulated Roman land to them. Once they moved in, the tribes proceeded to attack the Empire from within--but by then it was too late to stop, and city after city was sacked and ravaged. How long will it be before Congress wakes up to the peril of inviting in a foreign country like this--a body of people who have virtually no intending of becoming American, and certainly not in language? We also have opened our society to another alien state-in-the-making, the Islamic state. The Islamic people have no intention, for the most part, of assimilating and becoming American in heart and belief. They remain Muslim, which is to say, they still adher to their anti-democratic, anti-Western, anti-American religion and religious law code the Seriah. Yes, they may adopt some American fashions and some of the vices, but they remain committed Muslim citizens of their Islamic state. The Roman Empire could not survive with alien, barbarian states within its borders--whatever temporary help they were, militarily. How can we?
To garner possible votes in the near future, Congressmen are voting for the extension of social security benefits to illegals, and also voting against the recogizing of English as the official language. Senators Patty Murray and Maria Cantwell of my own failed and liberal-doomed Washington State voted against English and also to extend social security benefits to illegal immigrants. Aren't we in a wonderful condition these days? I can pick up any volume of Gibbon's "Rise and Fall of the Roman Empire," and then read exactly what is happening in America's streets and towns! Go down the list of what destroyed and doomed Imperial Rome--it would be hard not to recognize the same thing not happening today. Ecclesiastes was absolutely right: there is nothing new under the sun. There is nothing new in America, that has not already happened in the Roman Empire in its catastrophic decline. Only our decline is much, much quicker. We are doing in mere decades what it took the Romans centuries to do to themselves, with the help of the barbarian invasions.
Fast or slow, the process is irreversible. You can't push a Rewind button if you want to go back to previous conditions. It is a slippery slope that you cannot get back up, no matter how hard you try. Emperor after emperor tried to reform the Empire, and even Constantine turned Christian, hoping that the Empire would gain cohesion by unifying with one religion. A mistaken idea! The Empire fell apart anyway! Its enemies devoured it anyway! Christ did not come to save this world, but bring an entirely new kingdom, the one ruled by God. This kingdom will be established fully when he returns at His second coming, when he steps down on the Mount of Olives outside the walls of Jerusalem, and makes the city his capital of an everlasting kingdiom. Rather than try to save a corruption-riddled, immoral, godless empire tottering to its grave, we ought to be praying in God's righteous, everlasting Kingdom. It is one thing to try to save America, the land of the free and the home of the brave--but that America is over, it is gone, and it cannot be saved. It is destroying itself, chiefly from its enemies within. Americans themselves are destroying America--with a little help from the terrorists. The terrorists will finish the job, that is all. But, thank God, like Abraham, we have a better country, a higher kingdom, in which we have our citizenship. This world and all its present nations will pass away--but God's Word, God's kingdom, will never pass away. Abraham believed God, even in the midst of an idolatrous, shockingly vile and heathen Canaan. He never gained possession of it, yet believed God that his descendants would in some future time. The Promised Land now, for us Christians, is God's Kingdom--not Canaan, which belongs to the Jews forever according to God's eternal covenant. But we have our citizenship in God's Kingdom, which includes heaven and earth. I would call that a bargain. We give up America, which we cannot save and hold anyway, and gain an eternal kingdom which nothing can destroy or harm or injure. This is a comfort to me, as I view the continued, swift decline of America and the utter profligacy and chicanery of our Congress's legislators. My level of disgust with the Congress, the Supreme Court and the lesser courts, with Hollywood, with the media, with the press, and with some Christian ministries as well that do not square with the Bible, is humanly more than I can take. It takes God's grace for me to look at all these evils and not look for a monastery somewhere!--Ed.