Link back to the Nine Sister Sites Home Page: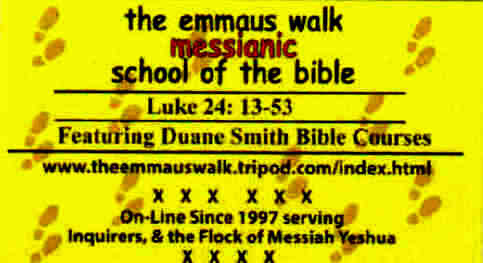 QUALIFICATIONS FOR ANYONE WHO WOULD APPLY TO BE AN EMMAUS WALKER. YOU ARE REQUIRED, AS OF NOW, TO WRITE AND APPLY TO THE FOUNDER OF THIS SITE. YOU ARE ALSO REQUIRED TO EXERCISE SELF-HONESTY, HONESTY TO GOD, AND HONESTY TOWARD THIS SITE. NOTHING LESS. AFTER BREAKING GOD'S LAW, THE FIRST THINGS THAT ADAM AND EVE DID WAS LIE AND BLAME OTHERS FOR THEIR REBELLIOUS, SINFUL ACTS. THROWING AWAY OUR CHRISTIAN HERITAGE AND FOUNDATIONS AND REMOVING THE TEN COMMANDMENTS FROM PUBLIC LIFE AND THE SCHOOLS AND EVEN THE HOMES AND CHURCHES, AMERICA HAS BECOME A NATION OF CONGENITAL, HABITUAL LIARS MISLED AND DECEIVED BY LYING MEDIA AND LYING GOVERNMENT AND LYING SCHOOLS AND COLLEGES. IT HARDLY MATTERS TO GOD HOW MANY DEGREES YOU CAN TACK TO YOUR NAME, OR WHETHER YOU WEAR A CLERICAL COLLAR AND A CROSS, YOU ARE A LIAR, AND LIARS GO TO THE LAKE OF FIRE ALONG WITH MURDERERS AND SORCERERS AND FORNICATORS--THE BIBLE SAYS. THE CHURCHES ARE FULL NOT SO MUCH WITH HYPOCRITES AS WITH HABITUAL LIARS, WHO CANNOT ANY LONGER TELL TRUTH FROM FALSEHOOD, PARTICULARLY THEIR OWN FALSEHOODS. HOW IS THIS? THEY HAVE LOST THE BIBLE AS A STANDARD FOR THEIR LIVES, THOUGHTS, AND ACTIONS. IT IS A BOOK THAT IS DEAD TO ALL INTENTS AND PURPOSES--THOUGH THEY ATTEND CHURCH REGULARLY. THE BIBLE HAS NO REAL BEARING ON THEIR LIFESTYLE, CHOICES, AND BELIEFS. THEY HAVE LOST TOUCH WITH THEMSELVES, CHIEFLY BECAUSE THEY DO NOT EXERCISE SELF-HONESTY AND WERE NOT TAUGHT TO BE HONEST AND NOT TELL LIES BY THEIR PARENTS. THEIR PARENTS LIED, EXCUSED THEIR LIES, LIVED HYPOCRITICALLY, SO THEY TOO ARE LIARS, AND IT NOW A CULTURE OF LIES BOTH INSIDE AND OUTSIDE THE CHURCHES THAT THEY ARE EMBROILED IN AND PROMOTING. BUT THE BIBLE IS STILL TRUE. THE BIBLE HAS THE TRUTH, AND THE SPIRIT OF TRUTH, THE HOLY SPIRIT, WILL CONVICT US OF OUR LIES, IF WE WILL HUMBLE OURSELVES AND CONFESS OUR LYING TO GOD, TO OUR FELLOW MEN, AND TO OURSELVES--AND THEN STOP LYING, OR THE HUMBLING AND CONFESSION IS ALL A LIE!
YOU ARE MOST WELCOME TO VISIT, BUT YOU WILL NEVER BECOME A LEGITIMATE EMMAUS WALKER--YOU REMAIN ILLEGITIMATE--UNTIL YOU DO THIS SITE THE BASIC COURTESY OF APPLYING FOR MEMBERSHIP BY SIMPLE CONTACT AND CONSEQUENT FAITHFUL TAKING OF THE COURSE ARTICLES. BUT UNDER YOUR MEMBERSHIP AND BEHIND ALL YOUR WORK ON THE EMMAUS WALK ARTICLES, HONESTY MUST PREVAIL, OR IT IS ALL FOR NAUGHT--IT IS WORTHLESS.
HAVE YOU DONE YOUR BASIC SPRING CLEANING YET? OPENED ALL THE DOORS AND WINDOWS OF YOUR SOUL AND HEART AND SPIRIT TO THE LORD AND LET HIM IN TO BLOW OUT THE BAD AIR AND DIRT? WE NEED THIS CLEANSING NOT JUST PERIODICALLY IN SPRING, BUT DAILY! WE CAN GET PRETTY DIRTY IN THIS WICKED PIGSTY OF A WORLD IN TWENTY FOUR HOURS! IT CONTAMINATES US MORE THAN WE REALIZE. HOW ABOUT US ALL GOING FOR A SHOWER OF GOD'S CLEANSING HOLINESS AND PURITY? LIKE AT MY DAD'S IMPROVISED SHOWER OUTSIDE OUR LITTLE CABIN ON THE HILLSIDE YEARS AGO, ME FIRST, AS I AM USUALLY THE DIRTIEST!
Thank you, Lord of the Emmaus Walk and Road! Thank you, for coming to such as us--and you will even forgive the hypocrites among your following disciples who honestly confess their hypocrisy and perfidy! That is how full of love and grace and mercy You are! We will never, never, never be worthy of such love and grace and mercy, but, nevertheless, take our wretched hearts and wretched lives and wretched Christian faith and wretched faithlessness and doubts and make them what You want and what you can use to extend your blessed kingdom! Forgive us this moment, our terrible hypocrisy, and help us now walk as true, honest, real disciples. Amen!
THE EMMAUS WALK:
A Messianic School of the Bible

---
AN OPEN DOOR TO THE BIBLE AND UNDERSTANDING IT


WORLD'S GREATEST BOOK CAN BE UNDERSTOOD IF GIVEN A CHANCE: Beyond question, the greatest book in the world is the Bible, and the greatest Book is about the greatest Person, Jesus Christ (Yeshua the Anointed).
Friend, are you unable to read the Bible, that is, make sense of it? Or do some parts make sense, but others, such as Leviticus or Revelation or Romans seem totally bewildering? Are you desiring to go deeper, or reach a higher ground, spiritually, but your difficulty in comprehending scripture is holding you back? It may well be you need to consider that the Bible is essentially Messianic--that is, it exists to tell you about the Messiah and Savior, and virtually everything in the Bible points to Him. With this understanding, you are on your way to unlocking the scriptures and opening the door to Yeshua--for they are, in truth, a living Person, Jesus (Yeshua), who delights in His Name, the Word (John 1:1: "In the beginning was the Word, and the Word was with God, and the Word was God."

---
JUST USE ME
I am the Bible.
I am God's wonderful library.
I make known to all, Him who is Truth.
To the weary pilgrim, I am a good, strong staff.
To the one who sits in black gloom, [like the Dalit or Untouchable in India,] I am glorious light.
To those who stoop beneath many burdens, I am sweet rest.
To him who has lost his way, I am a safe guide.
To those who have been hurt by sin, I am healing balm.
To the discouraged, I whisper a glad message of hope.
To those who are distressed by the storms of life,
I am an anchor, sure and steadfast.
To those who suffer in lonely solitude,
I am as a cool, soft hand resting on a fevered brow.
Oh, child of man, to best defend me, JUST USE ME.
The Bible is God's road map as you travel through life.--from Faith Magazine, Author Unknown
---
The history and discovery of the Essene Scrolls is so important for our Christian faith and their role in Christian apologetics is so foundational that we have a whole page devoted to them, and we will be adding new material from time to time:

THE MESSIANIC SCROLL IS AVAILABLE! Zola Levitt Ministries has available a most wonderful Messianic Scroll, giving Messianic prophecies from the Old Testament (the Torah) along with the Fulfilments in the New Testament. It is six feet long, comes with wooden scroll handles--and can be displayed full length, as I will do in my "ministry center," a former sewing room of my mother's. Here I sew, patch, darn, mend the tattered, old Gospel, that Jesus is the Messiah of the Jews embodying both Meshiach ben David and Meshiach ben Joseph (the truth kept from the Jews by their own rabbis and teachers--intentional or not, which you can see verified in Sid Roth's website and televised programs). This scroll proves that Jesus (Yeshua) is the the Fullfiller of all the Messianic Prophecies that boggled the minds of the rabbis and teachers of old, who could not put toether Messiah the conquering Davidic King with Messiah the Suffering Servant in Isaiah 53. This scroll is the perfect gift to a discerning Jew who thinks for himself or herself. Judaism, which Rabbi Lapin in Seattle (whom I greatly admire) says is not a prosletizing religion, is a prosletizing religion, as intended by God. It was given God's truth and laws, but kept them for Israel for the most part--while the pagan, heathen world went to hell with its own blind philosophers and teachers. Read the Old Testament, where the prophets were very, very concerned to the Gentile nations, the Goyim, and expected them to measure up to God's truth and commandments, of which they were almost totally ignorant thanks to Israel's zenophobia and distrust of the Gentiles. Gentiles came to God almost despite the rabbis and their distrust of the Goyim. Some did so in Jesus's time, and some came to Jesus, we know, for healing, recommended by leaders of synagogues who knew nobody Jewish had the gift of healing or could pray and God would act. This topic is a long one, as you can easily tell. Rabbi Lapin (bless him) is mistaken--and being born a Jew does not make you a true Jew, in God's eyes. You are a biological Jew, but biology (even followed up with all the Torah and Talmud training in the world, will not get you into heaven. The Bible says that--this is not my idea. I must go along with God's word--which never holds out hope for anyone outside Jesus Christ, Yeshua the Savior and Messiah. "No one comes to the Father but by Me," Jesus said to his people. Moses could not save them, though they claimed to be the children, spiritually, of Moses. Abraham could not save them either, though they claimed to be the children, biologically, of Abraham. Only Jesus! Jesus corrected Nicodemus, a high-born, high-bred, religious Jew holding a seat in the Jewish Supreme Court, the Sanhedrin of Jerusalem, telling him he had to be born-again, become like a child, to enter into the kingdom of God. It was an astounding thing for Nicodemus to hear Jesus say--but Nicodemus is like so many Jews, particular the religious ones, who trust in biology and religious teaching and good Jewish homes to save them! Their eyes are "veiled," just as Paul said, who prayed and interceeded for them 24/7, with tears flowing down his face. He said, truthfully, he would go to hell in their stead, if that would save them! That is a truly loving man of God. The rest of us can only try to follow his example, but we will never come up to it. Christ exceeded Paul, however. It is Christ in us who can love like that. Let Christ, and I am speaking to myself, have His perfect way in us as we surrender our lives to Him daily, moment by moment. Then maybe this dying, sin-sick world and dying, sin-sick church emulating the world will see more of the real Christ in this world. Right now, American mainstream society is laughing itself sick at Christians--we are just the same as they are, they are thinking, while preaching to them to turn from their sins! In other words, we are imposters, in their view. This has to change. Why do you think the media delights to show the sins of the Republicans--it is to prove to the whole world what they believe, that the Republicans are just as rotten as the Democrats, only the Democrats are not hypocritical about what they do because they openly support immorality, porn, homosexuality, anti-Christianity, and anti-Americanism (Speaker of the House donned a Muslim head scarf when she, in defiance of the President, openly parleyed with government and leaders in Saudi Arabia!). The articles about the scandals of the Republicans say this very thing time after time--the Republicans are mean-spirited, preachy hypocrites, while committing the very things they tell others are wrong and immoral. Again, we must change. This might seem to be off the subject of the scroll, but the scroll led to this point--as it unravelled from its handles, did it not? We are supposed to be little Christs in this world--are we not? We are supposed to be wise as serpents, innocent as doves. We are supposed to live pure and blamelessly, running even from the appearance of evil. But are we? Or are we little hypocritical devils instead, our lives looking just like our pagan neigbors and our lives full of the very same sins?

---
THE MESSIANIC BIBLE TEXTS--WHAT ARE THEY?
The Bible's Messianic Texts are thus named because they are passages in scripture that point specifically to the Messiah, Yeshua (Jesus in Gentile terminology). Foremost in consideration of these texts, Christ Himself chose it when conducting an informal Bible class with two distraught and troubled disciples who had left Jerusalem just after the crucifixion and were on their way to Emmaus, a village seven miles from the Holy City. This spiritual trek inspired the logo graphic at the top of our home page, and in Judaea in the time of Jesus (see the map) Emmaus is near the bottom, located close by Jerusalem.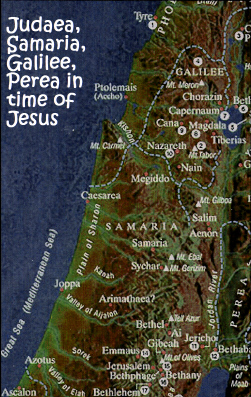 ---
Vita of Ronald Ginther, Founder of the Emmaus Walk: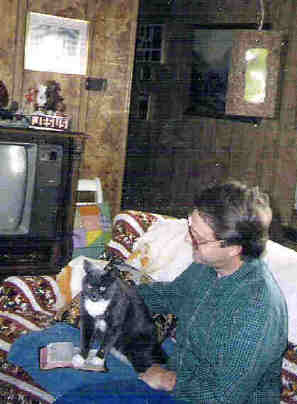 A man or woman or child who does not appreciate God's creation and His wonderful creatures (you don't have to like all of them, however!) is an impoverished, retrograde person. My cat was a special creature of God--able to give endless comfort, cheer, and amusement. I had called him generically "Kitty" all this life, but named him "Benjamin" when he had an accident and I had to bury him--I had to give him a real name then, I felt. For at least 7 years I was privileged with his unique company. After several years in Washington, he moved with me from Washington to Oregon for about 4 years, then from Oregon back to my home state, and was with me to his end by an accident. He was God's blessing to me! Here you see him standing on the Bible, the Word of God, which every creature is blessed by, since the Word of God tells of the creation glorying God repeatedly and ceaselessly and all the trees and creatures rejoicing in God their Creator. Would that people praised and rejoiced in God like the creatures and plants and even the rocks do! We would please God if we did! We would be greatly blessed in turn. Environmentalism and animal rights are not founded rightly--they are essentially secular-humanist political movements, Godless, anti-Christ, anti-Bible and against the Word of God. They paganly worship the creature and the creation, they do not worship God the Creator, whom they deny and reject. We are not promoting any such thing. Gaia worship (the Earth worshipped as a goddess by millions in California and elsewhere in a revived neo-paganism) is very popular in this post-modern society. We take the Biblical view--Creator first, then our fellow man, then appreciation and care for the creation and the creatures (the right, divinely-correct Biblical order, not man's).
While at my last school, Eastern Washington University, I was having major problems with my graduate program going forward because, for one thing, I was living as a backslidden Christian and had taken out my anger on my graduate advisor--that means I alienated the very person who was to chair the board that would examine and approve or disapprove my written thesis and either pass or reject me in my Masters Degree candidacy. The following account by Samuel hauntingly parallels my own experience, as the God of mercy and grace intervened in a miraculous way in my life, showing me without question He was God and could do the impossible--bring me through all the barriers that stood in the way of my getting a Masters Degree in English. The following account of a defeated, discouraged graduate program student at the University (the UW, I believe) is offered, to all those, whether they are attending school or not, who face seemingly impossible hurdles and mountains in their life as a Christian and need to trust a God of the Impossible to turn it to the good.

The "Adjectival Biography" of the Late Duane L. Smith--a great Bible expositor and man of God, who fought the good fight of faith and won an imperishable crown:

---


GRATITUDE TO GOD CENTER:
The Supreme Court has ruled 5-4 to uphold the Congressional ban on partial birth abortion. This heinous and incredibly barbaric procedure (I have seen a promotional pro-abortion video on it, and the scenes can make you throw up), which is flagrant infanticide and butchery of a living human child, is now illegal in the U.S. The video I saw on Joni's program on Daystar cannot be described, it is videotaped murder and dismemberment of a living child. Doctors who practice it will be sentenced to two years in prison (it should be twenty at least). Women who somehow get a partial birth abortion done will not be prosecuted (which is wrong, for they are completely responsible for their criminal act of having their child killed for their own convenience!). We thank God for this law, faulty and too lenient as it is. Adoption is always a wonderful way to give a baby to responsible, caring parents who are man and wife, not Steve and Steve, or Suzy and Suzy. The Congressional law was signed by President Bush in 2003, but Planned Parenthood (sic), NOW, and other radical feminist groups agitated to get this law held up from being made the law of the land by challenging it in their favorite way of getting round the will of the people and the electorate--taking it to the liberal, pro-abortion courts in filed suits. God knows what these wicked groups did or how many millions they spent, to try and overturn the will of the American people once again--so that they could continue this terrible form of infanticide indefinitely. Now we must do what these wicked and most cruel people in all the world fear most--that Roe vs. Wade, one of the most absurd pieces of judicial folly ever committed by the Supreme Court due to its fraudulent aspects--is next to be taken. We must pray that God will help us put Roe vs. Wade where it belongs, in the pit of hell with the devil's angels. We must see it overturned by the same Supreme Court that first authorized it. We have no hope to continue as a nation as long as this decision remainds in force. There is no chance we will evade or escape God's final judgment on us. The Islamic terrorists in our midst are breathing down our very necks, just waiting for the right moment to unleash their full arsenal of suitcase dirty nuclear bombs on us! If we value our lives and our nation and its freedoms we will do all we can do humanly and spiritually to see Roe vs. Wade disanulled by the Supreme Court! May it be soon, Righteous God! We cannot stand one moment of living in the United States while infanticide for convenience is being practiced in tens of thousands of abortion (baby butchering) mills across America. This is a hell of country (an ante-room to hell at the least), and we are paying the terrible price of murder and violence daily, as long as Roe vs. Wade stands. We must not let it continue and our nation and our future be destroyed by wicked people who support the killing the helpless, unborn infants (millions of them black babies--all you black people and the NAACP out there!!!). We must do God's will and see this bill expunged from our law books--though 40 million innocent, beautiful babies have perished in the most cruel way, and 4,000 a day are being murdered in the womb as this is being written. We cannot undo the genocidal past, but we can change the future. How about you, Christian? How about you, Jewish friend? How about you, non-Christian? Let us change ourselves and also change this nation for the better. We can do it, starting this very day! It is our choice.
Course Articles are now listed in the new "Course Articles Center" page:

Some Bible Resources:


Recommended Book List:

Book Reviews Center:

Books and Excerpts Center:

Islam for Christ Center: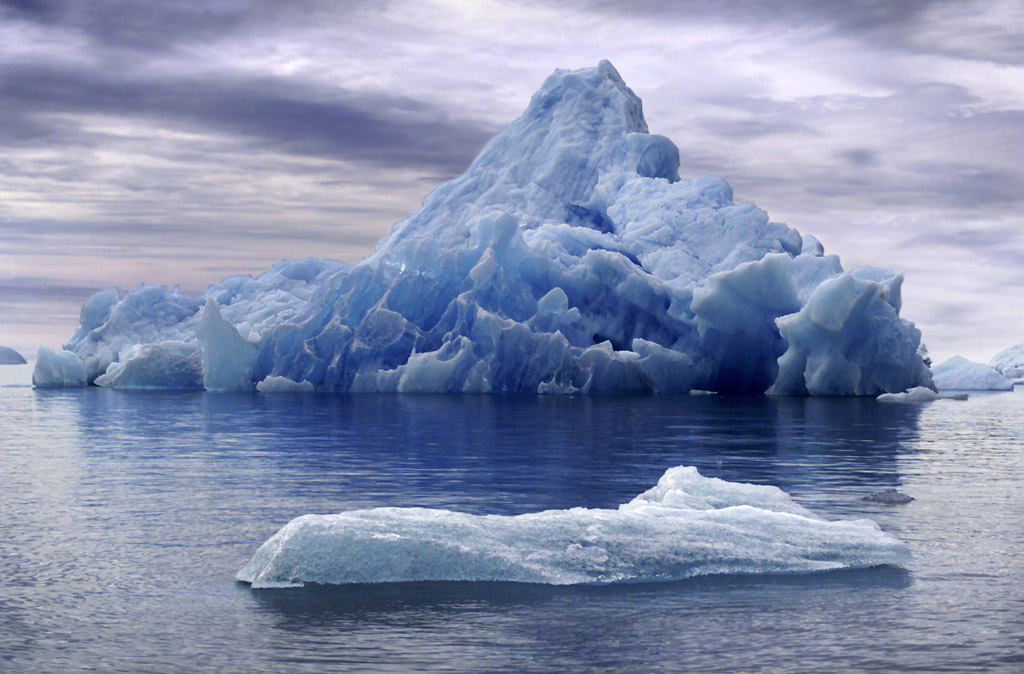 The hidden purpose for the current campaign for Global Warming is to destroy the Gospel-supporting incomes of Christians in America, defund the chuches, and also destroy the American economy, so that our armed forces cannot be fielded in defense of freedom and particularly in defense of Israel which the Moslem nations want to destroy. That is the Devil's agenda, in a nutshell. Secular Humanists, environmentalists, and animal rights activists, have joined hands in this effort to convince America that drastic measures must be taken to "save the earth" from heating up from our carbon emissions. They have used the sacred cow of science to support these unscientific claims of theirs and finally to accept the draconian measures to be legislated and enforced that will radically curtail our economy and reduce us to poverty. It really isn't about saving the Earth, or the animals, or helping other human beings--it is really a satanic plan at bottom to destroy America and Israel with one swing of the sword (and this sword will accomplish it, which all the anti-American forces and anti-Israel nations and forces have failed to accomplish, up to this point).


Missions Center: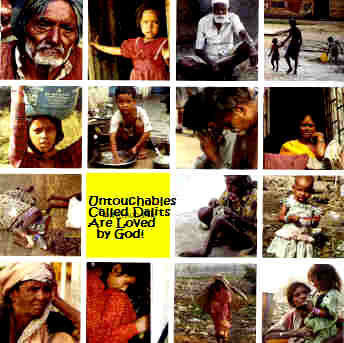 The world's biggest mission field, as far as a given people are concerned, may well be the Dalits, or Untouchables, of India. China too is right up there with India, of course, but the Chinese are not all one people, they are many various tribes and groups we Westerners lump together as "Chinese" because they are all ruled by the central communist Chinese government in Beijing. Dalits, however, though they are probably of different tribes and language groups, are one people nevertheless--because they are all in a single homogenous class created by the horrible Hindu caste system. Gospel for Asia Magazine has this to say to define the Dalits or Untouchables to us in America and the West:
"India's Dalits, A Yearning for Freedom
India's long-oppressed Dalits are open to the Gospel, and GFA (Gospel for Asia ministry, based in Texas) is pointing the way. One by one, 68 adults in the North Indian tribal village knelt for prayer. They had heard that Jesus offered freedom--and that's what they yearned for. Life in their village wasn't easy. Known as Dalits, or "Untouchables," they often were mistreated by neighbors and forced to do menial jobs to eke out a living. But when they learned about Jesus, they found a hope they had never known before. Then a GFA pastor [the GFA pastors are all native Indians] began to meet with them regularly, and a vibrant church was soon started. The little group of Dalits, mostly cobblers [sandal/shoe-makers and shoe-menders] is a small part of about 300 million people--a population larger than the Unbited States--who endure a life of slavery under an ancient social system. More than 3,000 years old, the Hindu-based caste system continues to permeate Indian society today, even though officially banned by India's constitution. Even in the twenty-first century, caste discimination leaves no area of life untouched."
You can make a difference in the hopeless lives of the Dalits, people like you and me who want basic freedoms and also meaning in life that we know only Jesus can give them when they hear and accept the Gospel and he becomes their Lord and Savior. You and I can give to Gospel for Asia minislries, which not only trains and sends out native missionaries, but builds churches, and also takes in orphans and cares for the victims of the Asian tsunami that wreaked havoc among millions from Indonesia to Kenya, Africa. You can order their free magazine and see what this wonderful ministry is all about.

Testimonies of Martyrs Center, with Russian martyr Ivan Moiseyev's account: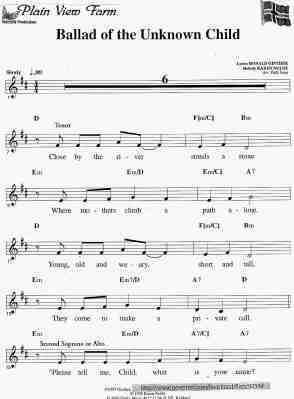 Music Center with original and also added lyrics to famous songs:


CHRISTIAN ACTIVISM CENTER: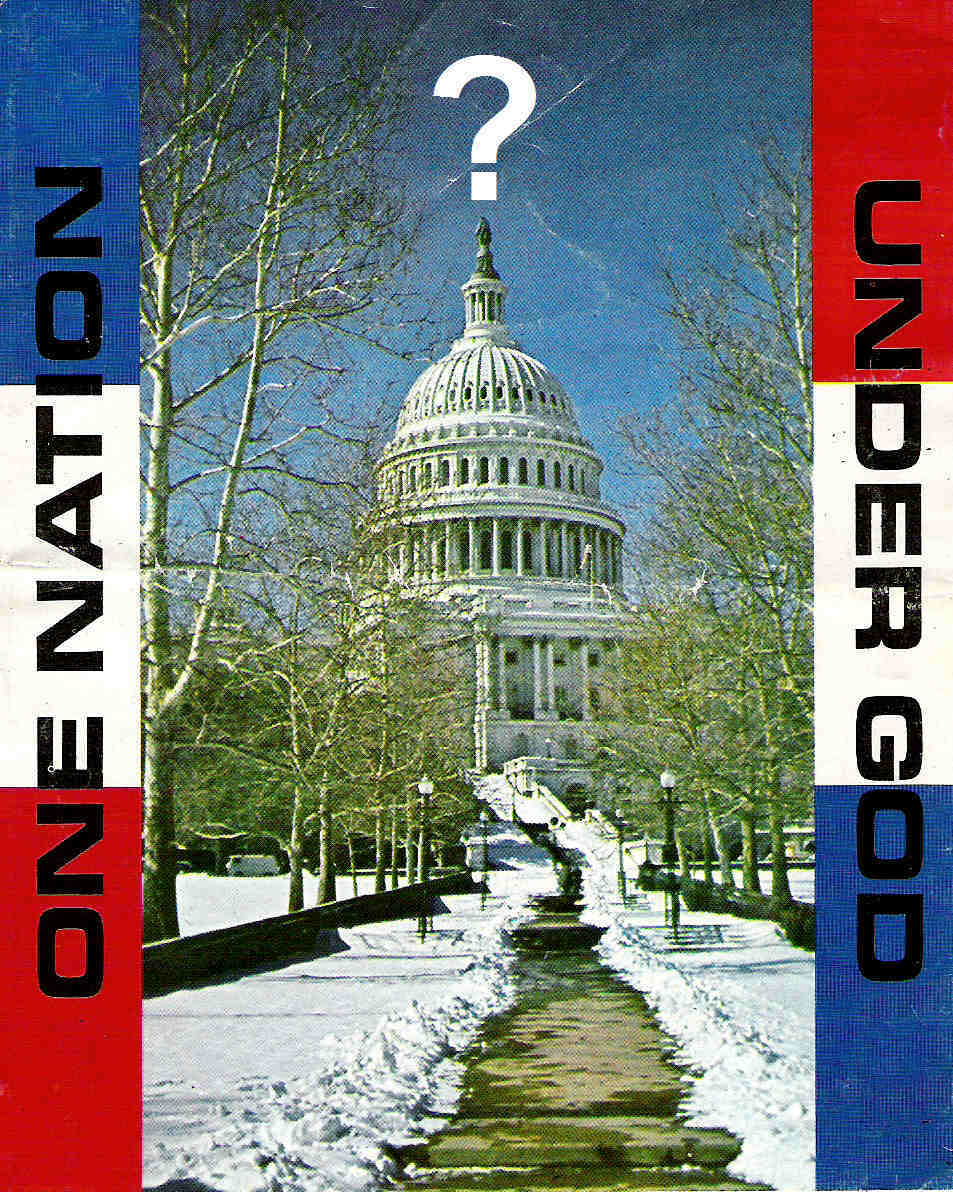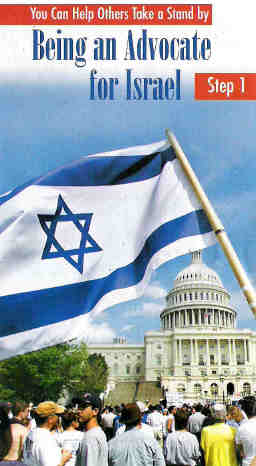 FRIENDSHIP CENTER FOR SUPPORT OF ISRAEL AND THE JEWISH PEOPLE:

AMERICA'S RE-EDUCATION CENTER: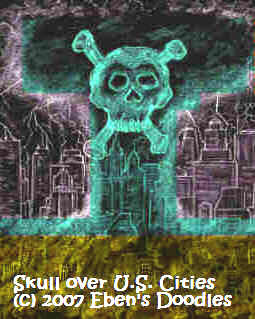 SLAVERY CENTER: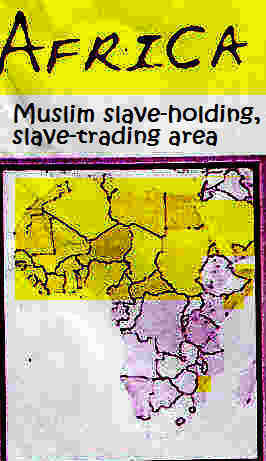 "All Moslem Slave Holders and Moslem Nations, Let My People Go!" says their God.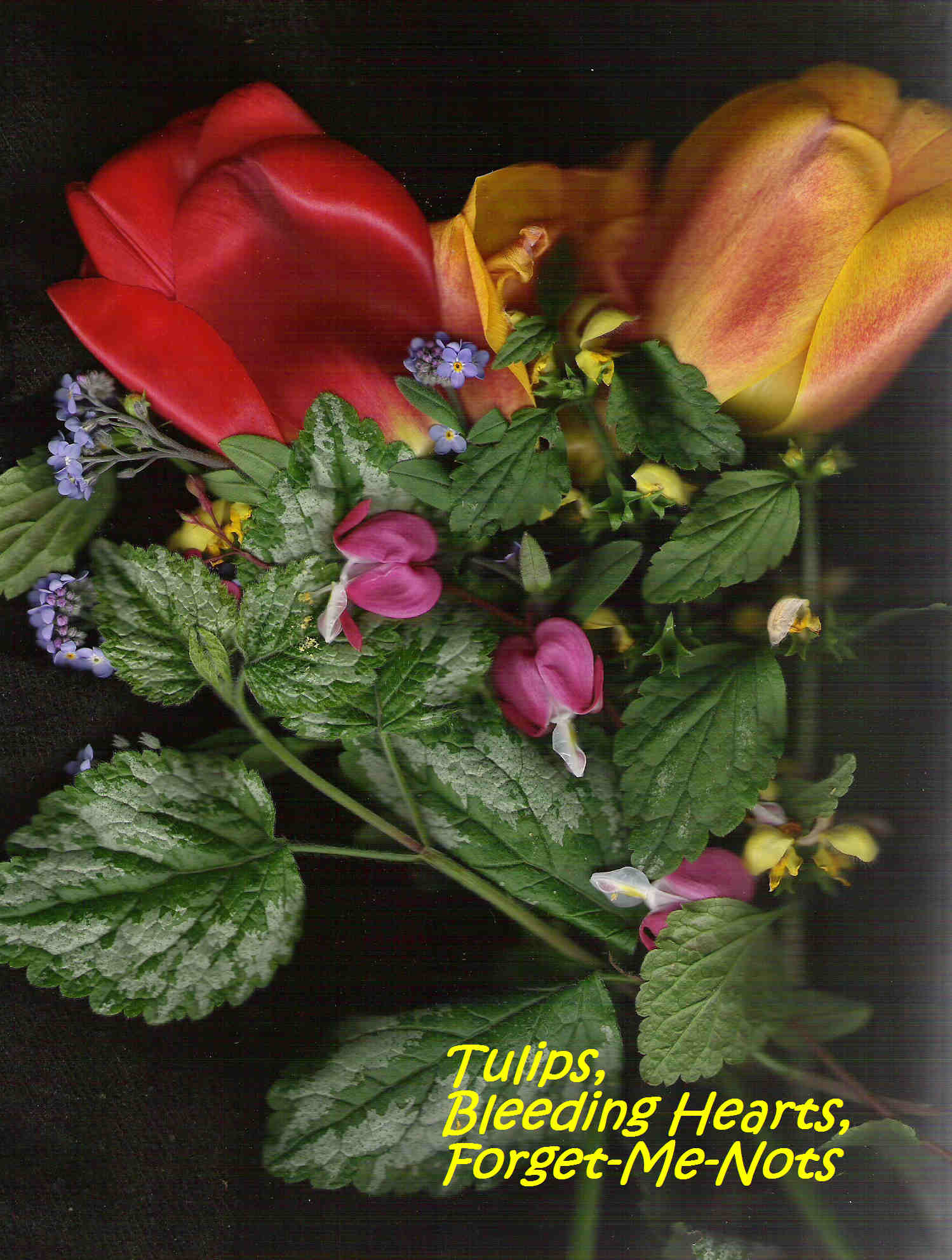 INFANTICIDE IN AMERICA CENTER: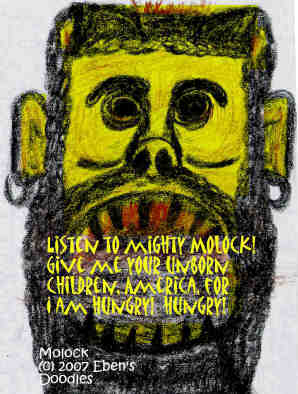 HERESY AND CORRECTION CENTER: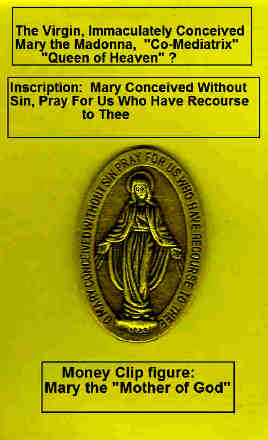 THE BIGGEST CHURCHES IN AMERICA AND POSSIBLY THE WORLD ARE TELEVISION-BASED: Oprah is known to tens of millions of fatuous, almost fanatical women who adore her for her showing them the dirty laundry of the nation's ten to thirty million social misfits and at least 240 million pagan and immoral American people--while throwing in a sweetening dose of good deeds and philantrophy. She has an inexhaustible amount of filth to purvey for an immense profit. She dives into the manure piles like they are heaps of caviar, because there is real gold in them she knows is there! She would have to be the most naive person in the world to not know exactly why she is doing this to America WITH these manure piles. But she is not naive, she is a very smart business woman to get where she is today--NUMBER 1 in popularity and ratings and sponsorship and cultural clout (she may even have a greater following than any political leader in America, including the President!). This is how she had made hundreds of millions of dollars for herself and her TV producers--follow the money trail, it leads to her bank and the banks of her TV producers and sponsors and the cable networks. She does some good works like funding showcase African orphanages, and publicizes them to the world with her own cameras to show all the good she is doing the world--supposedly justifying the shameless muck-raking that pays for the charity. It is all about money--not charity, not bettering the human race (for human depravity is too deep-seated for the human race to be bettered by her use of psycho-babble and self-esteem and thinking good thoughts about others), not pointing people to God so they can get their lives truly transformed and regenerated and their sins forgiven and conquered. This program of Oprah's is exactly what the Bible expressly forbids in Genesis, when God the Creator commanded Adam and Eve, our foolish First Parents, not to eat of the Tree of the Knowledge of Good and Evil. We know they disregarded God's commandment, disobeyed him, and brought sin and death upon themselves and all their descendants including us--a total catastrophe for the human race and Earth that Jesus Christ died on the Cross to completely rectify, so we could be forgiven by the Father and restored as children of God. How can you drink from a well that pours forth both fresh and brackish waters--or pure and impure? Yet that is what millions of American women do daily while watching Oprah's show. The price is terrible and catastrophic--for the knowledge of good and evil may taste sweet and titilating to the tongue, but when this spiritual cyanide goes down into the soul and the digestion of the mind it turns bitter as hell and damnation, producing all sorts of evil and contagious diseases. God warned: don't eat of this tree, or you will die! But we're still eating from this death-spewing, poison tree, and Oprah is feeding its lethal fruit to an entire generation of mostly young, non-Christian, pagan, mainstream, mostly liberal-brain-washed American women--and they will surely die--for God's word is true. Is this not true--completely true? God's word cannot be retracted, for Oprah's sake. She has to bow to it, and obey it--sooner or later. The Word does not bow or bend to her--mighty as she is in pagan American culture. She does not have the last word--the Bible does. Who, then, is calling her to account for the immense damage she is doing to America for the sheer profit of it. She is not improving America, however many instances of good she can point to with her cameras rolling non-stop. The Bible describes her behavior and business as it described the behavior and business of Adam and Eve when they disobeyed God's commandment and at the fruit of the Tree of the Knowledge of Good and Evil--it is rebellion against God, pride, selfishness, and sin. If Genesis were somehow wiped out or retracted by God--then Oprah can can have her show as it is--but not until then.
WHICH ARE YOU AND I? THERE IS NO SITTING ON THE FENCE WITH ON THIS ISSUE, WHICH IS THE GREAT DIVIDE, SPIRITUALLY SPEAKING: Oprah and Dr. Phil are politically correct--more than less--which makes them extremely popular on TV. You might even say, or I will say, that Oprah is high priestess of the biggest religion in America--some 20-30 million or even more. Like many Christians, like many pastors too, these gurus of the New Age Religion and the materialistic, hedonistic Lifestyle of the Rich, Famous, and Self-Advanced, have compromised with the world, for their programs show that clearly. Are you politically correct, or divinely correct? It is the question for this generation and era? We need to be divinely correct--or we will be "going with the flow," being swept along with the tide of the worldly society, in church or not in church we are compromised with the satantic world-system that defies God's rule and rejects God's Son as Savior and Lord over all human beings and the world.

Bible Greats, as Portrayed by Eben:3>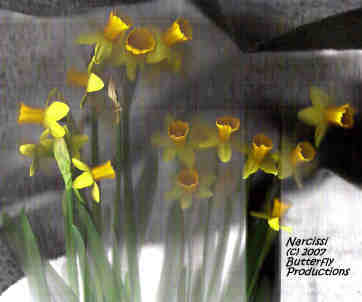 Christian Greats, as Protrayed by Eben:
PROPHECY CENTER: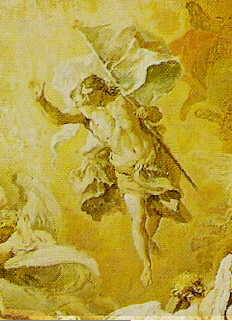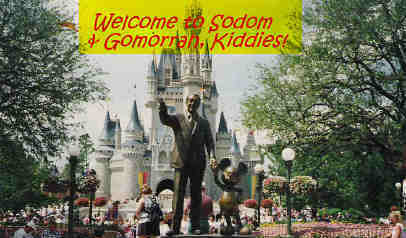 Big Bad Business Center:
Walt Disney obviously had a shining dream that came true in Disneyland and in his various classic films and cartoons! But was it a homosexual paradise and playground he had in mind? Obviously not! But now the CEO and board of Disney Corporation has chosen to open Disneyland and Disneyworld and no doubt the cruise ship and the rest of Disney's properties to activist gays to rent and use as they please for their gay parties, gay pride celebrations, and the sexual groping and other things they do when they congregate together for "fun and games." All this in the presence of innocent children! Disney's worst nightmare has been surpassed in this decision of Disney's amoral, greedy, politically correct controllers--and children are the losers! Shame on you, all you at Disney! You are doing this to reap the profits from the homosexuals who will then flock to your facilities to take you up on your espousal of their "lifestyle" and homosexual activist agenda of mainstreaming their sin in American culture and society. All you Christians at Disney, working there, or owning stock in it, you need to come out--quit this wretched son of Beliah. You are not a "light" there, you are compromised, and your presence is seen as an endorsement, not a rebuke to what is going on around you. And, stock owners, you have no business at all taking profits from Disney--when the source is so contaminated as Disney has become. Come out of it, now, before your bank account pollutes you in turn! I haven't checked, but terrorism is funded with pension funds handled by major banks in America investing in Iran and other radical Moslem states--and major corporations too, like Haliburton, are involved in Iran and other radical Moslem states. Could Disney be involved with terrorism? It is something to check out before you continue supporting and investing in Disney. It is bad enough that Disney is now promoting the radical gay rights agenda on its premises--that should be enough to tell you that its time to walk out and go elswhere for entertainment and a good deal in stocks. It's high time to quit putting your money in a business that is out to destroy America's Christian morality and Bible-based morality, public and private. It's high time to let Disney slide to its deserved fate--bankruptcy.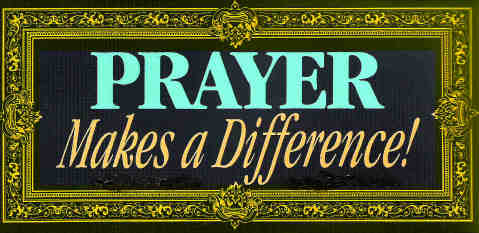 PRAYER TARGET CENTER:

Every Era, Every Generation, Has Its Characteristic Follies or Lunacies. Our Era has its share too (actually, more than its share, arguably!), of which the most egregrious must be Al Gore's Global Warming Hoax and Hysteria:

Please return to the Global Warming Hoax Center for Dr. James Kennedy's site and remarks by the president of Coral Ridge Ministries on this patently unscientific campaign by radical environmentalists and politicians and United Nations bureaucrats who want to drive America back into the pre-industrial 18th century, if Christians are uninformed and do nothing to stop such hysteria and manipulation and the politicians and bureaucrats are allowed to have their way with our country and its economy.

ENGLISH LITERATURE HERITAGE CENTER:
YOU PARENTS CAN MAKE THE DIFFERENCE FOR YOUR CHILDREN: Did you as parents know that textbooks for your sons and daughters in public schools have been carefully screened and edited, so that the newer ones do not carry anything half-way favorable about Christians, Christ, and Christian beliefs and history and America's Christian heritage? They probably exclude the Jewish contributions to the American revolution, funding it, fighting for it, supporting it, and don't mention George Washington's very friendly relations with America's Jewish community. The literature books also have been edited, so that the Christian poets and writers that they can possibly delete are erased, despite the fact they are ripping huge holes in the cultural history of literature. I was given the best education when I went through public schools and college and university, but even then--in the 50s to 70s--Christian poets and writers were disappearing from the books, I can see now. The most famous "Great Names" could not be deleted, of course, without the books and their writers and the teachers and professors in the schools being questioned about their literary bigotry. But now there is no such check on the secular humanist purges of American and English literature--which are the glories of our civilization. I taught both--and was privileged to do so in Oregon, Washington, and Kansas. I love American and English literature--which is Christian in its culture and base, primarily. But you will not be given that view today. Learn what your textbooks for your children do not teach. You must be literate for them. Let them see you reading good books--not Oprah's promotional books! Read the Bible and godly books! Read good literature--not the kind that is full of sex and gratuitous violence and perversity--the kind favored by contemporary Americans and even Christians. God gave us wonderful writers--so enrich yourself and your life and the lives of your children through reading! Reading, not more television, videos, video games, cellphonitus, ipoditus...ad nauseum. If you cannot put your children in private schools--at least introduce good books and good literature (and don't leave out nursery rhymes and poetry) to your children. It will help them in every way to think for themselves, not accept brainwashing with one point of view, the secular-humanist, in the public schools (though now even that is being supplanted by the more powerful and more totalitarian Islamic world-view). Do this, and your children will benefit. Ignore this responsibility, and your children will not benefit, and will be like the other children, who are going to hell in a secular-humanist handbasket.
Churches too can make a difference, the kind that still have real hymnbooks that are not all post-modernist tunes with the verses sung over and over and over like Hindu or TM mantras are recited, words usually of one syllable too! My family church's Reformation Lutheran hymn book was wonderful, teaching me godly reverence (even to my reprobate mind and soul), and literacy in th English language (which put me ahead of the non-Christian students in the local schools and even in college later!). As I sang the words that were broken into syllables in the score of the hymn, I learned the words and how to break them into parts that I could handle from the earliest age. This process made it possible for me to progress rapidly in my handling of the English language, spoken and written and read. Take this tip! They threw out Phonetics in my public elementary school after I went through, and ruined literacy for a whole generation including my youngest brother, but I escaped the crazed experimenters--I became a better-than-average, literate person, no thanks to them! But thanks be to God!

"Bible Atlas & Map Center"

BLACK AMERICANS CENTER:
Perhaps Al Sharpton and Rev. Jesse Jackson need to review the words of this wonderful anthem. It is founded on faith in God, and this is the God of Christ, not Mohammed or any other god or so-called prophet. Rev. Martin Luther King spoke often about Jesus Christ, and linked his national campaign for justice and civil rights for black people on the Bible and its principles. This is not being told to the school children, of course, by their secular humanist teachers. Pastors are not telling them either--and letting the media and the secular humanist teachers miscast Martin Luther King, Jr. in a secularist mode--for they are embarrassed by all his scripture references and his faith in God. This anthem expresses the faith of the fathers of the black people--and the mothers as well. The fathers and mothers knew Jesus Christ intimately and personally. That was one of the first great benefits of their slavery--their exposure to the Gospel, after they landed in America. Despite the fact they were enslaved starting with colonial America, these fathers and mothers of the following generations did not throw out the baby with the bath water. They surrendered their African pagan faiths for the truth, pagan religions that had enslaved them for thousands of years in their various African societies, and took instead the Gospel of Jesus Christ to be their newfound faith. This faith gave them hope and comfort and strength to endure the slavery and all the terrible conditions slavery encouraged. They endured it all, and did not rise up with swords, to fight for freedom, which would have failed, and did fail in the few cases where black men did take up the sword. Instead, they prayed and believed God for their emancipation, which came in 1865 with Lincoln's Emancipation Proclamation. That was the beginning of a long road of struggle to make it reality in their lives, for a piece of paper cannot do the job alone--it takes a great deal of many other things, including a change of heart, a change of views, a surrender to God, on the part of both blacks and whites, the oppressed and the oppressors, so that both can come together in Christian love and acceptance and mutual support and amity. We whites and blacks have a ways to go yet, but we have made progress, real progress that cannot be denied, though it is being denied by those who stand to reap political and monetary gain by emphasizing divisions and failures instead of leading the way for the black people to achieve positive and independent lives, instead of dependency on welfare-government and welfare-pushing government parties and elites.

Nuggets Center:
"Solid Rock, not Sand," Message Notes by Ronald Ginther, on how to keep it simple and honest with God. We are clay, He is the Potter--not the other way round, as it is preached and promoted in popular Christianity today. Want to "get back on track with God?" Here's how, in a few words:

ARE YOU FOOL'S GOLD OR A GENUINE CHRISTIAN? Ever heard or seen "Fool's Gold"? It shines like gold, but it isn't. As kids we loved to find rocks that had glints of gold in them--but it wasn't real gold, of course, and we knew it. It looks like big money, but it is scarcely worth a cent. It is "ersatz," phony, fake, faux gold--worthless, though it glitters and glows just like gold. Christ spoke about the tares among the wheat. They will look and grow like the real wheat, but they are tares sown by the enemy--and you cannot tell them for what they are by looking at them--they do all the things, sing the hymns in the church the right way, pray the right way, dress the right way, witness the right way, read their Bible and tithe and do all the things Christians do--and probably better! But they are fakes from the get-go, and only God can tell what they truly are. He is never fooled, though these folks are so good at acting they convince themselves they are the genuine article when they are just Satan's tares, or weeds, sown among the wheat, the children of God. Millions of "Christians" are self-deceived in this way. A Classic Billy Graham New York Campaign meeting aired on TBN the other day dealt with this type--in the most masterful way, that it cannot be equalled--even though this was a message preached over 50 years ago, it is still current and still applies to Americans--every word of his message does not have to be changed or "updated."
Most Americans (something over 80%) subscribe to "Christianity as their religion" when surveyed, yet they do not attend church and they are not born-again, and they don't read their Bible either--so what are they? They are cultural Christians--and there are no such Christians in God's view--they're simply tares. Since most of us are long gone from the farm scene, but know what carnivals and circuses and county and state fairs have to entertain the taste buds, here is a poetic piece by Eben about these cultural Christians, which he calls Cotton Candy Christians:

DUNCES OF THE WORLD CORNER CENTER:

BIBLE JOKE CENTER
"The meek shall inherit the earth, if it's alright with the rest of you."--Submitted by Mrs. Pearl A. Ginther

QUOTABLES CENTER:
"If you meet and forget me you've lost nothing. If you met Jesus Christ and forgot him, you've lost everything."--Submitted by Mrs. Pearl A. Ginther
"Praying in the Spirit brings anointing."--Submitted by Mrs. Pearl A. Ginther
"Evangelism is one beggar telling another beggar where to find bread."--Submitted by Mrs. Pearl A. Ginther
"Jesus says, 'You're in My hands and you will soon be in My crown."--Submitted by Mrs. Pearl A. Ginther
"A bad turn in life will take you farther than yu want to go and keep you longer than you want to stay."--Willie Lewis
"I reach new heights when I get down on my knees to pray."--Eunice Thomas
"You can't change the road you have traveled, it's the path up ahead that counts."--Lula McCurrie
Or, "I can't change yesterday, but I can certainly pray for a better today."--Gracie Walker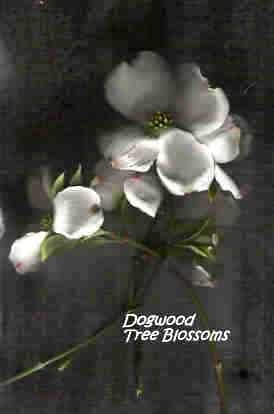 Mrs. Pearl A. Ginther's Retelling of the Legend of the Dogwood Tree:

For cooking a terrorist, use the same recipe as for a wolf, for there is really no difference, except that the wolf with the pelt and bushy tail is a lot more humane than the human variety of wolf. Secular humanists, by the way, having thrown out absolutes and God's laws, do not make moral judgments, they are moral relativists. They view the terrorists as just regular people with values that are different. We are all on the same playing field, as the secular humanists see it. Secular humanist academics at universities have interviewed and studied terrorists, and come to that conclusion--that they are people, and that they are not essentially different. I beg to disagree, because the Bible says what they do is sin and rebellion against God's laws. What they do is not love--and anything not done from love is worthless, in God's view. To murder the innocent (even for Islam and Mohammed's agenda) is wrong in God's view, and is sin and breaking His commandments. The secular humanist can place it on the same level as any other human activity, but God sees it with the only eye that matters. His view is the only correct one. He loves the terrorist, the killer, the murderer, but unless that person repents, he remains damned and lost forever. The same applies to the secular humanist who can see no difference between a terrorist and any other person, except that a terrorist chooses to blow up people for his or her religion. The Bible condemns sin, because God condemns sin--yet both offer an escape, a way out, called Salvation in Jesus Christ and his Atonement for Sin. This is the thing no secular humanist can ever offer--while bending his neck to the deliberately unsharpened, dull blade of the terrorist while fervently apologizing for the U.S. military resistance to Islamic Jehadist aggression and terrorist attacks on Israel, our country, and other countries as well. Not once will a secular humanist stand up for freedom and the freedom of religion against such foes as these--for secular humanists are in the business, along with Islamic Jehadists, of eradicating religious freedom in the Western World, as well as all other freedoms we value in America.
CARTOON CENTER

BIBLE QUIZ CENTER

SAINT-BUILDING CENTER, FEATURING THE MESSAGES OF THE INIMITABLE STUART MAXWELL HAWKINS: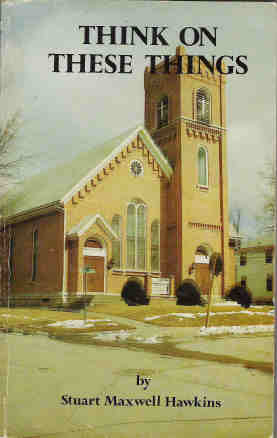 Finding Your Spiritual Gift(s) Self-Exam:
This self-exam and questionnaire will "help you discover and understand your spiritual gifts" and was recommended and sent to me by the late Duane L. Smith who took the self-exam. It is available for a small charge when you order it from C. Peter Wagner of Fuller Theological Seminary.

Please return soon for Stuart Maxwell Hawkins's next message, "Forgive Me," when it comes on-line soon.

FATWAS OF EBEN CENTER:
The precious Moslem people (some 1.3 billion in number) have been tragically misled by false shepherds called clerics and mullahs and imans and muftis. Some clerics and imans are very dear men, with hearts of love for their people and no hatred for people of other religions, and certainly no plans to exterminate or enslave them! We know of some who do have plans to exterminate Christians, Jews, and whoever else who is not Moslem or consent to become third class citizens under draconian Sheriah law and Sheriah courts! These are ravening wolves--nothing but wolves in holy robes. How else can you explain the mullahs in Indonesia who smile and grin ear to ear while being interviewed by Western reporters and newsmen concerning their schools' direct ties with the suicide bombers in Indonesian cafes and clubs who killed hundreds of "infidel" Australians and Americans as well as Moslem Indonesians? There has to be madness, true posssession of Satan the murderer and liar, entrenched in their wicked, dark hearts and pulling their strings like a puppeteer. Of course, that is the case. The Bible describes this type of wicked and perverse man-puppet over and over. To offer a way of light and love, Eben has some fatwas (or messages of truth and love) of his own, given him by the Lord, we are praying will help guide you aright. His name is God-given, not thought up by any human being. He has a name that means stone, precious stone, measuring plummet. God can give him insights and words that will measure the issues and the conditions and the mullahs too who are wolves confronting the Moslem people, the people who can be traced back to Ishmael, at least the Arabs among them. This is not a political center. This is a spiritual center--offering Yeshua (Issa) as He truly is: the only true Hope, the only true Son of God, the only true Prophet of prophets, able to save and lead the Moslem people to heaven. These fatwas overrule the baying of the wolves of Islam, which are the false teachers and false mullahs who have kidnapped the religious following of millions across the Moslem countries. God will direct them to whomever is open to the truth. They are not for just anyone--but Christians too can learn possibly, from them. Christians too have false teachers, wolves in holy clothing. They have existed since Christ left the earth! They are in our evangelical churches and ministries still! John the Apostle warns us repeatedly about these false teachers, and the spirits of anti-christ, that are going about in the churches. Nothing has changed since his day. We have such people all the more, seeking to lead people astray for their own advantage. So too with the Moslem peoples--they desperately need a clear, saving word from God that will turn them to the Gospel of Jesus (Issa), who is not presented correctly in the Koran or in the Hadiths either.
"Fatwa of Eben, #1":
Greetings To the Oppressed Moslem People of Saudi Arabia: Give great praise and thanksgiving to God the Father of the Son, Issa, for your escape from the plane-missiles and major attack on your oil wells by Jehadists who hate your kings and other rulers and their involvement with Westerners. They also hate Christians and Jews, calling them swine and monkeys--and say many evil things against them--and this is not from God. It is the God of Abraham, Isaac, and Jacob, who blessed Ishmael and blessed your nation, who has had mercy on you this time. Turn from your unrighteous anger against Israel His Chosen Nation and People. Do not be misled by false teachers who teach hate but do not teach God's true laws, and who promote hatred of God's people through Isaac. You will be destroyed if you continue in that dark path, destroying yourselves by blindly being led by the blind teachers and many anti-Jewish leaders. Open your eyes to the liberty, grace, and truth that is in Issa of the line of Isaac, Issa of the line of David, Issa of the line of Joseph the son of Jacob, Issa of the virgin maiden Mary and the Holy Spirit of God whom you do not know in your Moslem books. Turn to the true Son and true Prophet of God--Issa (Yeshua of the Jews and Christian). Issa is the Way, the Truth, and the Life for you and all peoples! His teachings are above any man's, for he is both holy God and sinless Man. God is love, being the Father of All, and His Son is Issa (Yeshua, Jesus Christ). Issa has revealed Him. Issa has revealed the Holy Spirit too who is present with us teaching us the Words of Issa in the Bible, the New Testament, the One prophesied in the prophecies pointing to the Messiah in the Jewish scriptures in hundreds of places. God the Father is love, and Issa is God's gift of love and grace and forgiveness for all of you and every single one of you! Turn to Him, turn to God the Father, the Son, and the Holy Spirit--WHO ARE ONE GOD, NOT THREE GODS--now, and you will be saved from your sin done unknowing and knowing, and from the destruction and death to come upon the world that rejects the Son of God as the Way, the Truth, and the Life. You are loved by God, WHO IS LOVE. GOD WANTS YOU TO SPEAK TO HIM, AND BE HIS SONS AND DAUGHTERS IN TRUTH! This fatwa is ended.


(c) 2007, Butterfly Productions, All Rights Reserved

Contact information: Write: Ronald Ginther, The Emmaus Walk, P.O. Box 212, Puyallup, Washington 98371


Flowers on this page are compliments of the spring garden of Pearl A. Ginther, a woman of prayer at age 97, and a woman of honesty, love, and no hypocrisy whatsoever (and I have known her for nearly 65 years and ought to know!).--Ed.