Calling himself a Catholic and a traditionalist, he, sadly, has no Christian God--saying he believes in Evolution while speaking of God as a dim Creator, who is either a him or her. O'Reilly, nonetheless, is one of the few honest voices raised on the current social scene, calling for a return to traditional values and the Christian world-view of our Judaeo-Christian heritage that was the foundation of our nation. For this reason, his book is well worth looking into: "Culture Warrior," by Bill O'Reilly (go to www.amazon.com, or any bookstore), which details the unconditional, all-out war being waged against America's Judaeo-Christian foundations by secular progressives (also called secular humanists, or better: "secular retrogressives").
Brigitte Gabriel, a Christian from Lebanon, valiantly tells of the persecution of Christians in Lebanon by Muslim terrorists who took over her formerly peaceful, progressive, multi-cultural, religiously tolerant nation (the only one like it in the Middle East--a model for all the oppressive Muslim societies around it!). They turned it into a hell, and her family had to flee for their lives. Her book, "Because They Hate," depicts the reason why Muslims hate Jews and Christians so passionately, and shows how that hatred is grounded in the later Muslim scriptures (surahs) of the Koran that supercede the earlier tolerant scriptures written by Mohammed when he was in Medina eagerly seeking the favor of Jews and Christians to help him gain the upper hand against his enemies in Mecca. Truth and prayer, with the love of Jesus, is the only way to defeat this darkness from hell itself that calls itself Islam (imagine a "God" and a "prophet" who promote the killing of innocent Jewish and Christian children, blowing them up, and then awarding these mass murderers entrance into heaven and giving them 72 virgins a day to have orgies with! Can anything so blasphemous and sacrilegious be imagined?
This is truly an abomination born in hell--and yet mullahs routinely preach this devil's doctrine to children and impressionable, ignorant young men and women who slavishly believe everything they are told by their religious authorities. To underscore Brigitte Gabriel's warning about the Muslim religion and the terrorists in Lebanon, the news just broke that a leading Christian politician in the Lebanonese parliament has just been asssasinated. You know who did it, because he opposed Syria and Iran-backed Hezbollah's power grab in the parliament.
This book speaks to the greatest need of America--which is to wake up and seek God in repentance and then carry the Gospel of Jesus Christ to the Muslims in love and humility--and can be obtained by calling 1-800-854-9899, or contact her via Pastor John Hagee's website.
"Smith Wigglesworth," Apostle of Faith, biography by Stanley Howard Frodsham, Radiant Books, Gospel Publishing House, Springfield, Missouri
"George Muller, Man of Faith and Miracles," biography hy Basil Miller, Bethany Fellowship, Dimension Books, Minneapolis, Minnesota
"Tortured for Christ," autobiography of Richard Wurmbrand, Diane Books, Glendale, California
"Hope for Man in a Hopeless World," by Basilea Schlink, Bethany Fellowship, Dimension Books, Minneapolis, Minnesota
"Glory in the Church, the Coming Revival," by Edward E. Hindson, Thomas Nelson Publishers, New York/Nashville
"Czechmate," autobiographical account of imprisonment of author in a communist country for Bible smuggling
"The Everyday Guide to "God," A to Z Listing of God's Attributes, with Scriptures, by Amy Ng Wong, Humble Creek Publisher, Uhricksville, Ohio
"The Complete Book of Bible Lists," by H.L. Willmingon, Tyndale House, Wheaton, Illinois
"God Sent a Man," the story of Joseph, by Carylye B. Haynes, Review and Herald Publishing Association, Washington, D.C.
"Israel Act III," The Bible and the Mideast in prophecy, by Richard Wolff, Tyndale House, Wheaton, Illinois
"Eric Liddell, Pure Gold," biography of the Chariots of Fire Olympic runner turned missionary to China, by David McCasland, Discovery House Publishers, Grand Rapids, Michigan
"Messianic Christology," by Arnold J. Fruchtenbaum, Ph.D., Th.M., Ariel Ministries, Tustin, California
"C.S. Lewis," Heroes of the Faith series biography, by Sam Wellman, Barbour Publishing, Uhrichsville, Ohio
Here is the way one single woman, with incredible handicaps of continual frail health and gender, invaded the Muslim-walled fortress-land of Algeria and took much of it back for Christ with missions that served as strategic staging posts to reach out to the whole nation with the saving, delivering, demon-power-destroying, liberating Gospel. She accomplished this with prayer, perserverance, and the faithfulness of God's Promises in His unconquerable Word! Here is the story of her epic achievement in Algeria--a land you would have thought could not have been penetrated with the Gospel since it was taken by Muslim armies way back in the 7th century.
"A Passion for the Impossible," The Life of Lilias Trotter, by Miriam Huffman Rockness, Discovery House Publishers, Grand Rapids, Michigan
"Jerusalem Countdown," A Warning to the world, containing a prophetic view of Iran's role in coming world events affecting or centered on Israel, with parallels between Joseph and Jesus tieing in with these events and others of the End-Times, by John Hagee, Frontline (A Strang Company), Lake Mary, Florida
C. T. Studd, any biography will do.

TESTIMONIES:
Dr. Mark Gabriel's testimony, about how he left Islam as a university professor, and was arrested by Cairo secret police and almost killed for his decision; then he gave his life to Christ, and the persecution really began!



For viewing Brother Mark Gabriel's website (formerly a Muslim imam and instructor at Cairo's top university who was tortured and imprisoned for leaving Islam, but later came to a saving knowledge of Christ Jesus):
Pastor John Hagee of Cornerstone Church, San Antonio, Texas, interviewed Walter Shoebat, who was a terrorist and is now a Christian. You can access his wonderful testimony, "I Was a Terrorist," and the entire fascinating interview by using the John Hagee website. The video on militant Islam called "Obsession" is also available in a package with the interview. If you use the toll free number listed, use the item number: KT-127.
To Abraham (not to any other man on earth) God said: "And I will make of thee a great nation, and I will bless thee, and make thy name great; and thou shalt be a blessing."--Genesis 12:2. This blessing holds for descendants of both his sons Isaac and Ishmael, as they both hearken and bow to the God of Abraham and accept what is said about his greatest descendant, Jesus Christ, born not of human seed but of the Spirit of God:

A Rose of CHRIST YESHUA'S Love for the Beloved Moslem People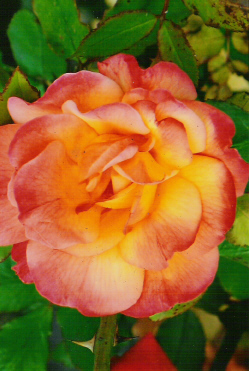 MOSLEM BORN AND BRED TARIQ FADI CONVERTED TO BEING A FOLLOWER OF JESUS CHRIST BECAUSE THE CHRISTIAN MAN HE PERSECUTED LOVED HIM ANYWAY:




Feeling rejected, cast-off, unwanted, worthless to everyone, including yourself? Here is a way out, which Christ gave a rejected wife and mother over in Israel:
A quiz about the Resurrection:

EBEN'S PROPHETIC WARNINGS TO WESTERN SECULAR HUMANIST NATIONS, HOW EXACTLY THEY HAVE SWALLOWED A FOREIGN CREATURE SEEMINGLY SMALL AND HARMLESS THAT IN TIME WILL DEVOUR THEM COMPLETELY FROM WITHIN:
France, the birthplace of socialism and the so-called Enlightenment that threw God and the Ten Commandments out of human government and society, placing man in the center, as a worshiper of the Goddess of Reason:
Holland, a formerly devoutly Christian, now a secular-humanist nation that worships the false deity of Tolerance above the true God:
Please use the Life Today website to order and read James Robison's "We Have a Choice, Humility or Humiliation," his 16-page booklet giving a prophetic warning and call to fellow Americans to turn back to God before destruction falls on us from a nuclear strike, from inside and possibly outside our borders as well!
Canada, a formerly Christian now a devout secular-humanist society and nation:
Once mighty, "Great Britain," formerly the birthplace of the Wesley and Welsh revivals that shook England and revitalized her (sparing oppressed Britain a French-style revolution and bloodbath), now a secular-humanist society where Christmas is a politically incorrect term to use at the time of the traditional celebration of Christ's birth ("Winter Festival," or the pagan "Winter Solstice," ineptly and dishonestly substituted). This is the "thanks" Britons gave God for sparing them from them from being conquered and crushed by Nazi Germany, and we know that Hitler fully intended to invade Britain and liquidate all its leading citizens, while reducing millions to slavery and concentration camps. His "liquidation lists" have been made public. Yet the churches emptied after the victory at the end of the war--and the people turned their backs on God their deliverer. Yet He has not forgotten Britain despite this, and still calls to her to return to him. She turned against Israel, and incurred a curse, but all this can be turned around. Prosperity can be swept away in a moment today, as most of the money that exists is electronic, not actual cash or gold or jewels or property. Whatever Britons trust in now can be gone, in a twinkling of an eye as the whole commercial and banking sector loses all its assets in an economic melt-down. This does not have to happen, for a revival to take place once again, perhaps for the last time, in Britain. Let us pray for Britain, that her people be spared this severe a mercy.
Though this refuge for many persecuted people (also revolutionaries and criminals, we might add) has gained credit for accepting everybody, friend or foe, its record in keeping huge amounts of stolen German Jewish assets without feeling at all obliged to reimburse the survivors of the Holocaust cannot be admired. Recently, it has become a haven for terrorists, and the terrorists are wealthy, if you don't know. Authorities are looking for the six billion or so that Yassir Arafat hid somewhere, quite possibly in Swiss banks, where so much money stolen by dictators and mafiaso crime bosses goes. His widow is presently living a life of luxury in Paris, and perhaps she knows but is not telling, lest she be reduced to poverty. All this money was given by America and the West to aid the impoverished Palestinian people, to help build their society's infrastructure and start schools and hospitals and businesses, but Yassir Arafat diverted practically all of the aid into his own secret accounts. The Bible prophecies that someday the treasures of wickedness will be brought into the open, and the money that the wicked world has hidden in secret hoards like the greedy dwarves of German legend will be turned over to Christians! The righteous will inherit what the wickd people have heaped up in secret for themselves! I do believe this is coming about, as news of these fortunes stolen from the rightful owners such as the Jews will be turned over to them, a number of whom have become Christians, as you can learn by ordering the "Survivors' Stories" video from Jews for Jesus.

INSPIRATION AND ENCOURAGEMENT CENTER:
A FAMOUS NAME FOR DECADES ON BROADWAY AND IN THE MOVIES, SHE GAVE IT ALL TO THE SERVICE TO JESUS HER NEWFOUND SAVIOR!--ETHEL WATERS
"My Two Angel Stories," by Ronald Ginther


ISRAEL AND THE MIDDLE EAST CENTER: The most contested real estate on earth is Canaan, or Israel! Here are two articles dealing specifically with the land God promised only to Israel:
ARTICLE ABOUT JERUSALEM, REPUBLISHED: "Speak Tenderly to Jerusalem," the CharisLife article, is now on-line:
WHAT IS PALESTINE? IS IT ISRAEL? IS IT ARAB, OR IS IT JEWISH?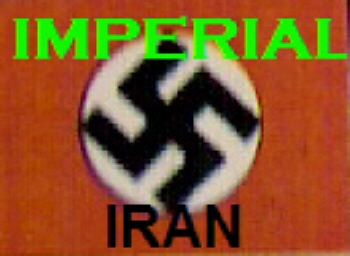 THE WHAT AND WHEREFORE ON THE ISLAMIC DICTATORSHIP OF IRAN AND ITS CONTROVERSIAL, NUCLEAR-ARMING EXPONENT AND LEADER: "Ram and Bear: the Land of Persia, Ancient and Modern," by Ronald Ginther:
GOD GAVE ISRAEL (YES, ISRAEL!) THE TERRITORIES COMPRISED BY SOUTHERN LEBANON AND ALSO WESTERN SYRIA! Please go and see what the Bible says, which resulted in Israel being given these lands now exploited for terroristic purposes by the Iran-backed terrorist organization of Hezbollah. Use the article to view the maps: "The Area Attacked in Israel by Hezbollah, and the Lands Occupied in Lebanon God gave to Israel," by Ronald Ginther
Flowers of Christ's Love for the Enslaved People of Iran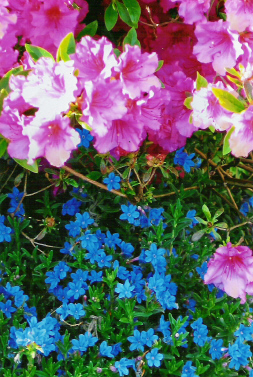 CARTOON CENTER: Our Emmaus Walk cartoon about the sinning, sybaritic playboy, or "rake", the typical American boy without Christ in his life: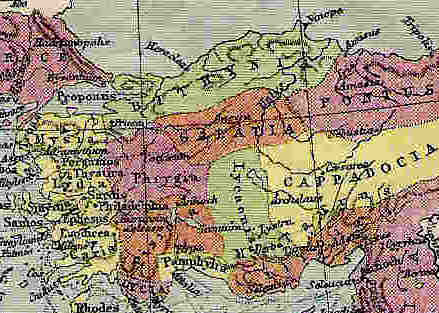 What city would you say is the most important in Christian and even world history? Jerusalem, it must be said, is that city, with Bethlehem, Nazareth, and Antioch and Philippi, perhaps, as runners-up. Jerusalem will continue to be the most important, for Christ is coming to set his throne there for ruling the whole earth when He comes at the close of the Tribulation Period and the beginning of the period of the Thousand Year Reign of Christ. Yet there is yet another, which "filled in" for Jerusalem when it was "trodden down by Gentiles" and the sons of Ishmael after the city's destruction by the Romans in 70 AD. That city is Constantinople. This was the capital of the Byzantine Empire from its founding by Emperor Constantine in the 4th century AD to its fall to the Muslim Ottoman Turks in the 15th century. During all that time the city withstood, alone, the onslaughts of the Muslim advance into Europe from the eastern gates. A city set on a hill, shining with the Cross, it managed by God's grace to fight off every foe--pagan Goth, Muslim Arab, Seljuk Turk, Mongol, barbarian Bulgar, Northman (or Scandinavian), and many, many others--and in doing that it saved Europe (that is, Christian faith in Asia and Europe) from being swept away--or driven underground. Christian faith literally went underground in Cappadocia, after that Christian country was conquered by the Muslims--you can tour Turkey's most amazing treasures of the past in Cappadocia, central Turkey, where you will see the hundreds of chapels dug into the strange rock formations and in underground rooms by the hundreds and thousands.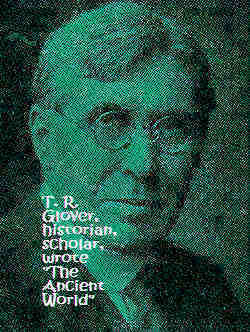 T. R. Glover, who died in 1943, was a great historian, scholar, and classicist, who wrote "The Ancient World." Of Constantinople's central role, he observed: "There his [Emperor Constantine the founder of the imperial city] city stands, as it stood; for a thousand years and more it was (far more than Venice) 'the safeguard of the West', and protected Europe, still imperfectly civilized, from barbarism and Islam, from Hun and Turk and Slav. It kept Greek literature and Greek thought safe for us all, till our Western world was fit to receive it. The Turk took the city in 1453, and the greatest of all historic churches, the Hagia Sophia of Justinian, became a mosque. It is now to be a museum; but some, who have worshipped Christ in it, know that it still is, and will yet be, the Church of the Divine Wisdom."
The Eastern Orthodox Christian Church Patriarch is still headquartered in the city, which remains the seat of Eastern Orthodoxy's head primate, the Constantinopolitan patriarch (who has been made a Turkish citizen, by the way) to keep him under control and from causing the Turkish government trouble.
Turkey ought to return the mother church, Hagia Sophia, that is still the center of Greek Orthodox Christendom, where it rightly belongs. This is the only major belief system that does not have its mother edifice in its possession--for I cannot think of any other. Imagine Christians forcibly taking Mecca and the Kaaba shrine and keeping them for seven hundred years, then turning them into a "museum." The British Empire had the power and armies to do so in the 19th and even the early 20th century--but wisely left the whole area of Islam's heartland alone. If not for this, it would have made a British possession, since the British Empire ruled supreme across the globe. How then can one religion, Islam, treat other beliefs this way? The simple answer is: Islam is triumphantist (its guiding tenet is that no competing, rival belief can be tolerated, except temporarily to get the advantage over after gaining more power and the means to use it), unlike Christianity, which can co-exist with other beliefs, and does, when not ruled by occasional triumphantist religious authorities!
Thanks to Constantinople, which remained for a thousand years a beacon of hope and prosperity, learning, and civilization, to a barbarized, dark, tumultous world after the Western Roman Empire fell in the 5th century, we did not wake up Muslims this morning, hearing the call from the minaret's iman to pray toward Mecca! It is seldom that one city ever played so vital and crucial a role in saving civilization and the Christian faith--in fact, this city is the only one that has done it, eclipsing Rome by a large degree. Can God forget Constantinople, now called Istanbul? Its people are precious to him--the ten or more millions of Muslims that now call it home. We owe as Christians a great debt to this still very beautiful city--and now when Pope Benedict XIV is about to visit there, it is coming into the front pages--just as it was on the "front pages" for over a thousand years in the past. God is, indeed, drawing attention to this great mother city, no doubt, so that we who pray will pray for the salvation of this city, which He used with such mighty power to preserve and protect the precious faith of Christ brought to Europe from this very land of Asia Minor, of which this city was the shining signet gem.
OUR GRATEFUL SALUTE TO POPE BENEDICT XVI AND THE LATE BYZANTINE EMPEROR! WHY IS NO ONE DEFENDING THE POPE AND THE BRAVE CHRISTIAN EMPEROR, MANUEL PALEOLOGUS, OF THE BYZANTINE EMPIRE? WHO WAS HE ANYWAY? AND WHY IS THERE SUCH A FUROR, IF HE IS SO OBSCURE AS HE IS DESCRIBED BEING IN THE LIBERAL WORLD MEDIA AND PRESS? COULD IT BE THE GOSPEL WAS FIRST SHARED IN THIS LAND, AND IT HAS SINCE GONE INTO THE GROUND LIKE A PRECIOUS SEED, AND ALL THE FUROR IS SATAN'S ATTEMPT TO KEEP IT FROM SPROUTING AND BEARING FRUIT IN THIS TIME, FEEDING MILLIONS OF LOST SOULS IN ISLAM IN THIS AREA? TWO THOUSAND YEARS AGO ST. PAUL AND HIS HELPERS PLANTED THAT SEED, ALL OVER ASIA MINOR (OR ANATOLIA, NOW CALLED TURKEY). THIS POEM DESCRIBES WHAT HAPPENED, TAKING THE BIBLE'S ACCOUNT OF IT:

CREATION/INTELLIGENT DESIGN CENTER:
For a magnificent series refuting Evolution as taught today all over the nation in most all the schools (not to mention promoted in films, documentaries, National Geographic specials, ad nauseum):
This visually stunning series can be shown in private home gatherings, for homeschools, in churches, in student groups meeting legally at school during allotted times--and will refute Evolution, point by point, the true facts presented by scientists and educators. This the the truth that Evolutionist do not have America to see, because their shabby, unscientific case for Evolution is utterly destroyed.

FALSE CULTS AND HERESIES CENTER:
Is the so-called Prosperity Gospel a heresy? Is it really based on scripture, as is claimed by those who preach it? What possible harmful effects could it have on Christian faith? Why is it so popular, and draw so many people to churches where it is regularly preached? Is it an American phenomenon--reflective of America's crazed, ultra-materialistic culture(just take Tom Cruise's 2.5 million dollar "wedding" extravagaza-circus in an Italian castle as just one example of our lunatic extravagance and self-deification as materialists)--or is it more universal? These are some questions we will try to ask and answer (or at least shed some light upon) in a proposed article.

GOSPEL BROADSIDE CENTER, WITH CONTACT INFORMATION:
THE EMMAUS WALK MUSIC CENTER:
A Song dedicated to the late Duane L. Smith:

CENTER FOR CHRISTIAN ACTIVISM:

GOD IS LOOKING FOR PEACE-BRINGING, LOVING "TERRORISTS OF THE GOSPEL" TO SEND OUT INTO THE WORLD!
Link for Christian activists ( LOVE AND PEACE "terrorists" FOR CHRIST), via David Wildmon's American Family Association On-line:
Link to obtain Vital Information about Current Issues Confronting the Family, Traditional Moral Values, and our Fast-Eroding Religious Liberty in America, as well as take advantage of the opportunity to order DVDs of the extremely well-done "Critical Mass" and the Boston colonial church's "Liberty Sunday" service and broadcast transcript, with Tony Perkins, Head of Family Resarch Council officiating. Also check out AFA's Pass Along Sheet telling about how Wal-Mart rolls out the red carpet for homosexual marriage:
One paragraph from the AFA Pass Along Sheet regarding Wal-Mart: "When Wal-Mart announced their support for the homosexual agenda a few weeks ago, they meant what they said. You will remember that the Wal-Mart asked for, and received, permission to join the National Gay and Lesbian Chamber of Commerce (NGLCC). The company announcd they were giving two large grants to NGLCC. The world's largest retailer was rewarded with a position on the board of NGLCC. Wal-Mart also announced they would give preference to homosexual-owned businesses in purchasing products."
Remember Ellen on TV "coming out of the closet," with her announced lover, Ann Heche? It was, in 1997, TV's most widely publicized event. I recall it, chiefly because I wrote a letter to a local McDonalds, saying I was not going there again to eat, after they came out endorsing Ellen--asking how could they do that and still support the family. Well, Ann's mother, Nancy Heche, interviewed by Joni Lamb on Daystar, has written a book, "The Truth Comes Out," in which she tells her very painful but necessary journey back to God, after losing her faith and her husband and her "ideal marriage" in 1980 when he died of HIV after living a double life as a homosexual. Then her daughter joined with Ellen publicly on TV in a lesbian relationship. It took some real sorting out in her heart and life before Nancy Heche found ways of loving and accepting her daughter as Christ would, yet without saying that homosexuality is right to do. Now Nancy is able to challenge churches not to reject homosexuals but to love them--the only way to win them back to the sexuality God chose for them and, even more important, the relationship with Jesus that will make their lives worth living. To find this book, you can go to www.amazon.com.


BIBLE TRIVIA/MISCELLANY CENTER
Item: Wesley's Cow Sermon: "One day John Wesley [the great British evangelist of the 18th century) was walking with a man who expressed his doubt as to the goodness of God. He said, 'I do not know what I shall do with all this worry and trouble.' At that moment Wesley saw a cow looking over a stone wall. 'Do you know,' asked Wesley, 'why that cow is looking over the wall?' 'No,' said the man. Wesley said, 'The cow is looking over the wall because she cannot see through it. That is what you must do with your wall of trouble--look over it and above it.' Faith enables us to get above circumstances and look to Christ who is over all, blessed forever."
This next item is not trivial, by any means! Michael Freund, Chairman of Shavei Israel ("Shavei Israel," meaning "Those Who Would Return to Israel"), who worked in the administration of former Prime Minister Netanyahu of Israel, has recently come in contact with a people in Northwest India who claim to be the Lost Tribe of Manasseh. Manasseh was the tribe affliated with Ephraim as descendants of the two sons of Joseph by those names. Genesis 46:20: "In Egypt, Manasseh and Ephraim were born to Joseph by Asenath daughter of Potiphera, priest of On." The people from NW India call themselves the "Bnei Menasche," which means, "Sons of Manasseh." Freund and others have met with representatives of this people in Jerusalem, and also gone to India and met with the people, studying their customs and manuscripts and history to determine if they truly are what they claim to be. Freund is satisfied that they are Manassehites. The Chief Rabbi of Israel has also reviewed their case and declared they are true sons of Israel.
The Bnei Menasche said to Michael Freund that they want to return (make the aliyah) to Israel. 800 have emigraed to Israel so far, but there are thousands remaining. In the meantime, Freund and supporters established two schools in India for them, and are doing other things to facilitate their return to Israel. It is about 2,700 years since they were forcibly taken from the Northern Kingdom by the Assyrians. If you wish to know more about this epochal reunion of Jews of the Lost Tribe of Manasseh with their people in their homeland of Israel, Hal Lindsay's recent interview with Michael Freund can be accessed here. Michael Freund's web address and webpage will be given too.
Or call Hal Lindsay's Ministry at: 1-800-TITUS-35. Or write: Hal Lindsay Ministries, P.O. Box 1475, Palm Desert, CA 92261.
Or contact Michael Freund:
Michael Freund has also written the book, "The Everlasting Hatred of Islam," which can be made available to him by using his website or Hal Lindsay's. Michael Freund's email address is:
Item: One "slightly used" Tower of Babel, in excellent condition, for sale? You have to see it to believe it--the reconstructed Tower of Babel, which has been newly erected in Iraq (the site of ancient Babylon) by the Nebuchadnezzer-emulating tyrant we know by the name of Saddam Hussain! Here is the circular-staircased, all brick Tower of Babel, which Saddam Hussain had built at great cost (the entire project of the reconstructed Babylon is over a billion U.S. dollars--money, by the way, stolen and diverted from the food for oil program instituted for the starving Iraqi people but not monitored by the almost totally incompetent, corrupt United Nations!)--on Babylon's known location not far from Baghdad. This Tower has been toured by American Christians, led to it by friendly soldiers who were guarding it. It is also featured on the reverse side of the no doubt now worthless 5 Dinar Note of Saddam Hussain's currency:
Item: Did you know that the Assyrians still exist as a distinct people? Yes, they form one of the ancient, indigenous peoples of Iraq, and they are Christian--yes, CHRISTIAN! They have an international website, which you can access by typing in "Assyrian" in any search engine. I have viewed the Christian Assyrian men who have appeared on the 700 Club, telling about their people and faith in Jesus, and they have now come by the hundreds and thousands to the U.S., where they have Assyrian Pentecostal churches (others may be more traditional churches). It was amazing to see these Assyrians, who display all the same facial characteristics as the ancient carvings of Assyrians we know from archeology. Those carvings were like photo images of the modern Assyrians! Lately, one notable Christian Assyrian reached the news, for he is a general who served in Saddam Hussain's government, and was the only one who would tell Saddam the truth (the rest were too afraid they would lose their lives!). Saddam respected him for this, though he was a Christian. The general has a book out that tells about Saddam Hussain's weapons of mass destruction, which existed and were shipped out to Syria, before the UN inspectors could find them. This book and his testimony (which I heard in a radio interview with him) has naturally (it is the usual tactic of secular humanism to ignore the most important things if they don't fit its agenda) been ignored by the U.S. liberal press, of course, since they were all intent to prove their contention that the weapons never existed (despite the evidence of the chemical-biological weapons Saddam Hussain used on the Kurds and the Marsh Arabs previous to the U.S.-Iraq wars) and the war was fought for no reason, therefore bringing down President Bush by discrediting him and making him seem a liar. He did not lie. We know the proof that the weapons existed, and this general is but one who knows the truth. As soon as I have a link, I will give it, so that his book can be obtained. Biblical prophecy tells of a highway being opened up from Egypt to Assyria, so that his people (whom God calls His peoples) in both places will no longer be forgotten and seemingly forsaken. Truly, with the recent developments, we are seeing this ancient prophecy fulfilled. We read about how terrible the Assyrians once were, but now they are the Lord's own people! This is "the rest of the story." Please check out their websites, particular Nineveh.com, which has an article also on the Lost Tribe of Jews moving to Israel listed.
Postscript to Item on Assyrians: The Nineveh.com webpage also announces the event of Christians for Assyrians of Iraq, which will demonstrate peacefully in front of the White House, Monday, December 4, 2006.
Item: Who would you say are the most generous people on earth? Hint: not the secular humanists (they do not give much of anything to the homeless, compared to conservatives).
Bill O'Reilly on the O'Reilly Factor show interviewed an author who has a book out on the results of his study of the giving of various groups in America and how they compare to European countries. Secular-humanists are hardly in the running. Conservatives give 2 per cent of their income to charities, mainly Christian charities. Liberals, when they give anything at all, give more to secular charities. Countries such as the Netherlands, France, Germany, and Italy are pathetic tightwads. Italy is the worst of all. I am reminded that the Netherlands, which doesn't compare to the giving rate of conservatives in America, or America in total, does not have much grounds for lecturing anyone, but their ambassador came here on a visit to the President and lectured the U.S. a while back just after the tsunami, saying America needed to give more money to the victims. It was absurd, coming from them--these secular humanist Hollanders who, statistically, per capita, are the real tightwads, not America, and certainly not conservatives. Now this was the book's findings--not my own good guesses--as I hadn't the slightest idea what the giving was for each of these nations was until the findings were aired on O'Reilly's program.
Bill O'Reilly asked the author (I did not hear this name, tuning in too late) why secular humanists give so poorly compared to conservatives. The answer is it has to do with their world view. No God to look to, they have only the government, and it is the government they expect to do the giving to the poor. That makes sense to me, but the fact is they are short-changing themselves by pushing off the poor onto the government. Giving and generosity actually enhances the lives of the givers. The author said that givers tend to be more successful as people. They are "blessed," to use a Christian term. As the Bible says: "Give and it shall be given unto you...". The opposite is also true then: Don't give, and it won't be given unto you!
Actually, when you think to the source of all giving, God, who can out-give God? No one! But when we give to help others, even the Muslims who may be persecutors of Christians, we are acting like God, are we not? And when we imitate God, we will be blessed--it is as sure a thing as water always flows downhill.
Item: What ever happened to the Jewish settlers recently evicted by the Israeli government troops of Prime Minister Omert in former Prime Minister Ariel Sharon's "Land for Peace" fiasco, when Prime Miniser Omert sent troops in to evict the Israelis from the Gaza Strip and demolish their beloved homes and gardens, and the businesses they had worked for many years to develop? What are they doing now? Where are they? Joni and Marcus Lamb of Daystar Television just broadcasted from Daystar's new station opened in Jerusalem, and Jewish settlers were able to voice their heart-rending story for the first time on primetime Christian television world-wide. You may want to go to Daystar's website to access this interview, which is given below. These people's stories are most touching. They aren't playing the victim/blame game. They just want to bebuild their lives, even though they are now in their fifties and not so young anymore, but the Israeli government did not reimburse them for the full losses they suffered, so that they now subsist in tiny cabins (called "caravans"), unable to finance the restablishment of their former flourishing businesses. When they started in Gaza, there was nothing--just desert! It had been neglected land for centuries under the Arabs who came and occupied what had been Judaea's southern border (now called the Gaza Strip). They created a miracle. They made this worthless sand and rock productive, they made it bloom! They worked hard for many years (as many as 27 years) in Gaza to build up their beautiful homes, lush gardens, and businesses--and a political decision in Jerusalem (pressured by the White House) to trade Jewish land for a false peace (it was false, because the land given was used immediately for launching missles into Israel!) swept it all away in a matter of hours. The world press gave it only a few moments coverage--and has completely forgotten these people, despite the fact there were over 1,800 families thrown out of their homes and businesses. But God has not forgotten them. They are still His people, chosen out from all the peoples of the earth as His special possession! Here they are--speaking on Daystar to the whole world about what has been done to them. And they are not bitter, full of hatred for the Arabs and the Israel government--despite all they have lost and suffered. They are not asking for money--we are asking for them. They just want to rebuild, given a fair chance. You can contribute anything you can to help them, by accessing their website:
Item: Tourism in Israel: We cannot agree with all the current Israeli secular humanist government's decisions, of course--particularly those discriminating against Christians or establishing same sex marriage or legitimizing the homosexual agenda and mandating it into the Israeli schools. We can never endorse abominations such as those. But we do heartily, without reservation, endorse travel in Israel. God has blessed this wonderful land of the Chosen People, and travel there is safe and will provide a great blessing, by God Himself. I was always tremendously blessed in my trips, and God shows no partiality. Just go needing a real personal touch of God, and it will happen! God is faithful! Faithful! He sees our effort in reaching toward Him, and He is touched in His heart and will reward us every time we do that! God is that loving a God toward His children. Believe in God--He will make a way where there is no way, seemingly, to go. I started out with a single penny I picked up off the floor at church in front of the offering basket, and gave it to God, along with my desire to go to Israel, and an anonymous person donated a trip to me with Art Katz's Ben Israel tour! Whatever that person's reason was, God used it to bless me beyond measure!
Terrorism? Bombs? Why fear anything? Almighty God will be flying with you and going right along side of you! Travel in Israel, and on its planes particularly, is much, much safer than in the West. Israelis have lived with aggressive, hostile neighbors so long, they know what to do to make travel in Israel extra safe. Dear Emmaus Walker, do not miss the opportunity to go to Israel now before Christ's soon coming (ask and trust God for the money!), and go (you will never, never regret it):
Click on "English" on the Hebrew Text Home Page of Gush Katif


(c) 2006, Butterfly Productions, All Rights Reserved

Contact information: Write: Ronald Ginther, The Emmaus Walk, P.O. Box 212, Puyallup, Washington 98371



FINAL WORD TO ALL VISITORS AND STUDENTS: WE LOVE YOU WITH THE SPIRIT OF YSHUA, AND THANK YOU, AND PLEASE RETURN SOON TO THE EMMAUS WALK! WE COMMEND THOSE WHO FAITHFULLY KEEP COMING BACK, AGAIN AND AGAIN, FOR ANYTHING MORE WE HAVE TO OFFER. WE WOULD OFFER FAR MORE, TO BE SURE, BUT THERE ARE TIME CONSTRAINTS AND FAMILY TIME WE MUST ACKNOWLEDGE, AS WE ALL MUST DO. YOU ARE PRECIOUS TO US AND TO THE LORD JESUS CHRIST! THIS IS YOUR WEBSITE, AND WE ALWAYS INTEND IT TO BLESS YOU IN EVERY WAY POSSIBLE.--Ronald Ginther, Founder, The Emmaus Walk Messianic School of the Bible