Just as it was for the rebellious, idolatrous people of Judah during the Prophet Jeremiah's ministry, time is fast running out for the American churches and the American people. We are called to repent and change our ways back to righteouness and godliness and holiness--or face certain destruction and the loss of our freedoms. We Americans naturally resist any such calls from God. We were born rebels, were we not? Yet we don't seem to mind tyranny any more, when it comes from government and cultural forces and even special interest groups (such as radical left environmentalists and social reconstructionists and abortionists and the separation of church and state crowd, all of which are secular fundamentalist). As long as our personal peace and affluence are not affected unduely, we will put up with most any intrusion and outrage.
I have to wonder how my fellow Americans will like it when an absolutist power is imposed on our supposedly law-respected society (we are always being told we respect the rule of law, by secular humanists who want us to believe big lies like that one).
There are two forms of takeover, the covert type, and the overt type. As for the overt, or public hostile takeover form, we have never known a foreign power with the ability to move in and tell us what to do, and so it will be very interesting to watch the surprise and bewilderment and absolute belief in Americans! The covert type is even more possible. Of course, it will be a puppet government that is left in place to delude us, but gradually people will still wake up to the fact that their votes mean nothing (there is only one real party and its list of candidates in a pseudo-democratic processd). In every real sense, the rule over this nation will be given to foreign enemies who will probably crush us under the boot of puppet rulers (such as the Bill Clinton serving an indefinite number of years as president while obeying the directives of his Communist Chinese masters for a certain amount of payoff). This overt type of takeover has been going on for years and years, and is in its concluding stage--foreign nations such as China own us, financing our national debt and our prosperity and high level of affluence by plowing back their earnings in our incredibly lopsided trade with China.
It is only a matter of time before Chinese leaders call ours to a private conference and give us the details of their riot act. "Agree to this and this and this, or face foreclosure, the collapse of your economyy, and bankruptcy." We will have to give in, of course, or commit economic suicide in order to preserve our national independence--which our spineless leaders will never do.
Why? If this takeover should occur today in 2008, at least 50% of the American people will choose not fight for American freedom. Our leaders know that they would never have a united American people behind him, so why fight for something half the country would give up?
As for the second form of enemy conquest, let us say there is a surprise, a full-scale military attack, which is the more obvious form of hostile takeover. Will we survive, when our leaders fear to use our submarine and surface fleets, even against the smallest hostile nations who attack us now? They fear the disapproval of the United Nations more than they fear the loss of American sovereignty and independence. If we are attacked here by a coalition of enemy states, who will come to our aid? No one! NATO IS A JOKE, IT IS A DIVIDED ENTITY THAT CANNOT EVEN DEFEND EUROPE, MUCH LESS AMERICA THAT SUPPORTS IT. Europe does not believe in the value and role of America in the world and resents America as a superpower. They would just as soon see us swept out of the way. In our own country, half of the American people do not believe in America, and were taught in the public schools that America is evil, and is creating the trouble in the world. The other half will fight, but they may not have the command of the armed forces when the real challenge comes.
If there is no surprise attack, the confrontation may not come overtly but covertly, in a scret ultimatum delivered to our country's leadership--whoever it is at the time--that we wil face nuclear war or we will give in and be spared terrible destruction if we will only submit to various demands. Our leadership will not stand up for America--they have already shown this in regard to Islam's world-wide challenge to the West for supremacy (despite the Iraq war and the conflict in Afghanistan and all the disclaimers by Democrat leaders that they are for national defense).
Who is left to fight for America? We cannot assume for a moment that the governing elites of this nation, who primarily espouse globalism, not nationalism, have our nation's freedom in mind as anything worth preserving--as they have a centralized world government, whether Western or Asian--as a higher value to pursue.
But we cannot expect anything better from this nation's wealthy elites. They favor their own ideas of what is good for the world, not what is good for America. They are supernationalist, not nationalist (just as President Bush, and his father before him, were supernationalist, letting the nation go without secure borders with Mexico)--their internationalism has been a long time feature of their lifestyles. Globalism is a natural outgrowth of their cosmopolitanism and borderless world-views. Their secular philosophies also incline toward world government--since world government, not nationalism, is their final answer to man's social and economic ills, so they think. Religion, and particularly the Christian Gospel, is no answer for them--they regard religion and religious faith as the obstacles, and archaic impediments to the true progress of the human race. To reduce the world population is a chief objective, as human life is no longer a value in itself--and so a world population of three or four hundred million is recommended by these groups of elites at their various closed meetings.
Jesus Christ to the Church of Laodicea, which is Contemporary Cultural Christianity in America:
And unto the angel of the church of the Laodiceans (American churches) write: These things saith the Amen, the faithful and true witness, the beginning of the creation of God: I know thy works, that thou (we the American churches) art neither cold nor hot: I would thou wert cold or hot. So then because thou (we the American churches) art lukewarm, and neither cold nor hot, I will spue thee (we the American churches) out of my mouth. Because thou sayest, I (we the American churches) am rich, and increased with goods, and have need of nothing; and knowest not that thou (we the American churches) art wretched, and miserable, and poor, and blind, and naked: I counsel thee to buy of me gold tried in the fire (repentance, commitment, the Gospel of Jesus Christ, a Bibical, godly life and righteous values), that thou mayest be rich and white raiment, that thou (we the American churches) mayest be clothed, and that the shame of thy nakedness do not appear; and anoint thine eye with eyesalve, that thou (we the American churches) mayest see. As many as I love, I rebuke, and chasten: be zealous therefore, and repent."--Revelation 3:14-19

THE EMMAUS WALK MISSION STATEMENT:
Jesus Christ first, and all the rest will fall into line.
Site scriptures (Jesus said, if we would obey just one commandment to love God with all our heart, soul, mind and strength, and the second which is like it, to love our neighbor as ourself, we would fulfill all the law of God): "Our God shall come, and shall not keep silent, a fire shall devour before him, and it shall be very tempestuous all around him.
He shall call to the heavens from above, and to the earth, that He may judge His people.
"Gather My saints together to Me, those who have made a covenant with Me by sacrifice."
"All the paths of the Lord are mercy and truth, to such as keep His covenant and His testimonies."--Psalm 25:10
"I will hear what God the Lord will speak, for He will speak peace to His people and to His saints, but let them not turn back to folly."--Psalm 85:6
Prayer from the Psalms, for America and also her mother country, Britain:
"Return, we beseech You, O God of hosts, look down from heaven and see, and visit this vine.
And the vineyard which Your right hand [Jesus Christ the Son of God] has planted, and the branch [Jesus Christ, Y'shua the Messiah] You made strong for Yourself.
It is burned with fire, it is cut down; they perish at the rebuke of Your countenance.
Let Your hand be upon the man of Your right hand, upon the son of man whom You made strong for Yourself.
Then we will not turn back from You, revive us, and we will call upon Your name.
Restore us, O Lord God of hosts, and we shall be saved!"--Psalms 80:14-19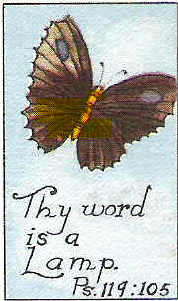 (c) 2008, Butterfly Productions, All Rights Reserved

All Emmaus Walk Students, to earn a Certificate, must complete the 10 required courses and the 6 elective courses, and must write to the Founder and Director regarding their candidacy and for access to answers for quizzes and tests. Contact information: Write: Ronald Ginther, The Emmaus Walk, P.O. Box 212, Puyallup, Washington 98371