Witchcraft and Spiritualism go together like the proverbial "horse and carriage." They also go "hand in glove," is another way to say it. They are "blood brothers." They are "soul sisters." They are "kissing cousins." They are inseparable twins--well, you get the point, this is one pair of devils you do not want to have anything to do with, lest you end up devoured by them and the dregs of your ruined soul spit into the flames of hell!
The same spirits of error, no doubt, energize both expressions of Deviltry. Spiritualism loves the New Age Religion that is so trendy and popular today in certain circles, and the religion that Supreme Goodie-Goodie Witch Oprah strenuously, hourly promotes in her TV programs, books, radio study series, articles, etc. How do I know that she is infested with Spiritualism, the false religion and values that make it up? Just look at what the Spirit of Truth brochure (published by the Moody Bible Institute of Chicago!) defines as Spiritualism, and compare with Oprah's teachings. There is an exact fit! Her radio correspondence "Bible study" course spouts the same devilish lies given below, even word for word in many cases, so the Spiritualist shoe fits her perfectly, in other words! Watch Oprah and absorb her sugary, positive, upbeat messages that promote your rotten little self to the level of being God over your own destiny and all that you are, you become a hellbound Spiritualist--as no Spiritualist will ever enter heaven, as the Bible states so clearly, first to last verse. Spiritualists can be saved and born again and forgiven, but they cannot ever enter heaven as spiritualists, for no Christ-rejectors will ever enter heaven, and that includes Oprah Winfrey, if she actually believes the Spiritualism she is constantly churning out for mass public consumption by her viewers and listeners.
Spirit of Truth and Error: Spiritualism
SIN
Man never had a fall.
Whatever is, is right. Evil does not exist. Evil is good. No matter what man's path may be, good or bad, it is the path of divine ordination, and destiny.
A lie is the truth intrinsically, it holds a lawful place in creation, it is a necessity.
We believe in intelligent and ignorant spirits. No being is naturally bad--evil always originates in ignorance.
Death is not a violent result of sin; it was neither friend nor enemy. It is a part of divine purpose.
REDEMPTION
There is no atoning value in the death of Jesus Christ.
Salvation by vicarious atonement is a wicked and soul-destroying delusion.
[Spiritualism] Teaches the continuity of life and the eternal progression of man toward perfectioin in the spirit freralm.
That every soul will progress through the ages to heights sublime and glorious, where God is Love and Love is God.
There are not two worlds at all, there (is) but one interblended, interrelated world, closely interwoven by memory and the love of life. Consciousness could not die. Personality could not be destroyed.
Life on the spirit plane is evolvement, like the ascent in a spiral, the growth of moral affection to higher and higher "heavens."
SALVATION
We affirm the moral responsibility of the individual, and that he makes his own happiness or unhappiness as he obey's Nature's physical and spiritual laws.
Man becomes a spirit after death, dong both evil and good, but he may be saved as he progresses from one spirit level tot he next. We affirm that the doorway to reformation is never closed against any human soul here or hereafter.
Leaving the physical body does not change the condition of the spirit, which is the actual personality. It must learn to desire and to progress to higher and better conditions, just as we do on earth.
Each must work out his own salvation, each has an equal opportunity to do this when he shall have atoned for the wrongs and overcome the temptations and allurements to the sense gratification of earth.
Even the most degraded personality can in time attain the greatest heights. it is easier, however, to begin progression in the earth time.
RETRIBUTION
Hell does not exist and never will.
All spirit people of wisdom, knowledge, and love know there is no hell and no devil.
No resurrection--no judgment.
When you believe in spiritual manifestations, you will feel far happier than you do now. You will not fear the threats of damnation and hell...such doctrine is wrong.
We do not believe in such places as Purgatory and Hell. Communicating spirits have merely graduated from this form of life into another. That life can be heaven or hell-like, just as each spirit chooses to make it; the same applies to our life here.--Spirit of Truth Brochure, "Spiritualism", Published by the Moody Bible Institute of Chicago.

Now that we have reviewed Spiritualism, and previously reviewed Oprah's teachings in her "Bible Study," we have seen that she is teaching and promoting much the same thing as New Age Religion AND Spiritualism. Ugh! What a match! But I have to ask: how old do you think New Age Religion is? Here is a shocker. It is older than we may have thought, much older. It isn't 21st century or even 20th century. Would you believe 17th century? We are talking about America. It may have come across with the colonists, but it was alive and well in Europe before their time even. But we know for sure it was entrenched in America, in Christian churches, by 1693, and probably earlier. Here is the proof:
In "Desiderata II," an inscription in old St. Pauls Church, Baltimore, Maryland, an inscription dated 1693 says:
"A revelation will occur to you...a revelation higher than your most exalted dreams. The New Age is coming, and in it there will be a realization of the Oneness of all. Differences between the various Religions will disappear. The good, which is in each of them, will be fused and will become the common goal of all mankind."
This is the clear error in the entire piece which speaks about Peace, Love, Truth, etc., but not Jesus Christ, the Way, the Truth, and the Life. It is New Age religion in its essence. There are no scriptures from the Bible cited. The Cross is not mentioned. Sin is not mentioned. Apparently, you can have happiness, righteousness, life, love, kindness, holiness, gentleness, all without the Cross, without Jesus Christ, without the Bible, without the Way of Salvation through faith in Jesus Christ and His atoning work. Oprah promises everything (You can have everything you desire! she constantly says to her huge audiences), but of course this is a pagan, New Age Religion teaching. Desiderata II proves she is saying nothing new. She is 17th century at least, following an earlier form of her New Ageism and Interfaith religion that was undercutting even the faith of our Pilgrim and Puritan forefathers in New England and Virginia!
Interfaith is also defined by Desiderata II. It consists of all religions, fused together, their exclusive elements purged. Christianity, purged of the Cross, of Jesus Christ the Savior and Lord (the only One), Jesus the only Begotten Son of God, will blend in with Muslim mystical Sufism, with Hinduism, with Buddhism, and native Indian religion, Earth Goddess/Environmentalism, and many others, into a supranational religion, that I believe will become the Anti-Christ's world religious system, Mystery Babylon described in the Revelation of Jesus Christ comnposed by John the Apostle as the Great Harlot. Already, we see the religious leaders of this interfaith religion meeting and drafting their creed in the precincts of the United Nations. Evangelical Christians were not invited, of course! Jesus Christ was not invited, of course!
Jesus Christ is just too "exclusive," claiming to be the Son of God, and the only Way, the only Truth, and the only Life. He has to be rejected in order for this universal interfaith religion to organize and get going. This interfaith religion, thus, is an anti-christ religion. It fits perfectly with the Anti-Christ world leader himself, who is called the Beast, in Revelation. After using it to gain control of all the souls on earth, he will then turn on Mystery Babylon, this intefaith religious system, and destroy it, since he really does not intend to share his world throne with anyone or anything. If Oprah has not repented and is still alive, the Anti-Christ's state police will show up at her doors, close down her Harpo studios in Chicago and padlock the doors, arrest her and her employees and drag them all off to the Anti-Christ's own versions of Saddam Hussain's torture houses, to be tortured, then decapitated, and finally shredded. They will learn too late they began serving Satan Himself when they all bowed to the Anti-Christ, worshipping him as God.
If you are in the Tribulation Period (left behind, you will witness these and all the other things described in John's book. America's National Cathedral in Washington will be closed, maybe even torn down. It is an Interfaith facility even now, soon after completion. It serves an anti-Christ religion, the New Age religion that Oprah is promoting along with Spiritualism.
Just as I was watching Dr. Irwin Baxter, head of Entime Ministries of Plano, Texas, he said that the Anti-Christ religion would be Interfaith Religion, which we know is taking shape at the United Nations and elsewhere, and the United Nations would implement it with sanctions against not only countries but down to the individual level. You can find his website at:

For six long years I said nothing about President Bush's failures to follow God's perfect counsel instead of the impAerfect, man-based, human knowledge (which they thought "wisdom"). Because he stood firm on abortion, I kept silent about his misdeeds. But after six years, and he continued to strenuously press Israel to give up Covenanted land, I could no longer remain silent. To do so, in my view, is to overlook and also condone such wrongdoing. No president who is voted into office is beyond criticism in a system of representative government, particularly when you have voted for him twice as I did, voting my conscience and my Bible and my principles. But when he disavowed the Bible, and Biblical principles, and even violated the holy covenants that God made with Israel and the Jews, then I must speak out, and I did speak out. You have the record in the Emmaus Walk, I did not remain silent as many did, just because he was a "Republican." His party is no excuse, and I am not partisan in that respect at all. I am a Christian, a born-again believer in Jesus my Savior and Lord first and foremost! My country is heaven first, and the United States second! I am a citizen of heaven first, a citizen of America secondly. Jesus Christ is my president first, and George Bush secondly. I have to keep these in the right order, or I will be following men, and men have limited knowledge and even limited will to pursue righteousness. Whether from ignorance or worldly inclination and political expedience or sheer blindness following his father's failed policies, that cannot be known by me at this distance from him and his personal life. I see only his public life. But I know evenso that his public acts do not square with the Bible on many important issues. He also does not square with conservative values either. His marriage to one woman faithfully, and his stand for the sanctity of life are his conservative and Biblical values, but these do not cover the other things he has wrongfully done while in office these two terms. God forgive him, and I will forgive him, but he also must repent to God for his sins while in office. He has affected millions, not always to the good, and he must bear responsibility. Please pray for him and his family. I do not have any assurance they are saved, any of them. They are fine and even godly appearing people, but that does not save anyone.
I have written this, not to defend myself, but to explain that criticism of my stand against President Bush's wrongful acts (which do not include the war on Iraq, though he mishandled it for quite a long time until he finally appointed General Petraeus to do a military man's job and let him alone when he was doing it!) is necessary, if I am not individually going to condone, or seem to condone, those acts. To remain silent is to be complicit, or seem to be, which is the same thing. President Bush was not the lesser evil, for I do not vote for "lesser evil," even though Al Gore was his opponent in the presidential race. God had mercy on us, had mercy on America, and did not let us get what we truly deserved, a terrible leader that Al Gore would no doubt have been if he had been able to seize the office of president as he tried to do after the deadlines were passed in the voting and counts of the votes in Florida. God has seen fit now to allow America to have Obama, who is ten times worse than Al Gore in his wickedness, to win the election (which was won, I truly believe, fraudulently). We will now trust God and seek His mercy, that He deliver us out of Obama's evil clutches. God is faithful, if we pray rightly, seek the salvation of Obama and his wife and children, and the repentance and revival all across this nation that has abandoned God. May God have mercy on us sinners!
As said before as a warning here, watch Christians and evangelicals run for cover under Obama's "skirts." They are doing it right now as I write this. I just watched Jerry Falwell's son, who heads up the ministry that his revered father bequeathed to him, centered at the Thomas Roads Baptist Church, Virginia Beach, Virginia, a ministry that also includes Liberty University, a renowned educational institution of thousands of students, based on Bible-based courses and with Christian fundamentalist teachers. Well, this a great legacy, but Jerry Falwell's son appeared to speak at the Potter's Church of the televangelist T.D. Jakes. I heard Mr. Falwell say we must now all come together as Americans and support Obama as president. He also said that we may have differences, but we can "agree to disagree." But the main thing is to "come together as Americans." Yes, devils and angels, we must come together! Righteousness and unrighteousness, join together! Forget same sex marriage, gay rights activism and public school indoctrination in homosexuality, forget abortion and even infanticide--we must go beyond such minor issues and join together as Americans and change, for somehow change is our hope now under Obama! This was the incredible, unchristian, even anti-christ message given by Mr. Falwell Jr. as he preached it to the world-wide audience via Christian TV! This is a black day for the splendid Falwell legacy, as this son (biological, but not spiritual son) denied every principle of his father's to espouse the most unrighteous course of action imaginable. Pray for this poor fellow, who was obviously not a Christian, based on the Bible and its principles, but a compromising, non-confrontational cultural Christian as a young boy or young man, masquerading as a committed fundamentalist Christian while his dad was living. He has shown his true colors now. May his own church and the college board spot him for what he is, which he has clearly revealed in this message he gave.
He was appealing to a black church, and a black audience in TV-land, who voted almost without exception for Obama despite his endorsement of abortion, infanticide, same sex marriage, and homosexuality over heterosexuality (not to mention his anti-Americanism and Marxism). T.D. Jakes and his wife were sitting with him on the set and saying "Amen" to this garbage, as he joined their camp, burning his legacy to do so! If this man could do this so openly, what about the others waiting in the wings? We shall see more such rats running for cover soon, as they consider that their IRS exemptions might be cancelled by Obama's executive decrees if they don't quickly fall in line with his declared policies!

If we cannot discern, by heeding the Word of God, the Spirit of Error from the Spirit of Truth, then we will be seduced by the strong delusion of this time, deceived, by the Spirit of Error sweeping America and the West, and then be swept away in turn by destruction and everlasting disgrace. We will have gotten what we chose, for the Spirit of Error has no power over us as Christians, followers and disciples of Jesus, unless we give it that power by choice.
I John 4: 1-6:
Beloved, do not believe every spirit,
but test the spirits, whether they are of God;
because many false prophets have gone into the world.
By this you know the Spirit of God:
every spirit that confesses that Jesus Christ has
come in the flesh is of God.
And every spirit that does nto confess
that Jesus Christ has come in the flesh,
is not of God.
And this is the spirit of the Antichrist,
which you have heard was coming,
and is now already in the world.
You are of God, little children, and have overcome
them, because He who is in you is greater
than he who is in the world.
They are of the world.
Therefore they speak as of the world,
and the world hears them.
We are of God. He who knows God hears us;
he who is not of God does not hear us.
By this we know the spirit of truth
and the spirit of error.
Again: "Therefore they speak as of the world,
and the world hears them. We are of God. He who knows God hears us;
he who is not of God does not hear us.
I have repeated those lines of the Apostle John because they describe exactly, perfectly, what is going on in the world of communications. Truth is not heard, but falsehood is trumpeted. The world's ear is attuned to falsehood, not truth. If you are attuned to the Bible, you can discern and hear the truth, and thereby you can spot falsehood too. It is the darkness, and you can hear darkness, as well as see it! The world rejects the truth, and does not want to hear it, so a spirit of delusion has been cast on them, like a giant fish net, and they are all ensnared in falsehood and self-deception, and are being bagged and drawn toward hell all the faster. Listen to the apologists, on the left and also on the right, speak in favor of the Obama cabinet, for example. They have all gotten on the bandwagon to hell, and it will be most interesting to see them react when they realize flames are licking at their feet! It is going to happen. The Bible says you cannot take fire into your bosum (talking of lust and seduction) and not be burned. Obama will burn all his followers, since he is filled with the very things that feed the flames of hell. They have sold their souls to him. Some have done it from ignorance and naivete. But they have done it, nevertheless. If you put your foot in the mud by mistake, it is still going to get muddy. You can pull it out as fast as you can, but the mud will still be on your shoe! I am using mud here, but the real stuff is not that nice, it is more like what fills barns, even cess pools. That is how God views what men exalt as good, whereas the holy eyes of God see only stinking vileness. All the running to Obama, exalting him as the great Hope of America and the world, this is idolatry, making a mere man of flesh and blood more than a man, more like a god or someone divine. It is one thing to look to a human leader for the things leaders can do, but to divinize him, that is another matter, and God abhors that. He alone is God. No man can exalt himself, or be exalted in that way, and escape judgment. This Obama is setting himself up, and being set up by his followers, for a mighty big fall. They will fall with him too. They may take America down with them as well. Our forefathers, if they knew, would disown us as Americans and descendants of theirs. They would lift their Bibles, and say that we have trampled on every truth in it, when Obama was lifted up as our nation's new messiah. He is nothing of the kind! He is a mass of corruption, dressed up to look like someone who has stepped out of a fashion magazine, and yet he is naked, blind, and diseased--in the spiritual sense. Sorry if that offends anyone, but this is just a Biblical view. Except for the Bible, I would be salivating all over him too like the masses of Democrats are doing (and quite a few crossover Republicans too). But because of the Bible and its standards of righteousness, holiness, and godliness, and Truth with a capital "T," who is the Holy One of Israel, Jesus, Jehovah God, I abhor this false god, this false messiah, this idolatrous leader of America. I pray for his soul, but I cannot but abhor what he is, and what he is doing, and what he is made out to be by the spin masters. As I said before, it will be interesting (also tragic) to see his followers come to the end of this delusion someday, and realize all they hold in their hands is ashes.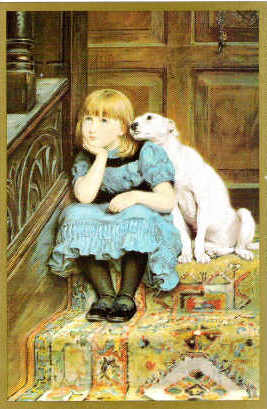 Can you spot the "hidden" Gospel in this picture? It wasn't put there on purpose, but it is there, nevertheless! Perhaps the greatest artist of the Universe, the Lord, guided the artist's brush to implant the Gospel just for those who had eyes to see it? For there is a Cross, a key, even some nail prints (in the original, I could see nail holes!). And note where she is seated! That is significant too! Where do we as Christians kneel and rest? At the Foot of the Cross our Lord! The foot of the Cross, from which we never, never graduate--not in this life anyway! Where do we receive all his blessings? At the Foot of the Cross! And we have a sent Comforter too--even if God uses just a loving, faithful pet dog, as shown in this picture. God will use someone, something, but He will comfort us. Usually he uses the Word of God, so let us read it daily for comfort, guidance, wisdom, and strength, and truth. Without the Word, we cannot survive as Christians in this evil and perverse generation and ungodly culture. True? Another thing to note, that is most significant: she is a child. That is how we all must come to God, as a child in humility. Unless we become as a little child, as Jesus said, we shall not enter into the kingdom of heaven.



THE EMMAUS WALK MISSION STATEMENT:
Jesus Christ first, and all the rest will fall into line.
We hold to the truths expressed in the Nicaean Creed in its entirety! Read it. Believe it. It expresses the pure Gospel of Jesus Christ, and was recognized and approved by the early church council at Nicaea, as the everlasting testimony and proclamation of the Church that the Lord Jesus, the Head of the Church, founded.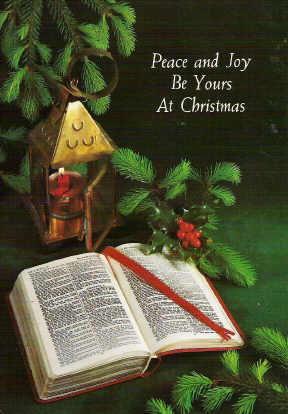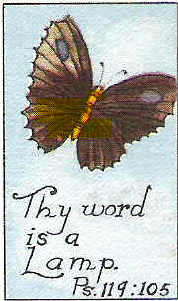 (c) 2008, Butterfly Productions, All Rights Reserved

All Emmaus Walk Students, to earn a Certificate, must complete the 10 required courses and the 6 elective courses, and must write to the Founder and Director regarding their candidacy and for access to answers for quizzes and tests. center>
WE HAVE NEVER FOUND TIME TO POST PREVIOUS ARTICLES IN THE VARIOUS CENTERS! WANT TO CHECK OUT THE LINKS AND REFERENCES AND COMMENTARY OF THE PREVIOUS EMMAUS WALK HOME PAGES? MOST ARE AVAILABLE, GOING BACK TO 2006, AND THE ARTICLES AND COMMENTARY ARE STILL VERY TIMELY AND PRESENT DAY ISSUES, AS YOU WILL DISCOVER BY CHECKING THESE OUT:
The Previous Home Page can be accessed at: