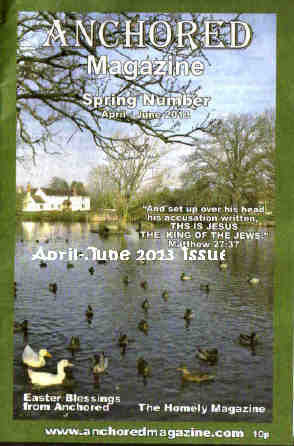 MONTHLY MEDITATIONS from Anchored Magazine, Worcester, UK:
A few Biblical reminders for some spiritual maladies, which are true for the entire year, not just for April, May, and June:

April 7--For Fretfulness, Heb. 12:3. "Consider Him that endured such contradiction of sinners against Himself". [this is an excellent verse for the current U.S. Presidency and all its woes of ungodliness--Ed.]

April 14--For Resentfulness, Psalm 18:30. "As for God, His way is perfect."

April 21, For Broken-heartedness, Psalm 55: 22, "Cast thy burden upon the Lord and He shall sustain thee."

April 28, For Weariness, Psalm 37: 7. "Rest in the Lord and wait patiently for Him".

May 5, For Weakness, Eph. 6:10. "Be strong in the Lord and in the power of His might".

May 12, For Solitariness, Heb. 13: 5/6. "I will never leave thee, nor forsake thee".

May 19, For Fearfulness, Isa. 41: 10. "Fear thou not, for I am with thee".

May 26, For Faithlessness, Luke 12:30. "Your Father knoweth that ye have need of these things".

June 2, For Forgetfulness, Psalm 103: 2. "Bless the Lord, O my soul, and forget not all His benefits".

June 9, For Worldliness, 1. John 2: 15/17. "Love not the world...the world passeth away, but he that doeth the will of God abide for ever".

June 16, For Drowsiness, Mark 13: 35. "Watch...for ye know not when the Master of the house cometh".

June 23, For Hopelessness, Psalm 42: 5 & 11. "Why art thou cast down, O my soul?...Hope thou in God".

*********************************************
My mother and sisters, my eldest brother and myself supported this Seafarer's Center ministry to the world's sailors that spreads the gospel to them and through them far and wide. For over 30 years my mother has been a part of the auxiliary that helps support its wonderful outreach to the sailors. Bible correspondence courses, Bibles, and all sorts of help like in shopping and bringing them needed personal items (if they can't get shore leave) helps the sailors spiritually and physically and emotionally. Laptop hookups, free, are also given them at the Port of Tacoma Seafarer's Center. Recreation facilities also provided, and trips to doctors, churches, stores and malls in the center's van. Who else helps them like this? They are so appreciative, and say so, often with emails from ships at sea! God, please bless this ministry richly!
This issue features a tribute to my mother for all her support over the years to this ministry and makes known her passing to heaven. She left a legacy of faith in action at the Seafarer's Center which shall not pass away, I believe, but will grow from year to year, producing much fruit for God's kingdom.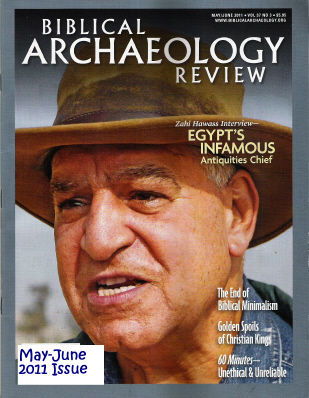 >


"Evangelism and Church Growth Center: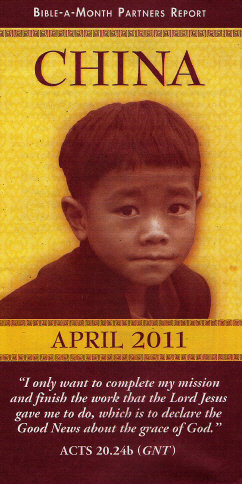 China's population is 1,330,044,605 and growing by tens of millions a year despite the infamous, genocidal one-child (read "male" gender, with the usually unwanted females aborted). That incomprehensible statistic means they have almost a billion more people than the U.S., despite the multitudes of their own people, born or unborn, they have already slain. Chew on that! A billion more people in the streets and in the cities and spread across the country! The principal language is Mandarin Chinese (which means, far more people, hundreds of millions more, speak Mandarin Chinese than we speak English in this country). The American Bible Society helps support the printing of Bibles in China through Amity Press, which is the government authorized company for printing Bibles. So far Amity Press has printed 80 million Bibles. That is a lot, but it is still not meeting the need, obviously, of the billion plus population of China. For a donation of only $1 you can help print one Bible in Mandarin Chinese. Go to the web site to learn more about this project, if you want to help China with its greatest need: Bibles! They are even more a needed now when the communist dictatorship that rules China has turned to using an iron fist against the 65 or so million Christians in China, attempting to suppress and even eradicate Christianity. Update: the destruction of hundreds and even thousands of churches with the wrecking ball, and forced closures and beatings and arrest of church members and pastors continues apace, with a ferocious intensity reminiscent of the nation-wide Red Guard rampages under Mao.
Every Bible printed probably reaches dozens of people potentially, as the Bibles are shared, not set on coffee tables or in bookshelves to gather dust. Each Bible is treasured and used until it is completely worn out and in tatters. We in America have no idea how valuable a Bible is, since we have always had access to all the Bibles we could possibly want. Not so in China! Very few people, proportionately, own a Bible. The hunger for Bibles is so great that people weep when they hold their first Bible. We ae so spoiled and callous, we can't imagine that, can we? Just read the the latest RECORD magazine--it tells how Chinese people react when handed their first Bible. To them it is worth more than anything else on earth they could possibly possess. China has a far more glorious future in store than we can claim, since the Chinese people value the Bible, the Word of God, supremely higher than gold or worldly things. The Back to Jerusalem movement born in China is building a vast army of missionaries and sending them forth into the strongholds of Hinduism, Buddhism, Islam, and Soviet style secularism. We shall see millions converted and those strongholds overturned and broken up and vast numbers of souls brought to Christ!
America used to honor the Bible, now we throw it out and ban it in public places! Our nation is under the ax, and will be destroyed, if we keep on this way, whereas China will rise higher and higher, all due to its regard for the Word of God.
Take a lesson from the Back to Jerusalem ministry of the underground home churches of China! They know all about evangelism and church growth. They just don't add numbers, they add true, reproducing Christians! Go to the website and find out about this:

CARTOON AND HUMOR CENTER:
We heartily recommend the cartoons of the Levitt Letter, which are clearly the best in the Christian and even the secular magazine world. You cannot possibly find their equal--just try! And I won't hold my breath either!--Ed.
JAWBONE OF JUDGMENT CENTER:
Barack Hussein Obama is still agitating and working to subvert and overthrow the lawful government of the United States. He is a prime mover in the Deep State which is a conspiracy to overturn a free America and make it over into a socialist state governed by politically correct secularism and the LGBT-transgender agenda. This threat is not going away. He has billionaires supporting his radical communist and Islamization and racist agenda. Why is he not retiring after Trump's inauguration? Follow the money right to his bulging pockets! His latest mansion acquired cost $50 million, and is located on Nantucket Island, Massachusetts, and he has other palatial homes in Washington, D.C. and elsewhere. That is what a pseudo-compassionate man does with his money, spends it on himself and gain ultimate luxury and pleasure. He has been given over 60 million dollars for his and Michelle's pseudo book, the latest in his series of lucrative pseudo books. This is an update, but nothing has really changed since the below entry was made:
Do you read the Bible where sin is declared sin and God judges it? Doesn't it say God is the Judge over men and nations, both great and small? God has already judged America for its sins, and is holding this nation responsible. His Word already has judged America. There can be no doubt about it, though there is plenty of confusion. I refuse to be confused any longer. My country is judged, and that doesn't mean that total destruction has not been postponed by the mercy and grace of God--it certainly has been postponed, perhaps decades! We were a wicked and behaving wickedly long before our Muslim dictator-president stepped into the Oval Office to declare prideful blasphemies and lies to the whole world. Are you still confused about where his sympathies really lie? You need not be. Listen to his own words about his true faith in the Koran and the religion of Islam, also what he says about this country. Why not take him at his own words, which he stated a number of times to many thousands and millions of people, and which are recorded on tape. There can be no confusion. Watch him say them with heartfelt expression too--he really meant them, as much as this cold-hearted, salamander-like creature can mean anything, that is.
A pastor and write sent me the following video from YouTube. I hope this link works, otherwise you can go directly and do a Search and probably obtain it yourself.
Ending Note on this previous account on Obama, who is still with us in 2018 agitating for the One World Government and the dissolution of National Borders and Nation States: What do we make of this, that we have a Muslim and a Socialist President foisted on us (almost made ruler over America again, wearing the skirts of Hillary who nearly won the presidency for his policies, and who actually won the popular vote!)? I believe myself it is part of God's judgment on us, to allow us to be oppressed by wicked rulers to the point where we will cry in our distress to God, that He will send us who repent mercy and grace and deliver us out of his hands. I do not know if America can be saved, or will be saved, but we can receive mercy and grace even on the decks of a sinking Titanic. That doesn't mean we won't slide or fall soon into the icy-cold, killing waters of the sea as the ship breaks up and plummets to the bottom, but God's mercy and grace will nevertheless carry us through even that--and into His arms.
The summer issue of VINE AND BRANCHES magazine (see above in the Recommended Magazine center) has a stunningly good article on whether America is being judged by God. Is there any question in your mind about this still, after all that has happened in the last couple years? You don't even have to go back to 9/11, to see that God is judging this nation for its flagrant sins in a variety of ways. His hands are not tied! He can judge us, pouring down on us his wrath, either a drop here, a drop there, or a river of judgment that sweeps us all away in one big flood! We used to sing a nice song about "mercy drops round us are falling..." Well, how about "judgment drops round us are falling..." Certainly, you would agree to that, we are experiencing at least "judgment drops." Otherwise, you can have no explanation that is reasonable for what we are seeing happen to America, right in our own neighborhoods. The problem is, like you see with a dripping spigot or a leaking pipe, the drops may soon increase to a flood, it just is a matter of time usually before you are having to call the plumber as you stand in several inches of water gushing out over the floor! Drops now, but a flood is coming! A flood of judgment we won't be able to fix--for it will be too late. And the Plumber is God, and what if he doesn't answer our call? It's his call, whether He answers or not. No doubt Sodom and Gomorrah were calling on God too, when judgment descended. No doubt they cast their worthless idols aside and called on the One True God, but, friends, it was too late, too late. There comes a too late. So...isn't it time to acknowledge our sin now, while the drops of judgment are indeed falling not just around but on us? Why wait for the flood to repent? Then it will be too late, and our cries for mercy and grace will then be unheard.
JESUS WOULDN'T HURT A FLY? I have heard people say in Bible teaching that Jesus's two cleansings of the Temple were not typical of his ministry of reconciliation, but if so, why did they take place both at the start and at the close of his earthly ministry like two bookends? Yes, he did not come to bring judgment, but he certainly made the point, twice, that God demanded purity in the house of prayer and was going to get it, even if it required a violent cleansing! We suffer sometimes hideously as Christians when we are out of his will, and we suffer hideously sometimes even when we are in His will. This life is going to produce suffering for us, sooner or later. But the question is, is the suffering going to cleanse us, or embitter us and make us all the more defiant and rebellious? We will fall into judgment and destruction like the Pharisees and Sadducees did in Jesus's time on earth if we don't cleanse our temples, our houses of prayer, when called to do so. God isn't going to allow us to go on as we have been doing, defiling the house of prayer (which is our own bodies). God is very, very serious about this, he has never ceased to be serious about it. It is time to stop playing games with Almighty, Holy God, don't you agree? Judgment is falling on America, no doubt about it any more. But we can decide to be cleansed by it, or be crushed to powder. Personally, I want to repent and change, and obey the Lord with his p;ower and strength. Then when destruction comes upon this nation and people who have abandoned God, God will be my refuge and fortress, while others run about seeking in vain a place of escape and safety, just as the Christ-defying leaders of the Jews did when the Romans under Vespasian and Titus came against Jerusalem with their Roman legions in 70 A.D.
A PERFECT STORM IS BREAKING ABOVE ALL THE NATIONS AND OUR OWN AMERICA: Get hold of a copy of "Storm Warning," a great book by Billy Graham. It is available at book stores, or by contacting the Billy Graham website.
Howard E. Kershner, Ph.D., writes in the Lutheran Digest, Fall 1966, how socialism is a dead end, in his article, "The Future of the Welfare State." This article is more timely now than it was when published. We have a whole cadre of socialists, unabashed, seeking to be president after Trump, all aiming to make America over into a socialist state. Would you want that? Could you endure that? Actually, a socialist welfare state has no future you would want for yourself and your children! (if only Barack Obama would have listened to Kershner instead of Saul Olinsky and his socialist college professors!). See for yourself if you want what Obama and his crew proposes for America and your children:
There is no future for the welfare state, and that means there is no future for Obama's welfare state, which he has made out of America! See the reasons why:



Can't find the article or statement here on this page that was here previously? It hasn't been deleted, nor has it vanished into cyberspace like a bat out of somebody's video game. Where is it then? Well, it is preserved for our convenience and ours on a "Previous Home Page" we have moved for easy access off this already too crowded page. Go to the Previous Home Page Directory page, and there you find most all our former Home Pages and their contents.

THE EMMAUS WALK MISSION STATEMENT:
Jesus Christ first, and all the rest, starting with myself the Mighty and Proudly Self-Sufficient King, will fall into line.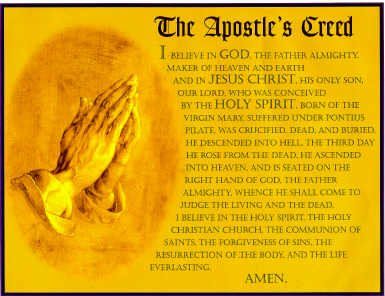 What does the Apostles Creed boil down to? Simply this: JESUS IS LORD AND SAVIOR AND MESSIAH AND KING OF KINGS, LORD OF LORDS, AND THERE IS SALVATION IN HIM ALONE!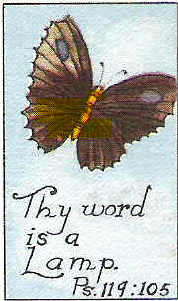 Copyright (c) 1997-2021, Butterfly Productions, All Rights Reserved Until the SOON Rapture!