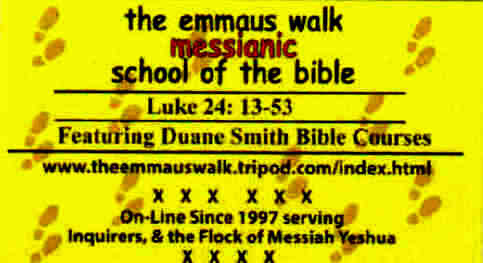 THE EMMAUS WALK PRESENTS:
"Choose Rock, not sand,"
by Unknown Pastor, Message Notes by Ronald Ginther

No struggling! Just yield like clay and God will make you his instrument!
"On Christ the Solid Rock I stand, all other ground is sinking sand'! If I keep it simple, I will keep my ground. Be honest, ask God to restore what you lost. We are the Laodicean church today--poor, naked, blind--and too proud to ask for help from God? Too proud to ask, "Lord, deliver us"?
God wants us to make it! He is not angry with me. But I've got to be honest with God. He wants to show us ourselves, so we can say, "Lord, forgive me."
Always trying to blame others! Everyone was punished for his own sin. "Sin shall have no dominion over you!"--Romans. Shall we continue in sin? We are dead to sin!
"Behold, I tand at the door and knock. If anyone hears my voice, I will come in and sup with him."--Jesus. Faith brings God close to me! I've got to have faith! All who call on the Lord's name will be saved! But we have to call!
Joshua 24:15--"Choose ye this day whom you will serve!"
God is bound by His Laws. Keep it simple with God. God is going to wait until you run out of other options.


Format only: (c) 2007, Butterfly Productions, All Rights Reserved