That distinctly simian look to Charles Darwin's skull is hard to miss--the deep set eyes, the jutting brows--it is almost visible proof of his theory of the evolution of man from apes. Only the science doesn't back up the theory, as we know. It isn't really worthy of being called a theory either, for it is a mere hypothesis, trumpeted as a scientific theory. Only ignorance, religious fervor, and money back it up. There is Big Money and a lot of prestige and faculty tenure behind this erroneous theory of life's origins. Too many people in the universities and high positions have too much to lose if the theory, already discredited by science, is jettisoned. Evolution is not science, it is religion plus the money and prestige. World-class careers and reputations have been built on a bogus theory of a boobie that his worshipers call a "genius". So we may well be stuck with this incredible folly of the ages for a long time yet. The Christophobic evolutionists aren't going to let go of it willingly, no matter how much genuine science is stacked against it. Besides, as a religion, it offers the only alternative to Creation and God and the Bible. That explains the fanatical fervor of the evolutionists as they spin the most incredible tales out of bits and pieces of bones dug up in Africa or Asia, constructing entire races and progenitors, the so-called ancestors of modern homo sapiens. Remember the Piltdown Man "discovered" in England but later revealed as a hoax. That is typical of the whole gamut of fabricated "races" and "proto-humans" and "pre-humans" that evolutionists have cooked up out of the most outrageous and unscientific hypothesizing and speculation. Data continues to be "cooked" even at this time in support of evolution. Believe none of it! It does not matter what prestigious university funded the research, or how many degrees the paleontologist can claim. Submitted to the scientific method, without fabricating explanations that cannot be proved, the impressive claims dissolve into the most absurd nonsense.
Darwin's theory has been used to justify all sorts of other follies, as it was applied to society and social engineering. If there was no God as Creator, only some rather agile pond scum that somehow over the ages evolved into moving amphibians which in turn somehow grew lungs and discarded their gills and became land animals, the precursors of modern mammals, which in turn produced man, then we have a secular world, without any restraint of God's laws, or the revelation of God in the Bible, and man is just another species to be treated as animal, not as the Bible has described him, "made in the image of God." Already school children, their heads full of mush that too much TV and DVD watching has produced, are stuffed with evolutionary theory, so that they can be manipulated by the the teachers' unions and the secularists of the school adminstrations. This is the result: a socialistic society full of dumbed-down animals ruled and manipulated by the authoritarian, privileged, weathly, socialist elites. This is the paradise they are seeking--which is a hellhole built on abortion by demand, immorality, perversion, drugs, and subservience to the all-powerful State. All this is the fruit of Darwin's theory as applied to society, with the religion of evolution and all its adherents in the scientific and educational communities, including the government and the entertainment industries (which are really one and the same industry), giving it full backing.
Darwin's legacy is death and destruction, but evolutionists and Darwinians are celebrating the 200th anniversary of his birthday (a dark day, indeed!), and the 150th anniversary of his most famous piece of garbage, "On the Origin of the Species."
Thank God our Creator that there are some film producers with the intellectual honest and the courage and the money who are producing films that question Darwin and his spurious theory. "Creation" was released in September in London. Another anti-Darwin film is "The Mysterious Islands," after the unique Galapagos Islands that inspired Darwin and form the basis of his fanatic adherents' evolutionary faith. Going right to the source of this folly, the Birmingham, Alabama Erwin Brothers filmmakers took their equipment and crews to the volcanic islands with all their bizarre animals and fish off the coast of Ecuador to film the very scenes and species that Darwin used as proofs for his theory. Executive producer Doug Phillips took a team of scientists to determine whether the place is an exhibit for evolution or divine creation. They photographed white-tip sharks, salt-spitting lizards, blue-footed boobies and flightless cormorants, and of course those darn finches that Darwin made so much about, only they reached different conclusions than he did.l; "Darwin thought that all life evolved from simple organisms like seashells, and that he knew the scientific mechanisms by which they did so. The film argued that new kinds of animals are not formed through mutation nor the passing of millions of years but that information stored in animals' genes--by God--allows them to adapt to different circumstances."--Excerpts of Julia Duin's "Stairway to Heaven" article, "'Mysterious' Puts Darwin on Trial," The Washington Times, Monday, December 28, 2009.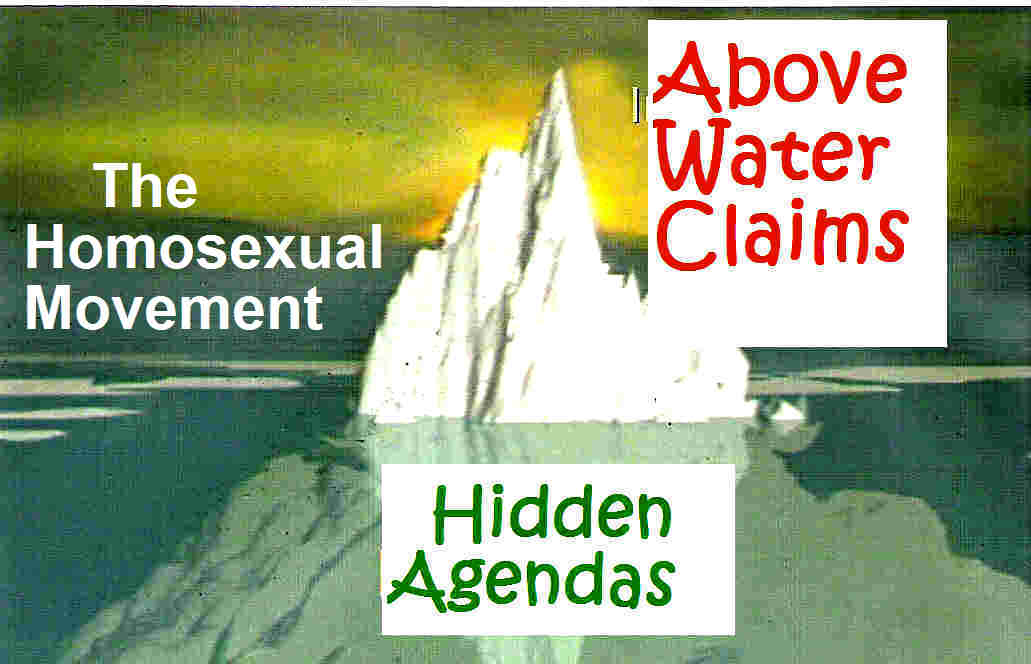 Know that the claims of the homosexual radical groups are just the opposite from their hidden agendas. The visible part of any iceberg is about 10% of the total mass. 9/10's of the homosexual movement is below the water, known to the other homosexuals but not to the public. This is how it goes with them:
1. Claim: Diversity. Hidden Agenda: Uniformity. They absolutely do not want, nor will they seek to co-exist with heterosexuals, they are really determined to to make everyone, young and old, homosexual. They cannot rest until homosexuality is forced on everyone universally. As long as heterosexuality exists, they are convicted, they feel guilty and inadequate as they see the God-given pattern of one man and one woman in marriage creating a family creates more health, happiness, and well-being than homosexuality ever could. They must wipe out the contrast that will always be a slap in the face to them, reminding them that they are dead wrong and unnatural and flying against the laws of God by what they do. Color all society, man, woman, child, pink! They will not accept any other colors. 2. Claim: Equality. Hidden Agenda: Exclusiveness. They seek an exclusive status and position, over everyone else, beyond any reach of the law or social sanction or ethical view. They are the super elite, aggressively climbing to absolute power and topmost rung in society, so that they can dominate and change everything and everyone pushed down into the social pyramid beneath them.

The screaming hypocrisy of this movement is thereby exposed in this model. Activist homosexuals are stripped naked before the bar of truth. It is an ugly spectacle, revolting, but also pitiful and wretched in the extreme. Sin is an ugly thing, guile is an uglier thing, and both together have birthed a monster of iniquity that is attacking and devouring the whole of American society, despite the fact that the activist homosexuals are a tiny fraction of the total population. Given huge amounts of contributions by the wealthy to fund their warchests, the activists have been able to sway judges, courts, huge corporations, and even the U.S. Congress to do their bidding. They scent victory, a complete conquest of America for their agendas, and will not stop unless they are either converted to Christ by the Gospel of Grace or a strong-armed government sees the light of reality and runs them back, by force, into the shadows, stripping them of their unconstitutional privileges.

We know from the Bible that homosexuals were always a serious problem in ancient societies, since the time of Adam and Noah. Even after God sent a Great Flood to destroy the Noahic world, the problem persisted with Canaan's descendants, and they gradually infected the whole world with perversion and homosexuality. We are again at the same conditions that Noah knew and which God was grieved to see. But there are other things just as vile in the mix today, such as drugs, violence, politics, power, wealth, social position, the entertainment industry, even fashion.

Whatever the claims, they are only the public means to deceive and dupe the general public about homosexual's hidden agendas. At their private meetings of their organizations and activist clubs, they do not talk about the official claims, no, they are free to discuss their true agendas, which are shocking and nasty in the extreme, but which they delight to see implemented. The NGLCC, the "National Gay and Lesbian Chamber of Commerce", is the aggressive economic arm of the homosexual movement, that gains huge contributions through presenting their claims to corporations such as McDonalds under the guise ("under the water") of "compassion" (actually cruelty), caring "actually indifference or hostility"), "equality," (actually uniformity, everyone "pinked"), and so on. Huge corporations usually buckled under, presented with these claims, and, no doubt, they don't like the idea that the powerful homosexual lobby in Congress could pass punitive bills against the corporations that deny NGLCC what it wants. It is much easier for McDonalds to pay the millions it has available to this group, and hope everyone is happy and those who--usually evangelical Christians--either don't hear about it or are too preoccupied with other things to make a fuss.

How else do you explain that the chief executive of McDonalds made a statement and called Christians "haters". That is exactly what the NGLCC would love to have him say, putting McDonalds high on their list of "nice corporations" which they won't litigate with trumped up charges.

Fellow Christians, knowing this is a fact, how can we compromise in any way or agree with them? There can be no compromise in the name of Christ. In other words, no deal! No bargain. No co-existence. They are anti-Christ, anti-God (even if they wear clerical colors and are bishops in the Methodist or Episcopalian or Lutheran churches). Beyond that, they are anti-morality, anti-democratic, anti-American. They are even anti-human. You cannot be a human being as God designed human beings and be a homosexual. The rebellion by Adam and Eve in the Garden of Eden, the sin of their eating the forbidden fruit in disobedience to God's law, that created perversion and homosexuality. So Sin designed a homosexual, not God. Everything fell apart catastrophically as a result of the fall; some parts immediately were ruined, others took more time for the ruin to set in and make itself visible. After all, Adam did not die until over 900 years after he sinned! But eventually, he did die, just as God warned him he would. Measured against an eternal lifetime he might have enjoyed, what was 900+ years he got in his bargain with the Devil? It was a wretched pittance! That is Satan's way, dupe you into giving up a fortune of billions and even trillions for the price of a candy bar. Willing to sell out everything for that? Amazingly, many people do just that, exactly what Adam and Eve did long ago.

In like manner, we will all die, man, woman, and child, if the homosexual agendas are triumphant. The homosexuals themselves will perish in the most horrible way. You cannot maintain a viable, living, creative, happy world and civilization, much less a nation and society, on such terms as their agendas. It is self-destructive. It is hell on earth.

Sweet, caring, compassionate, loving, even Christian homosexual "unions" seem to exist, in defiance of everything I have just shown you. These are always pointed out by advocates of homosexuality as proof that God can accept and bless such unions, and therefore they ought to be endorsed as legitimate and even viable relationships, with the same legality and privileges as heterosexual marriages. Yes, the forbidden fruit was attractive and desirable to the eye of Eve, was it not? But it was actually poison, death, in the most attractive wrapping. So too with the homosexual "unions," the Word of God tells us clearly and repeatedly that unrighteousness and the wages of sin is death. Death will come, destruction will come, ruin will come, though it seems to take so much time in some cases that anything so unpleasant happening to the participants in homosexuals is rendered unthinkable.

Remember the iceberg! It is 1 tenth above water, which makes it so deceptive a danger. Boats or ships sailing near it may not seem to be in mortal danger, but they are, for the iceberg is 9 tenths larger beneath the water, invisibly reaching out toward their hulls to rip and tear them open. Be shielded with the armor of Christ when dealing with the activist homosexuals. Homosexuals are merely sinners in need of Grace and salvation and the forgiveness of God, but what they are a part of is truly dangerous, extremely aggressive, and totally committed to destroying the world as God designed it and as God designed human beings. What they are a part of is the hidden agendas of Satan himself. It is Satan who hates the God-design of human beings, the God-design of marriage, the God-design of nations and societies. He wants to pervert and destroy them all and substitute his own hellish empire in which he will be God and in which everyone will be forced to worship him. It will be an empire of lies and terror. We have seen such empires arise on earth before: The Soviet Union, Nazi Germany, and others before them. We are seeing such empires arise now in our prsent world: the European Union is such an empire of lies and terror. It may look benign and beneficial now, but down the road it will become an absolute dictatorship based on a police state society. They have done this time and again in Europe, but in their pride and arrogance they continue to ignore their own past follies and re-commit them again and again.

Here in America, our Founding Fathers knew better and did everything in the Founding Documents of our nation to divest ourselves of Europe's follies and strike a new course in human freedom and development and righteousness. They succeeded, but now the unrighteous have gained such power and numbers they are reversing everything our Founding Fathers achieved for the sake of life, liberty, and the pursuit of happiness. We know what they achieved, what they intended, but the courts, and unjust laws of Congress, and unjust laws of state legislatures, and unjust rulings by courts, have rendered the Constitution, the Bill of Rights, and the Amendments protecting our vital freedoms, null and void. We are being rapidly reduced to serfs and slaves on somebody else's land, just as the common people were in old Europe!

We are losing the moral ground in America to the homosexual agendas, and we are losing all right to the property we own by the Supreme Court ruling that property could be pre-empted by the state or city authorities if they saw a more profitable use for it than our private ownership! So we lost both the soul and the ground beneath our feet--the nation is stolen away from us, soil and soul perverted, wrenched out of God's master plan and design.

All this must be stopped. We as Christians must stop it. We can stop it. If we stand in Christ, on his principles, repenting of our sins, He will hear us and go to war against our enemies that are crushing us to the dust and taking the children from us to make over into children of hell to populate their "Brave New World"--the globalist utopia envisoned by Dr. Henry Kissenger, Barack Hussain Obama, Axelrod, the Bushes, and all who think like them. Their world is the exact opposite of the righteous kingdom of God, but that does not matter to them in the least. They imagine, as Eve imagined, they will gain something "better" and will be improved, become higher human beings, if they can create such a world out of this one. To achieve their aim, they must destroy everything of Judaeo-Christian civilization and its underpinings in the Constitutional liberties and the rights that were given us inalienably by Almighty God. They pit themselves, therefore, against Almighty God and Christ. They will be defeated! They have denied God any role in their remade world, but God is not moved in the least. He holds these rebels in derision. Christ will come soon to sit upon his glorious throne in Jerusalem, and all the wicked will be destroyed and swept away off the earth. A new world will begin with him ascending the Davidic throne. A paradise will be recreated out of the sin-ruined earth. It is the Millennium of happiness for the saints of God. We have a lot to look forward to! But in the meantime we must be sober, vigilant, and ever mindful this is a war we are engaged in, between the forces of light and the forces of darkness. We must put on the whole armor of God to survive the slings and arrows of the enemy. We must be led by the Spirit of God. We must be daily in the Word of God, we must pray and repent of our sins. We must interceed for others who are needing prayer, healing, deliverance, and provision. We must be a part of Christ's true church (not merely a member of a formal body that calls itself a denomination or church). We must be a part of Christ's Body, His precious Bride. The Word of God teaches us all these things. We will not be deceived and led astray by false shepherds and teachers if we cultivate His Word daily. God will not forsake us no matter how weak or even how sinful we are, if we want to be kept. God loses not one child of his own. We can be His children forever, and will be, if only we want to be. Do you want to be? I do! I see what is in store for those who do not want God or are running from Him despite all he wants to do for them--and I shudder to think of what they are risking to happen to them. Whatever they think they are gaining, it will not be worth it eventually. Hell, with all its deceiving, glittering, present delights for the flesh and the lusting eye to indulge, cannot compare with Heaven, with its unending rewards and happiness and purity that bear no sorrow with them nor give you a hang-over in the morning (not to mention STD's, or a divorce, or an out of wedlock pregnancy, broken trust, or even an HIV/AIDS' death sentence). Either you gain Heaven, or Hell is your reward. And heaven is the reward of the committed, the dedicated, the sold-out pilgrim. It doesn't come easy. The road will have many tests, snares, pitfalls along the rocky route to deal with. Yet God says he will never forsake us or desert us in our difficulties and even our tumbles and falls (I've had a number of falls myself, but Christ never let me go!). He can get us through every trial and test and tribulation we will ever experience in life, because he encountered, suffered, and overcame everything we will ever find barring our path to the Celestial City. Praise to the Lord! How can we lose, with such a Shepherd as Jesus, who went before the flock, before the sheep, to show us the way, and then to stand faithfully 24/7 as our High Priest in heaven, praying perfect prayers for us as we make our painful way to heaven on the road he first traversed.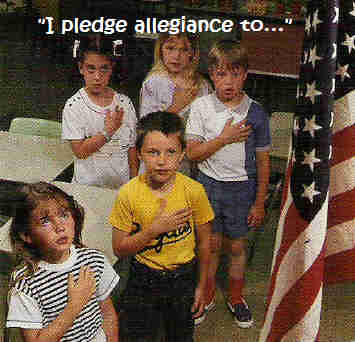 Pledging Allegiance to the United States of America by school children in public school classes may soon become a thing of the past, if the ACLU has its way with the Christian founded (!) public school system in America. They hate it with all the animus in their shriveled hearts, particularly because it bears the phrase: "one Nation under God" in it. They also hate it with the spite of demons because it has children pledge allegiance to this nation. President Obama hates it just as much. He would much rather have the pledge modified, so that they pledge allegiance to the United Nations, or a nation under the authority of the United Nations. The U.S. flag, if shown at all in the classroom, will have a noticeably larger United Nations flag standing by it, so these impressionable young minds get the point he wants them to get: we are subservient to the world community, not a sovereign nation in our own right, and patriotism is no longer operative and viable, since we are in his view all citizens of the world, a term he applied to himself in the infamous Berlin speech.
If you haven't read the political science books or the Communist Manifesto or even Karl Marx's doctrine of devils, DAS KAPITAL, don't think you need to. Just look at this, and you will understand immediately what socialism (and its later, terminal stage, full-blown communism) is all about:

Do you want to know what those little boxes, all alike and set in rows like the ticky-tacky houses of suburban subdivisions in the cash-strapped Forties, are? They are what socialism wants to make out of individuals. Every bill you see in the U.S. Congress at present has its aim to make little boxes in a socialistic grid or societal agenda, just like the ones pictured here. And socialism is a failed system--it has always failed (despite the superficial success it showcases in such small countries as Denmark, Sweden, Norway, Iceland, etc.). Even those countries show very high rates of suicide, drug use, pornography, divorce--which shouldn't happen if everyone is as happy as they claim to be in their socialist paradises, right?

The only problem with socialism is not the theory (which is a nice one in some respects, "every one according to his need...") so much as it is with the sad fact it cannot work. Human beings cannot fit those boxes. God did not make us to fit them, and so the government must turn tyrannical or authoritarian and force us to fit the boxes, like round pegs in square holes! What happens? Everyone ends up in misery eventually, as the money runs out from the wealthier, more productive cash cows the government is overtaxing to pay for the socialistic programs of universal health care, etc. A tiny elite will always hold on to their wealth, but the mass will sink into wretchedness sooner or later. And the police state will develop to keep them in line, enslave them primarily by fear and terror to stay put in their little boxes so they will not break out and start talking things like individual initiative, freedom, and liberty, and freedom of religion and freedom of conscience. Socialism cannot exist in a free society where people are individually responsible for their own welfare and where God is God and people serve Him above all else. Socialism must be god to the people, their total allegiance. Evenso, it cannot work, and will fail to supply the basic needs of the enslaved mass, and there will be a bloody revolution, and another authoritarian government will arise to take control of the anarchy and chaos. Sounds like atheistic, socialistic France, Russia, China--wherever socialism is tried it produces much the same result: misery, anarchy, chaos on one hand or police state control on the other. Now America is abandoning the path of God's continued blessing and is trying socialism. We are going down a dead end street, that all history (and many European nations too) tells us to avoid at all costs. But the radical, socialist Democrats leading this nation astray into socialism do not care that they are championing a failed idea, a failed system of government. They know it fails, but for a time they can gain immense power and wealth by it, and so they are going to promote it for their own advantage, while duping people in the minorities to vote for them in order to maintain government favor and handouts. The Washington and New York elites cannot lose by it, but we the common, working people have everything to lose. It is your responsibility to vote. Vote for things that we know endure and last and promote human welfare. Socialism cannot deliver human welfare, regardless of what the dear little Denmark or the tiny populations of the Scandinavian countries claim. They are able to go down a dead end street much longer, having the resources to last a long time on the road to nowhere. We do not have that much slack. We will soon plunge to Third World status and economy, with the wealth "redistributed" from the productive people to the non-productive, parasitical people. That leaves nothing to be redistributed after a while, and only the elite carries on with its wealth intact, as they can always tax and keep their positions and bank accounts padded with the public money, whereas individuals and families have no such things to fall back upon when the Unending Rainy Day finally comes to rain upon the socialists' party.


Can't find the article or statement here on this page that was here previously? Well, it is preserved on a "Previous Home Page" we have moved for easy access off this page. Go to the Previous Home Page Directory page, and there you find most all our former Home Pages and their contents.

THE EMMAUS WALK MISSION STATEMENT:
Jesus Christ first, and all the rest will fall into line.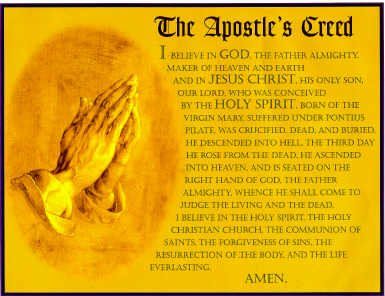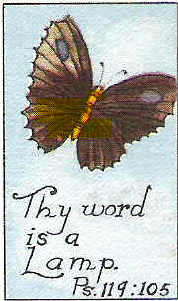 Yesterday we can do nothing about, tomorrow is in God's hands, but today something good is going to happen!

(c) 2010, Butterfly Productions, All Rights Reserved Until the Rapture!

For all previous material on past home pages, please go to:
PREVIOUS HOME PAGE DIRECTORY: