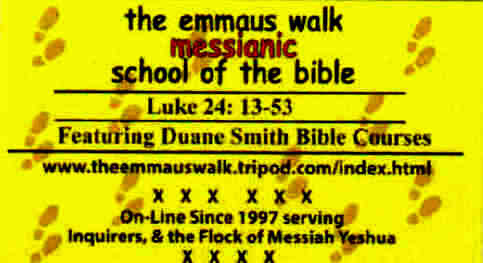 THE EMMAUS WALK PRESENTS:
"Love, God's Priceless, Free Gift
That's Meant to be Shared,"
by Duane L. Smith

Part One
---
"FOR GOD SO LOVED THE WORLD, THAT HE GAVE HIS ONLY BEGOTTEN SON, THAT WHOSOEVER BELIEVETH IN HIM SHOULD NOT PERISH, BUT HAVE EVERLASTING LIFE." John 3:16 (K.J.V.)
---
"Love is not merely a continuous attitude of God. He has acted. In Christ, He gave His unique Son, the very image of Himself. His love is reciprocal. Only those may enjoy it who respond by receiving God's Gift in Christ. And when they receive Him, their response is inevitably one of giving back their love to God."-- The International Bible Commentary, F.F. Bruce).
This is one's natural reaction, especially when one realizes what God went through when He endured the intense heartache and suffering, and at great personal expense provided our salvation through the Cross of Christ.
Let us consider for a moment some of the ramifications of the incredibly intimate, loving relationship between the Father and the Son. Consider the agony and the anguish within the Godhead, particularly between the Father and His Son: First, of the Father watching His one and only Son agonize and die, shedding His own precious blood on Calvary's cross for the sins of mankind. Perfect Love and perfect Justice in apparent contradiction! Second, consider the plight of the Son: the severing of the fellowship and companionship they had with each other from all eternity, then Christ's feeling of complete abandonment, His cry of utter despair, the indignity of the cross, and, of course, his intensely AGONIZING PHYSICAL EXCRUCIATION, as he cried out: "My God, My God, why has Thou forsaken Me?"
We also need to realize that Christ came and died on our behalf, in the place of, and instead of us.
Even before the world began, Christ counted the cost, and decided that it was worth humbling Himself to allow Himself to be born. God, in Christ Jesus, became human flesh. He emptied Himself of the glory He knew, to live and dwell in this sinful world. He paid the full penalty for sin. His own blood was the price of our redemption.
"But God demonstrates His own love toward us, in that while we were yet sinners, Christ died for us."--Rom. 5:8 (N.A.S.)
Not only are we not deserving of God's self-less and self-sacrificing love, without God's grace we are totally helpless and hopeless, incapable of receiving and/or responding to His love--completely unable to change. We are unable to save ourselves.
As Romans 5:6 states: "While we were yet in weakness, powerlesss to help ourselves, at the fitting time Christ died for us (in behalf of) the ungodly--'that is: defiant despisers of GOD'S ways. [Emphasis: mine].'"--Amplified Version
Let us remember with gratitude Christ's final words from the cross: 'It is finished.' Amen"
End, Part I

---
Now a special prophetic word from Duane L. Smith: The Lord says, 'My Glory shall be revealed, My Glory shall shake the earth. The whole world shall be shaken to its very foundations. IT SHALL REEL TO AND FRO LIKE A DRUNKARD. The entire world shall be brought to its knees because of My Glory, says the Lord. My Name shall be magnified throughout the land, says the Lord; and every nation, kindred, and tongue, shall know that I am God. Everyone shall be humbled in that day when I shall reveal My Glory and Power, says the Lord, the Most High God."
Text: (c) 2007, Duane L. Smith Estate,

DEAR FELLOW STUDENTS OF THE WORD OF GOD, PLEASE USE THE LINKS PROVIDED BELOW TO RETURN TO THE HOME PAGE OR TO ACCESS OTHER ARTICLES IN THE EMMAUS WALK-DUANE L. SMITH PORTFOLIO:

Format: (c) 2007, Butterfly Productions, All Rights Reserved