THE EMMAUS WALK PRESENTS: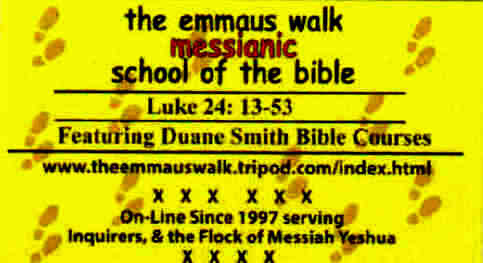 THE BALLAD OF PAUL AND SILAS
by Ronald Ginther
I
A tearful man in rough-sewn dress
Cried to Paul within a dream:
"Help us, sir, in our duress,
Breach Macedon with Christ's cross-beam!"
Refrain: O hear the cry of prison-bound,
Of low estate we pray to Thee;
Await the turning of Thy key.
II
So off Paul sailed to Philippi--
Roman colony a chief;
No one marked him, not one eye;
His welcome? Sunk upon a reef!
III
So Luke and Silas, plodding Paul
Walked the streets through empty days;
Busy throngs filled every hall,
As buying, selling, was their craze.
IV
On Sabbath day they took their leave;
City gate they passed on through,
Out to where they ceased to grieve,
A place of prayer for not a few.
V
The riverside was holy ground--
Women gathered there for prayer,
Seeking ever (though not found),
The Most High God was their one care.
VI
"So let us reason," spoke first Paul;
"Scarlet sin shall be as snow;
Crimson stains from Adam's fall,
Each can in Christ be cleansed and go!"
VII
A woman, Thyatira-born,
Cried aloud, "O Lord, cleanse me!"
Selling purple to be worn,
She chose pure white for all to see.
---
VIII
Her heart was opened by the Lord;
Saved, immersed in Christ's own death;
All her family, in one accord,
New-born in Christ, in-breathed His breath.
IX
Another day, on way to prayer,
Shrieking turned Paul full around;
Voice inhuman in its sound--
A slave girl cried, with unbound hair.
X
"The servants of the Most High God!"
Cried the demon seizing her;
Lashing like a Roman rod,
She struck at them, a pricking burr.
XI
Then one day Paul spoke to it:
"Vacate her, in Jesus' Name!"
Throwing one last, spiteful fit,
The spirit fled, and with it, fame.
XII
This girl brought her masters gold;
Witchcraft was the spirit's bent;
Future things through her foretold
Heaped lucre higher than her tent.
XIII
And when they saw their gain was gone,
Brutal men seized Silas, Paul;
Dragging them with faces wan
Into the magistrates' fine hall.
XIV
There was no justice practiced there,
Lawlessness enjoyed full sway;
Judges only by their chair
Turned wild beast and dog that day.
XIV
They tore and beat both men near death;
Jews, they said, who upset peace;
Condemned to rod and lash, each breath
Was agony without surcease.
---
XVI
The Called-To-Macedon were locked;
Dungeoned souls, they laughed to see
Sons of Israel chained and stocked
And thrown head-down at Gentile knee.
XVII
Then darkness, groanings, curses, phlegm--
Prison foul rose up each side;
Wounded, bruised from neck to hem,
To Paul and Silas Hell yawned wide.
XVIII
Yet praying in the Spirit gave
Strength and love no man e'er knew;
Thanking God whose love can save,
They raised a Song both old and new.
XIX
Bleeding in their chains they sang
Psalms of thanks to Jonah's God;
Songs raised up where cursing rang,
And sense of sin dropped its sure rod.
XX
And when their praise had risen high,
Prison doors burst open, out
Thrust stones with fearful sigh
As heaving struck the earth abut.
XXI
The men in prison cried in fear,
Pagan gods were cursed by name;
Some called out as death drew near
For Christ to take away their blame.
XXII
Then suddenly the tumult stopped,
Doors' banging sounds all ceased;
Stocks and fetters all were popped,
God's depth of Mercy was released.
XXIII
When God had set the poor men free,
Jailor woke in mortal fright;
Moon crept in each crack to see,
And stars shone bright amid the night.
---
XXIV
He drew a sword to pierce his heart;
Paul cried out: "Thyself, harm not!"
All are here, our bonds apart!"
Then Jailor sprang to ease their lot.
XXV
So with a torch he ran to where
Paul and Silas sat in night;
Falling down before them there,
He cried to God in his lost plight.
XXVI
"Believe," they said, "that Christ is Lord;
You, your house, so shalt be saved."
Nuggets from Paul's gospel poured,
The entire prison floor was paved!
XXVII
He washed their stripes, each bleeding side,
Soothing them with spikenard rare--
Fragrance of the One who died
Did run off both their beard and hair.
XXIX
Rejoicing, he laid them both down,
Softest beds he gave to them;
Each he clothed with costly gown,
With purple stain upon the hem.
XXX
Then Jailor took a rough-sewn robe,
Himself he clothed, with feet left bare;
Sackcloth, slave-marked on ear lobe--
The Church of Philippi most fair!
---
(c) 2007, Butterfly Productions, All Rights Reserved