JESUS, THE MESSIAH OF THE JEWS, IS AN EQUAL OPPORTUNITY SAVIOR FOR ALL MANKIND, NOT JUST A PROPHET OR A GOOD MAN AS SOME PEOPLE LIKE TO CALL HIM: We do not endorse religion of any kind in this Bible School. We are not pro-Israel and anti-Arab. We are not pro-Christianity and anti-Islam. We are not pro-America and anti-Iran or Anti-China. I can prove it with this true incident.
One day, I was sitting in a hardware store-type shop in "downtown" Jericho waiting for the Arab proprieter to bring ordered paint for a missionary's home and a religious zealot in Muslim Jericho did not like the sight of me sitting there, I suppose, minding my own business, and he came and challenged me. He asked me what nationality I was, and the words came forth without hesitation. I told him: Jesus Christ!
Angry and full of himself and his religion (I'll never forget the man's flustered reaction and befuddlement), he did not know what to say to that, and went away grinding his teeth.
That is still true. I am Christ's first, and American second.
My true nation and country is Jesus Christ--He is my very being and reason for existence on earth. I am a citizen of heaven who happens to reside temporarily on this sick, old earth. I cannot exist without Him!
The Good News includes this, and ought to cause the Middle Easterners to all rejoice together in the streets: We do not have to be bound to religion, to nationality, to any -ism or ideology or even to race. We are free in Yeshua! Yeshua alone can give us all this freedom. No religion can give it. Religion can only bring enslavement.
I did not think of Judaism and Islam in terms of beasts. It was not my idea. But seemingly God did view these competing religions this way--for a missionary in Israel shared this dream with me, which I have here in a simple illustration. Two beasts, one brown, one black, were fighting, much like two gigantic dinosaurs. One beast, Judaism, signified by the black beast, prevailed over the brown beast, which signified Muslim religion. This dream was highly significant, because of the time. For you see she received this dream at the time of the beginning of the disaster of the Intifada, or the Uprising of the Arab Muslims against Israel and Judaism.
Implications extend to our own time (since the dream was told me in the early 1980's). Iran is Muslim, bound by that religion, and so it too is ruled by a beast, the Brown Beast. That Brown Beast will be subdued by the Black Beast--Judaism and Israel. We shall see this happen, I would wager, in the coming conflict between Israel and Iran, which must occur if Israel is to prevent a nuclear-armed Iran coming against it. I once restricted the dream's meaning to the Intifada, but it may well apply to the Israel-Iranian war as well. America may be a part of this conflict, or stand in support, as it did when Israel destroyed Iraq and Saddam Hussain's nuclear reactor with an aerial strike force of bombers.
It is a question in my mind, how can I see Judaism as this Black Beast if Yeshua is a Jewish rabbi? Yet this is clear enough: Judaism at present rejects Yeshua as its Messiah, though many Jews are still not able to make up their minds--and are doing so, one by one, choosing Yeshua as Messiah. Judaism the religion still rejects Yeshua, however. The State of Israel, reflecting this, does not recognize Yeshua as Messiah, and is largely secularist-humanist, with a strong Orthodox Jewish sect that has influenced its laws to a significant extent. This present condition is hardly God's will for Israel and his Chosen People. They are living far from God, though they are now back in the Promised Land He gave them to possess forever. Is not Judaism, then, living in rejection and denial of Israel's rightful King, Yeshua? Yes, it is. It has a constitutional democracy, but the nation does not worship Yeshua or acknowledge Him as Lord and Savior and King. This will come to pass, however--Israel will someday, perhaps not long from now, turn back to God and acknowledge Yeshua as its Messiah.
Now, as to Israel's protection and right to protect itself. War is a terrible thing. It should not have to happen--if people will only turn to God and accept His Son's Cross-produced salvation. But nations have a right to protect themselves against sworn enemies who will attack them, given the opportunity. Iran has sworn to attack Israel with every weapon at its disposal. It has been attacking Israel for many years, in fact, ever since the Shah of Iran's overthrow by the Mullahs and revolutionist students such as the current President of Iran. It needs to re-consider, and stop. The Jews are the apple of God's eye, and their nation is God-ordained, whether Muslims in Iran or Egypt or Libya or wherever else like it or not. God has created only one Chosen People, and all the rest of us must recognize that fact, and choose blessing or cursing by God. Curse Israel, and God will curse us. Bless Israel, and God will bless us. His Word in the Bible says this is so. I for one want to be blessed by God, and I must always remember that Jesus (Yeshua to the Jews, or Issa to the Muslims) is a Jew, even now sitting on the right hand of the Father in heaven as a Jewish rabbi. This is an indisputable fact. It is more a fact than Gibraltar or the Atlantic Ocean. Everything we see will burn up someday, we know from God's Word, but Jesus is King of kings, Lord of Lords, and He rules as Son of God forever and ever. No man, no religion, no contrary word, can change or alter that fact in any way. Even if one Jew existed on earth, I must respect him as the representative of the Chosen People, the sole Nation created by God for His purposes on earth, the sole place where He has set his throne, in Zion, in the city of Jerusalem. In that capacity, that one hypothetically remaining Jew is greater than any president, any king or queen, any general, any billionaire, any saint or holy man, any celebrity you can name, one earth. He may be a lowly farmer or a shoeshineman, but he is immeasurably greater than anyone else, due to his connection as Abraham's seed through Isaac with Jesus Christ, the Jewish rabbi who sits on the throne in heaven.
Come soon, Lord Jesus! Your Bible, Your Holy Word, proclaims cover to cover exactly who you are, and yet men disregard the truth that the prophets and apostles proclaimed in it regarding You. Yet if one dear Muslim brother or sister takes heed to You as Messiah and Son of God, if one Jewish man or woman takes heed to You as Messiah, if anyone else holding any other religion (or no religion) takes heed, it will be worth the re-stating here at this late hour, at this lonely work desk.
CONCERNING JESUS, CHILDREN, AND THE JIHADISTS AND IRAN'S PRESIDENT: Eben is offering the following lyrics to you as Public Domain, as additional stanzas to: "Jesus Loves the Little Children." It is especially apt, as this fact is not known to the world that is in so much racial and religious conflict that even children become pawns and targets (guns are placed in childish hands by green ski cap-masked Hamas and black ski-cap-masked Hezbollah terrorists (whom God Almighty can see through their disgusting, cowardly, disguising masks!), and Jewish children are regularly targeted by these violent beasts (the Bible calls these lawless men "animals" and "wild beasts", and God lets it be known repeatedly in prophecy and scripture that He hates violence and religious hoaxes), who run the terrorist organizations that send out the squads of trained suicide bombers.
President Bush has been written to by the so-called "president of Iran"--the former student kidnapper and hostage taker of Americans in post-Shah revolutionary Iran, now nuclear arms-ambitious dictator of a theocratic-ruled, totalitarian state--accusing President Bush, leader of the free West, of hypocrisy as a known, praying Christian for attacking Islamic Jehadists and rulers like Saddam Hussain and the Afghanistan Taliban. If the ruler of Iran knew the Bible, he would know that God would never judge President Bush for defending his own country and his American people against attackers such as these--indeed, it is his responsibility to go on the offensive and defeat these brutal, violent, bloodthirsty, self-declared enemies! This is a clear instance of the End-Times anti-christ deceit speaking forth, like a evil frog boasting blasphemies against God from the mouth of the Anti-Christ and the Beast pictured in the Book of Revelation.
This ruler of Iran has forgotten mercy, and that without mercy, he himself will be destroyed by the very violence he incites and leads against other nations--without cause--though he claims the nations he attacked and is still attacking are the oppresssors, not him. He listens to anti-Bush, anti-America, anti-War in Iraq voices in the U.S. Congress and even the top levels of the Democratic Party and the Republican Party, and is encouraged to write such a letter, which is completely absurd and anti-God. The U.S. has lost hundreds of lives, in the Iranian-financed Hezbollah attacks on the U.S. Marine barracks stationed as peacekeepers in Lebanon some years back, and in many other bloodly, destructive incidents around the world the Hezbollah terrorists have committed. No, the U.S. and Britain are not the oppressors--the last things free societies can be accused of after the most vicious attacks on their commercial planes, subways, markets, skyscrapers, and unarmed, private individuals everywhere who are just trying to go about their daily lives. And we have full, biblical, godly right to resist those who attack us.
Yes, we shall resist him and all terrorists--with the Gospel of Peace, AND with a just offensive war against terror utilizing the brave men and women of the U.S. Armed Forces--both means are necessary and fully justified by the Bible. To argue otherwise is to argue against God's own governance and the record of His dealings with Israel and the nations that forget God. Let God be true, and every man a liar--as scripture says. We can stand on the record of God's Word, and we know He is the Victor, as His Word says He is--these enemies too, shall fall before Him. It is just a matter of time.
Again, let me make this message absolutely clear: Children are off-limits, President of Iran! Children are off-limits, Hamas and Hezbollah and PLO! All Terrorists, beware: children are off-limits. They belong first of all to God their Creator and Protector. They are under His protection and authority. Touch them, and you strike God himself! Jesus is the God of Grace still, but touch these children, and refuse to repent and change your hearts and your evil ways, then Jesus will be your Judge without mercy, as soon as you draw your last breath! All of you, Hamas, Hezbollah, and mullahs of Iran, torture and kill your own people when they are baptized as Christians--you think that you will keep your people under your subjection by holding the sword over their heads. It will not work. Thanks to the Internet and satellite TV, they can now access the truth, the Gospel, and you cannot stop them from finding Jesus (Issa) as their Savior and Lord in a million places where you cannot see or put surveillance cameras or listening spies. Your walls are crashing down! Jesus is breaking through them everywhere! Jesus the Lion of Judah! He is appearing personally to countless people in your midst, and they are turning with tears of gladness to Him to save them! You know this is true--even your own families are being reached by Jesus and His love! You cannot stop Him. He is the unstoppable, saving God of Abraham, Isaac, and Jacob, and He can and does appear anywhere He chooses! He doesn't even need satellite TV or the Internet. He can walk through any wall (have you read what He did shortly after his resurrection? He walked through a wall into the room where His discouraged disciples were hiding, fearful of the Romans and Temple authorities--). Why not accept Him now as your own Lord and Savior and cease kicking, like Saul of Tarsus once did, against the pricks? Why cling to a sinking ship of false religiosity? It is your life you can save--if you want to save it. Jesus is waiting for you to turn to Him, with open arms of love and forgiveness!--Ed.
1.
Jesus loves the little children,
all the children of the world.
Jew and Gentile, Arab, Greek--
He's Loving Lord to all who seek;
Jesus loves the little children of the world.
2.
Jesus loves the little children,
all the children of the world.
Turk and Bantu, Chinese, Finns,
His pardon's free for all our sins;
Jesus loves the little children of the world.
3.
Jesus loves the children of the world,
all the children of the world.
Just reach out, He'll take your hand;
He'll lead you like a Shepherd can!
Jesus loves the little children of the world.
DAMASCUS, SYRIA, NEEDS TO STOP CHANNELING DEATH AND DESTRUCTION, FOR WHATEVER YOU SOW YOU WILL SOMEDAY REAP! Damascus, Syria, the nortorious safe haven for Hamas terrorists and the conduit for Iranian arms being shipped into southern Lebanon, is the gateway to the Bekaa Valley, also called the Valley of Lebanon. This area recently erupted in warfare, when the Hezbollah, who for years have been setting up their rocket launchers and arsenals all along the Israeli border with Lebanon, kidnapped two Israeli soliders inside Israel, brutally killing eight, then no doubt torturing and killing one of the two kidnapped soldiers. No attack like this can be ignored, and the Israelis acted in self-defense, rather than submit to further incursions, kidnappings for blackmail, and killings of those they kidnapped. The Hezbollah understood this was war when they ignited the conflict with their raid and executions. Only certain anti-Israel European countries--and the United Nations--did not consider it a war--rather, calling it Israeli aggression against poor, defenceless Lebanon, though they they know full well that Lebanon has been giving the Hezbollah safe haven for years. I once travelled to Metulla, the northermost town in Israel, located right on the Israeli-Lebanon border. Then it was peaceful and a beauty spot, and the border fence was called "The Good Fence," as aid vehicles and aid supplies went freely across. But the Hezbollah, thanks to Syria and Iran, changed all that when they started shipping in Hezbollah terrorists and weapons and missiles. Damascus, the Bible says, will one day be uninhabited--which means total destruction, perhaps through a nuclear strike. The crimes it is now committing without cause against Israel will one day bring deadly consequences, apparently. Their deeds testify against them--that they are evil-doers, self-deceived. You cannot commit evil against any human being--however much in error he is--and gain credit with a holy God.
By the way, on September 22, latest word from Hezbollah is that they won the war with Israel, and are now armed with 25,000 new missiles (which we know Iran supplied). Does this sound to you like America's Roadmap to Peace has been successful? How could anyone but career State Department diplomats believe it would be successful (they are trusting in man, in force, in written agreements and treaties and Geneva and Helsinki Accords--but certainly do not know only God can establish peace!)?
As events have proved out, the millions of jobless, hopeless, frustrated young Moslem Arabs serving the trained terrorists over in the Middle East were rejecting the very idea of peace with Israel while our Secretary of State was over in Egypt and Israel holding talks with the various heads of state, Arab and Jewish--so how could a peace treaty succeed?
I am sure I was but one of many dismayed thousands of evangelical Christians who wrote and emailed Israel not to give Gaza to the terrorists in Prime Minister Sharon's vain hope of achieving peace with them--and we saw we were right to warn Israel the very day they cruelly evicted Israeli citizens from their beloved homes in Gaza and turned over all the new greenhouses (to establish an economy in Gaza for the Arab people, which Yassir Arafat with his billions given his people by Europe and America never tried to do) and Jewish synagogues and Jewish homes to the terrorists, because the terrorist-led people of Gaza burned and destroyed the greenhouses, synagogues, and homes while missiles were sent rocketing into Israel from Gaza. The liberal-dominated U.S. media did not show this wanton, senseless destruction inside Gaza, of course, for although they do not support President Bush's peace initiatives they do support appeasement and giving up Israeli territory to the terrorists, saying that Israel stole the land, which is a shameless lie, because Israel, by winning wars the Arab countries started, could have kept all the land won in war, right up to the Nile.).
THAT IS PEACE? IT IS THE EQUIVALENT OF STANDING IN THE MIDDLE OF TWO ARMIES, GENERAL PATTON'S AND HITLER'S, WHILE BOTH ARE FIGHTING IN THE BATTLE OF THE BULGE, AND DECLARING THERE IS PEACE. YOU CAN NEVER ACHIEVE PEACE BY APEASEMENT WITH TYRANTS AND TERRORISTS! AND YOU CERTAINLY CAN NEVER ACHIEVE PEACE BY HANDING OVER ISRAELI TERRITORY GIVEN ISRAEL FOREVER BY THE COVENANT GOD OF ABRAHAM, ISAAC, AND JACOB. WITHOUT CHRIST, THE NATIONS ARE STUMBLING IN THE DARK, COMMITTING FOLLIES SUCH AS THIS TURNOVER OF GAZA AND THE RECENT UNWISE, POLITICALLY RESTRAINED, LIMITED MILITARY REACTION AGAINST HEZBOLLAH BY PRESIDENT OMERT OF ISRAEL. BOTH POLICIES FAILED MISERABLY, AS COULD ONLY BE EXPECTED.
Without God, the heads of the nations are following the foolish advice of councillors who do not have the wisdom of God--they do not know the true roadmap to peace lies only in submitting humbly at the feet of Jesus Christ. This truth will someday prevail, as all nations submit to Him. May that Day come soon--Maranatha!.
Do you pray daily at least for Israel? Do you pray daily for the Moslems? It is our duty as Christians to pray for both, that they come to Christ, Who came to be their Savior and Lord. As Billy Graham preached to thousands night after night in a weeks-long Crusade at the University of New Mexico in Albuerquerque, New Mexico, Jesus Christ belongs to the whole world--everybody needs Jesus Christ. He said that back in the 1970's, and it is just as true now as it was then as we see world events, particularly in the Middle East, shaping up to the Return of Christ.--Ed.)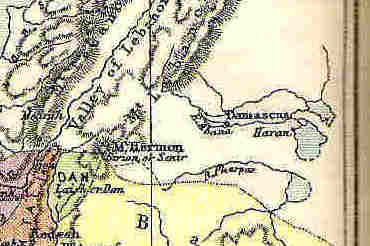 EMMAUS WALK LINKS AND OTHER RESOURCES
Here is a study on the book of Esther with the setting of ancient Persia (Persia is now called Iran, the name given to it by the British overlords after World War I):
A new TBN movie on the Bible, "A Night With the King," the stunning account of Esther, Mordecai, and their perilous venture to save the Jewish people in the Persian Empire will be released in October all across the country. It is receiving great plaudits from all who saw the trailers in selected theaters. For a movie that will entertain and challenge everyone, without wondering about the rating--go to the place to get the names of theaters nearest you, and type in your zip code for your area's listing (you are also asked to call local theaters and ask if they will be showing the film called "A Night With the King":
THE TABERNACLE TELLS ABOUT JESUS CHRIST IN EVERY DETAIL OF ITS DESIGN: Want to know how the Tabernacle signifies Jesus in every aspect? Link to John Hagee to gain access to information on how to order his "Tabernacle in the Wilderness" audio tape and/or CD series, in which he shows that "every detail, every fabric, every board, every type of metal, every piece of furniture, every rod, every color...everything is a revelation of Jesus Christ." To order call: 1-800-854-9899. In Canada call: 1-416-447-4000. Or use the link below to John Hagee Ministries. Perry Stone is also offering excellent teachings on the furniture of the Tabernacle, which includes the altars. Check out his website for the teachings and his videos and books on this subject, for you will not be disappointed. We hope to have a Public Domain course soon on-line that will show us how to use the Tabernacle as a blueprint for Christian living! Please look for it.
Judges: Samson, Backslidden Nazarite and Judge of Israel," Or, "Hope for the Completely Washed-up Christian," by Ronald Ginther
"God's Fatherhood, Forgiveness, and the Walk of Faith," A Trilogy, Part II, by Duane L. Smith, is temporarily not on-line.
PRAYER IS ESSENTIAL TO A CHRISTIAN. Prayer is the keystone of a successful, fruitful Christian faith, it must be said. Without prayer, faith in the Lord will remain sterile and eventually fail.
Read the article by Bernice Schaefer on prayer. She is the late aunt of Ronald Ginther, and wife of a long-time Bible school teacher in Atascadero, California. Her mother's portrait follows this--Ronald Ginther's spiritual giant, his own beloved grandmother who has gone to be with her Lord Jesus at the age of 98.
"Praying for You," Ronald Ginther's grandmother in a characteristic praying moment at the kitchen table, a watercolor by a renowned portrait artist, Bart Lindstrom: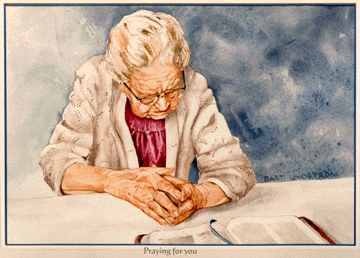 Recommended The Emmaus Walk Book List:
"Smith Wigglesworth," Apostle of Faith, biography by Stanley Howard Frodsham, Radiant Books, Gospel Publishing House, Springfield, Missouri
"George Muller, Man of Faith and Miracles," biography hy Basil Miller, Bethany Fellowship, Dimension Books, Minneapolis, Minnesota
"Tortured for Christ," autobiography of Richard Wurmbrand, Diane Books, Glendale, California
"Hope for Man in a Hopeless World," by Basilea Schlink, Bethany Fellowship, Dimension Books, Minneapolis, Minnesota
"Glory in the Church, the Coming Revival," by Edward E. Hindson, Thomas Nelson Publishers, New York/Nashville
"Czechmate," autobiographical account of imprisonment of author in a communist country for Bible smuggling
"The Everyday Guide to "God," A to Z Listing of God's Attributes, with Scriptures, by Amy Ng Wong, Humble Creek Publisher, Uhricksville, Ohio
"The Complete Book of Bible Lists," by H.L. Willmingon, Tyndale House, Wheaton, Illinois
"God Sent a Man," the story of Joseph, by Carylye B. Haynes, Review and Herald Publishing Association, Washington, D.C.
"Israel Act III," The Bible and the Mideast in prophecy, by Richard Wolff, Tyndale House, Wheaton, Illinois
"Eric Liddell, Pure Gold," biography of the Chariots of Fire Olympic runner turned missionary to China, by David McCasland, Discovery House Publishers, Grand Rapids, Michigan
"Messianic Christology," by Arnold J. Fruchtenbaum, Ph.D., Th.M., Ariel Ministries, Tustin, California
"C.S. Lewis," Heroes of the Faith series biography, by Sam Wellman, Barbour Publishing, Uhrichsville, Ohio
"A Passion for the Impossible," The Life of Lilias Trotter, by Miriam Huffman Rockness, Discovery House Publishers, Grand Rapids, Michigan
"Jerusalem Countdown," A Warning to the world, containing a prophetic view of Iran's role in coming world events affecting or centered on Israel, with parallels between Joseph and Jesus tieing in with these events and others of the End-Times, by John Hagee, Frontline (A Strang Company), Lake Mary, Florida
"ISLAM AND TERRORISM," NEW BOOK RELEASED BY MARK GABRIEL!--I have in my six decades of lifetime been privileged to read thousands of VERY good books--and I always tried to read the most excellent books--that were not trashy "time-killers" or just for recreational or titillating purposes (including the best-selling self-help, self-oriented books that were not on my list either, due to the fact my day, unlike most other fellow Americans, has only 24 hours, and every minute is precious!). I have not yet read "Islam and Terrorism," giving us Christ in prophecy, by Mark Gabriel, but I have seen him featured on TBN. I am certain his book is excellent too, for I have ordered it. His number is: 1-800-225-7977, to order a copy. It is a busy connection, so please stay on the line, as it it takes time to speak to a representative. Or you may go to his ministry website, Lion and Lamb Ministries.
We as Christians AND Moslems AND Hindus AND Secular-Humanists AND whatever material thing or philosophy or political organization or nation or human being we worship as God in His place must inform ourselves--as the truth concerning God and His Ways is definitely not being given us the common people through most all officials and religious authorities and all of the media and government channels. That is the way it is in this fallen, self-destructing world, and we must seek Jesus for ourselves, and then we will find Him! Jesus promises He will come personally to us, if we make this effort, and reading the right book, preferably the Bible first, will enable us, with His Holy Spirit opening our understanding, to find and understand the One True God and His Son, Jesus (Yeshua, Issa).--Ed
Mark Gabriel's testimony of how a Muslim iman and university instructor discovered that Islam is false and he could not longer practice it, and how Egypt's secret police kidnapped him, tortured and imprisoned him for many days until his release, trying to kill him but his life was miraculously preserved again and again:
For viewing Brother Mark Gabriel's website (formerly a Muslim imam and instructor at Cairo's top university who was tortured and imprisoned for leaving Islam, but later came to a saving knowledge of Christ Jesus):
A FREE CHILDREN'S PRAYER MAP! An excellent resource for praying effectively and focused for the world: a free World Prayer Map! Parents, there is also a Children's World Prayer Map! This is your big opportunity to get your kids active spiritually in a way that will bring big spiritual dividends--how can God not hear a child's prayer? Write to: Every Home for Christ, P.O. Box 64000, Colorado Springs, CO 80962, or Tel: 1-800-423-5054.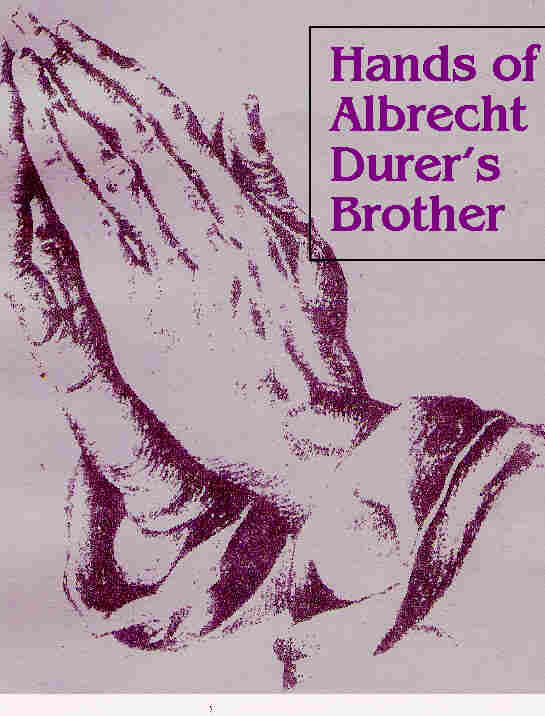 OUR RESURRECTION (EASTER) QUIZ PROVES EXTREMELY POPULAR: Check out this very popular Resurrection Day quiz--and learn everything you thought you knew but didn't! Easter, so-called, is all about the Earth-changing Resurrection of Jesus Christ, and all it signifies--which is everything. Without Easter, there simply is no Christian faith--and this quiz will show you exactly why this is an indisputable fact; i.e., no Resurrection... no Christ, no Christianity, no hope, no sin forgiven, no life worth having here and hereafter! That isn't a complete list either.
Another fine article by Duane L. Smith:
A FAMOUS NAME FOR DECADES ON BROADWAY AND IN THE MOVIES, SHE GAVE IT ALL TO THE SERVICE TO JESUS HER NEWFOUND SAVIOR!--ETHEL WATERS
"My Two Angel Stories," by Ronald Ginther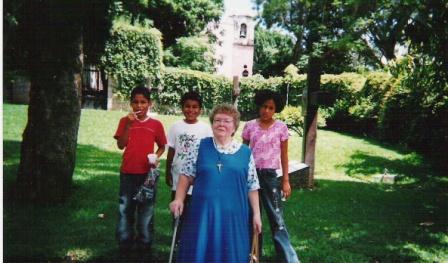 LAST ARTICLE BY DUANE L. SMITH TAKES AIM AT UNDERSTANDING EINSTEIN'S WORK IN REGARD TO THEISM AND THEOLOGY: Here is the last article ever written by Duane L. Smith:
To Abraham God said: "And I will make of thee a great nation, and I will bless thee, and make thy name great; and thou shalt be a blessing."--Genesis 12:2. This blessing holds for descendants of both his sons Isaac and Ishmael
John 3:16 in Arabic:

A Rose of CHRIST YESHUA'S Love for the Beloved Moslem People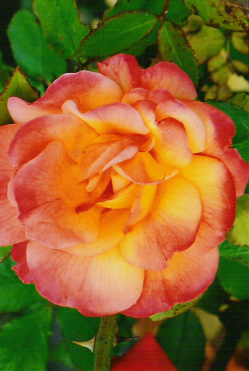 MOSLEM BORN AND BRED TARIQ FADI CONVERTED TO BEING A FOLLOWER OF JESUS CHRIST BECAUSE THE CHRISTIAN MAN HE PERSECUTED LOVED HIM ANYWAY: To all the beloved Moslem people, a word about a remarkable, young man from the Moslem community of Egypt: Tariq Fardi, who was born again and Spirit-filled after growing up a bitter, "holy war" jihadist-like persecutor of Coptic Christians in his homeland of Egypt, appeared on Perry Stone's program on TBN. He stoned an older Christian man (a Coptic Christian, I believe) almost to death, who when he was recovered forgave him! That proved Tariq's turning point in life, as it touched his heart, that someone he had hurt so badly would forgive him in the spirit of love. Saved seven years ago, Tariq Fardi is a fervent lover of the Lord Jesus and a scholarly man who reads the Koran [the Mohammed-authored holy book, the Furqan) in the original tongue, and you can probably access this program via Perry Stone's website (or please use his email address given here):
EXCITING NEW STORY FROM MUSLIM TURKEY! Former Islamo-Fascist terrorists are abandoning their brutal religion ("brutal" is not my word, that is what they call it) and giving their hearts to the Lord Jesus Christ all over the Middle East and being baptized, knowing they will live as hunted men and perhaps suffer martyrdom for their faith in Jesus the Lord and Savior (as you read in an account here, you don't even have to be a baptized Christian to suffer persecution, imprisonment, torture, death for turning away from Islam--leave Islam, and you are thrown out of your family and made a prey to be hunted down, while it is your family's duty to kill you, the authorities will do it for them gladly.). We have given you names of several here, but more are appearing with their testimonies, which are tremendous in every respect. This is a bit different, but just as worth telling. It is testimony of an American who met a Turkish woman in a cemetery in Turkey recently, about how the Turkish woman's son received a vision of Jesus on a mountain in Turkey which I toured in a bus in the Air Force, called Mount Olympus. I found it very beautiful, with fluffy white snow on the trees and slopes, sparking with many colors--but this young Turkish student in the mother's account saw Jesus the Beautiful Savior--a life-changing experience for him shortly before his death in a train accident.
THE TRUTH OF THE BIBLE WILL CONVERT ANYBODY IF GIVEN A FAIR HEARING ON THE BASIS OF CREDIBLE EVIDENCE PROVIDED BY THE BIBLE ITSELF: The truth of the Bible is so forceful, if given a chance, it can convert anybody from a totally hostile position. Read "We Tried to Prove It Wrong," which tells of the Olsens, a young doctor and wife team, who tried to set out to methodically disprove the Bible and ended up working for decades as medical missionaries! They were so certain they could disprove the Bible over scientific inaccuracies, yet after months of serious questioning they had to give it up--the Bible had won the contest of accuracy! This account can be read in "Our Daily Bread," February 2006, a daily devotional published by RBC Ministries. You can also read it on the Web at:
The most contested real estate on earth is Canaan, or Israel! Here are two articles dealing specifically with the land God promised only to Israel:
ARTICLE ABOUT JERUSALEM, REPUBLISHED: "Speak Tenderly to Jerusalem," the CharisLife article, is now on-line: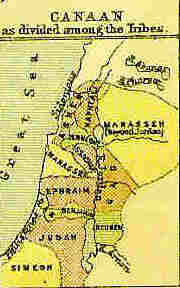 WHAT IS PALESTINE? IS IT ISRAEL? IS IT ARAB, OR IS IT JEWISH?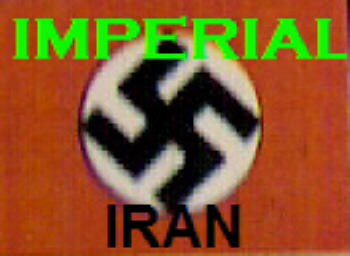 THE WHAT AND WHEREFORE ON THE IRAN AND ITS CONTROVERSIAL, NUCLEAR-ARMING EXPONENT AND LEADER: "Ram and Bear: the Land of Persia, Ancient and Modern," by Ronald Ginther:
GOD GAVE ISRAEL (YES, ISRAEL!) THE TERRITORIES COMPRISED BY SOUTHERN LEBANON AND ALSO WESTERN SYRIA! Please go and see what the Bible says, which resulted in Israel being given these lands now exploited for terroristic purposes by the Iran-backed terrorist organization of Hezbollah. Use the article to view the maps: "The Area Attacked in Israel by Hezbollah, and the Lands Occupied in Lebanon God gave to Israel," by Ronald Ginther
Flowers of Christ's Love for the Enslaved People of Iran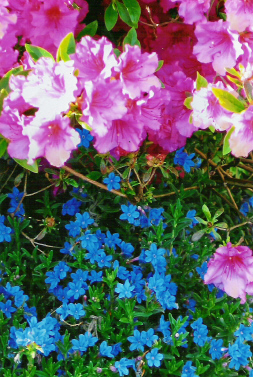 Our Emmaus Walk cartoon about the sinning, sybaritic playboy, or "rake", the typical American boy without Christ in his life:
Did you think Skanky Boy is far fetched? That real people don't really plunge into sin quite so whole-hoggedly? Well, we have come by the testimony of Rev. R.W.L. Brown, entitled, "From the Highway of Hell to the Highway of Heaven." It will settle the question in your mind that Skanky Boy is exaggerated or true to life. We hope to have it on-line soon!
Lilias Trotter as a young woman
LILIAS TROTTER, MISSIONARY EXTRAORDINAIRE: Missionary to Algeria, London society born-and-bred Lilias Trotter was a missionary for the Lord Jesus and the Gospel, and there is another gospel, the gospel of peace and nonviolence and Zen meditation and interfaith-ecumenism and whatever else people like Joan Baez champion just as fervently as Lilian Trotter the former London socialite championed Christ. What led to a Joan Baez, and what led to a Lilias Trotter? That is the question.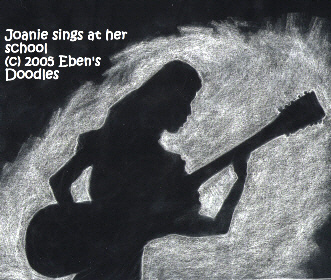 A Viet Nam veteran's ministry:
Please turn to the atlas for more information and maps of this fascinating, once great Christian country, which truly can be called the Land of St. Paul:
In a most significant connection with this Asia Minor atlas, you might want to read the "Ballad of Paul and Silas," by Ronald Ginther, for this tells of the epic invasion of Macedonia, the first nation in Europe to be taken for Christianity by the Apostle Paul. Paul's launching point? Troas Alexandria, on the west coast of Asia Minor!
ANNOUNCING OUR FOUNDING FATHERS SERIES--NOT ONLY WERE THEY CHRISTIAN, THEY WERE MARYTRS FOR THE SAKE OF CHRIST AND COUNTRY! Did you know that William Penn, the founder of the colony and state of Pennysylvania, a premier "mother" state of the Union, with the Colonial Congresses and the major Constitutional congresses meeting there in Philadelphia, is featured in Foxe's BOOK OF MARTYRS? His brother George Penn was even more a martyr--suffering unspeakable tortures by the Spanish Inquisitors, though he was totally innocent, and they were only after his honestly-earned wealth and possessions! We hope to give you true accounts of our Founding Christian Fathers (yes, Christian, not Deist, as the ACLU is trying to get the nation to believe), beginning with William Penn, with some information too on his most courageous brother George.
Dave Hunt, author of "The Seduction of Christianity," can explain the spread of WICCA and how it is being masterminded, as a world-wide movement, by Satan himself:

PAUL WAS AN ACTIVIST (REALLY A DAVID BATTLING THE GIANTS OF RELIGIOUS BONDAGE, THE GOLIATH OF HEATHEN RELIGION AND THE RAHAB OR LEVIATHAN OF LEGALISTIC JUDAISTIC CHRISTANITY. SO WERE THE OTHER APOSTLES, AND THEY FOLLOWED THE EXAMPLE OF THE REVOLUTIONARY ACTIVIST-GIANT SLAYER OF GOD, JESUS CHRIST! Are you an God-fearer, a David the mere shepherd boy, and want to make a difference in this wicked, giant-ruled world? America desperately (what part of DESPERATELY, do we not understand?) needs activists who will support what God values in a society. Do you have time for emailing your beliefs and support of what is moral and right to those who are profiting wrongly on what is immoral and wrong? Legislators, businesses, sponsors of lewd TV shows or books, they all urgently need to hear from you as a Christian [I write to my legislators, godless and lying secular-humanists, though they certainly are!--Ed]. I am not asking you to do what I have not been doing myself. We are all called to stand up for the Lord and His commandments, but there is a special way you can make a mark on this culture instead of it always making a mark on you! Be an activist for Christ--remembering that you always state the truth IN LOVE, just as He did with the Samaritan woman at the well.
Link for Christian activists, via David Wildmon's American Family Association On-line:
(c) 2006, Butterfly Productions, All Rights Reserved

God has said, through prophecy with a church elder present and approving, that my hands would reach thousands, then millions. With them I do THE EMMAUS WALK MESSIANIC SCHOOL OF THE BIBLE. WE ALREADY HAVE THOUSANDS OF VISITORS. PLEASE JOIN IN PRAYER THAT THE PROMISED MILLIONS WILL COME SOON TO VIEW THIS MESSIANIC STUDY OF THE BIBLE.
Contact information: Write: Ronald Ginther, The Emmaus Walk, P.O. Box 212, Puyallup, Washington 98371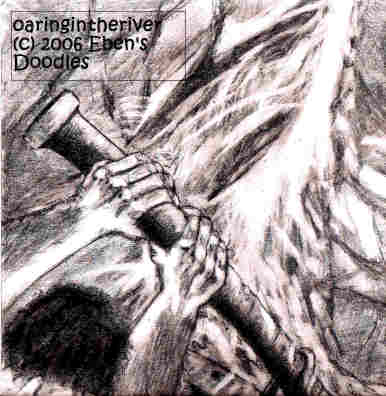 FINAL WORD TO ALL VISITORS AND STUDENTS: WE LOVE YOU, AND THANK YOU, AND PLEASE RETURN SOON TO THE EMMAUS WALK! YOU ARE PRECIOUS TO US AND TO THE LORD JESUS CHRIST! THIS IS YOUR WEBSITE, AND WE ALWAYS INTEND IT TO BLESS YOU IN EVERY WAY POSSIBLE.--Ronald Ginther, Founder, The Emmaus Walk Messianic School of the Bible