THE EMMAUS WALK PRESENTS: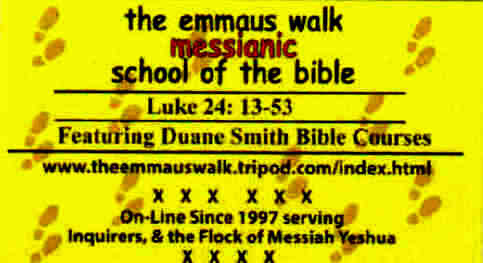 Part III, "Christ's Prayers, and Ours,"
By Mrs. Bernice Schaefer
Do we pray as Christ prayed? Our prayers are so full of ourselves and of our own needs. Christ's prayers are for others. Ours are for what we want, and His are full of what He has done for us. Our prayers are far below the level of the wondrous position God in grace has given us in Christ. In that wondrous position we are already accepted with all the acceptableness of Christ. Once we enter into this reality our prayers will, like Paul's, be filled with Christ, His honor, His glory, and His love.
Why do we fill our prayers with "lists" of our sins rather than praise "for the forgiveness of our sins" and "our completeness in Christ"? Why are we praying for the "spirit" when our very desires to be pleasing to God are already proof that we have this Gift? How can we pray for this or that particular blessing when in Ephesians 1:3 it states that we have already been given all spiritual blessings in Christ? How can we pray that we might know that God loves us when He has already made us "accepted in the Beloved", Ephesians 1:6. And, Christ assures us that the Father loves us as He loved the Son, Jn. 17:23.
How can we keep reminding God of our sins while giving Him thanks because "...we have redemption through His blood, the forgiveness of sins according to the riches of His grace", Eph. 1:7. What a forgiveness! Not according to the sincerity of our repentance, the merit of our faith, or the earnestness of our praying! All these blessings and more, were sealed to us in Christ when we believed, Eph. 1:13.
In the Word also God has revealed Himself in order that we may know what it is that pleases Him; what it is that He loves; what it is that He hates; what it is that He does. Thus we can get to know more of His wisdom, His will, His infinite love, His almighty power, His faithfulness, His holiness, His righteousness, His truth, His gentleness, His care, and all the innumerable attributes of our great and glorious God. Fellowshipping in prayer with such a wondrous God is one of life's greatest privileges.--by the late Bernice Schaefer.
---
IF YOU HAVE ENJOYED AND LEARNED FROM THIS ARTICLE, WE WOULD APPRECIATE HEARING FROM YOU. WE BELIEVE THIS WAS POSSIBLY GIVEN AS A TALK AT A CHRISTIAN WOMEN'S CLUB MEETING, FOR BERNICE SCHAEFER WAS VERY ACTIVE IN THE CLUB FOR MANY YEARS UNTIL A FEW YEARS AGO WHEN ILL HEALTH FORCED HER TO GIVE IT UP. BERNICE SCHAEFER HAS RECENTLY GONE HOME TO THE LORD JESUS CHRIST, BUT HER LIFE OF "BREATHED-PRAYER," "DEFINITE PRAYER,' "CHRISTLIKE PRAYER", HER TESTIMONY OF OUR COMPLETENESS IN CHRIST, AND HER GODLY EXAMPLE OF LOVING WIFE, MOTHER, AND CHURCHWOMAN HAS PRODUCED AN ENDURING LEGACY. SHE VERY MUCH ENJOYED AND SUPPORTED THE USE OF THE INTERNET, AS WELL, IN FAMILY WEBSITES THAT SHARE A GODLY HERITAGE OF FAITH IN THE LORD JESUS CHRIST, AND FOR THAT WE ARE VERY GRATEFUL.--The Emmaus Walk Editor/Founder, Ronald Ginther

Questions for Emmaus Walk Students:
T or F
1. We need to constantly remind the Lord about our latest sins when we pray.
2. Our prayers should consist of lists of our sins and needs and wants, and everything else, including Christ, takes second place.
3. Ephesians 1:6 speaks of being accepted in the Beloved, which means we shall be accepted after a thorough-going process of clean-up and sanctification is completely first.
4. In the Word Christ reveals to us what pleases him and what does not please him.
5. Fellowship with God, getting to know his glorious attributes, is a minor part of our inheritance in Christ that we can enjoy now on this earth.
6. We can fellowship with the Lord and get to know him better without much prayer--as it isn't the amount of praying we do, but the quality.
7. We have to keep repenting to be able to merit Christ's fullness; otherwise, we are blocking his blessings promised to us when we were sealed by the Holy Spirit.
8. Prayer is a work--and by prayer we can work out our salvation.
9. Acceptance by God is a gradual thing, earned by our performance as a Christian.
10. Being sealed by the Holy Spirit when we trust and believe in Jesus as Savior does not mean we are entitled to all the fullness of Christ, nor does it mean we have all the gifts of the Holy Spirit God wants for us to have--He isn't going to lavish these things on undeserving people who aren't fully committed yet.
---
For the answers, write to: Ronald D. Ginther, P.O. 212, Puyallup, WA 98371. It might be more cost effective to do a number of exercises, rather than one, before sending for the answers.