Evangelist Billy Graham and his wife, Ruth, received the Congressional Gold Medal--the highest honor which Congress can bestow on a civilian--at a special ceremony in the Rotunda of the U.S. Capitol May 2. The ceremony was attended by more than 700 congressional, diplomatic and religious leaders.
This was the 114th time Congress has presented this medal since it was first given to George Washington in 1776. Signed into law by President Clinton, the authorizing legislation recognized the Grahams for "outstanding and lasting contributions to morality, racial equality, family, philanthropy and religion." Graham is the second clergyman to receive this award for ministry, and the Grahams are the third couple to be so honored. Other recipients include Bob Hope and Walt Disney.
House Speaker Newt Gingrich, host for the event, called Graham "one of the great civic leaders [sic] of the 20th century." He said that the Grahams have "given up their lives as a model for serving humanity, and stand as role models for generations to come. By receiving this medal, you join about as exalted a group of citizens as we have in this country,a nd you frankly honor us by being here to receive it."
In his remarks, Senate Majority Leader Bob Dole said, "When the idea of awarding a Congressional Gold Medal to Dr. Graham was first raised, it received something rare in this building--unaminous approval. So, too, did the idea of honoring Ruth Graham--Billy's remarkable partner of 53 years and a distinguished communicator of God's power and peace in her own right."
Dole continued, "There has never been a time when Mr. Graham's voice and his message are more relevant. Billy, I can't ever remember disagreeing with you, but I know I speak for millions around the world in saying that no one will evewr preach it with a better partner at his side than Ruth."
Vice President Gore also noted the impact that the Grahams have had across the country and around the world. "You have touched the hearts of the American family," he said. "Over the last one-half century, few individuals have left such a lasting impact on our national life. Every American president since World War II has sought Billy Graham's counsel. Republican and Democrats alike have relied on his moral sense and used his wisdom as a compass to help guide the ship of state."
Gore continued, "This man who once dreamed of swinging a bat in baseball's major leragues has filled stadiums from New York to Nairobi, from Tulsa to Tokyo, preaching the Gospel and sounding the cry for human rights, enlightened race relations and the dignity of freedom."
Gore added, "In presenting the Gold Medal of Honor and recognizing you and Mrs. Graham, the United States of America makes a powerful statement A bout what is truly important in our national life. You have touched that part of the American spirit that knows Providence has a greater purpose for our nation."
Graham, 77, said that he and Ruth felt unworthy and that they were overwhelmed by the kind words and high honor. "As Ruth and I receive this award, we know that some day we will lay it at the feet of the ne we seek to serve," he said.
After receiving the a ward from House Speaker Gingrich and Senate President Pro Tempore Strom Thurmond, Graham began his response with a personal testimony of his faith in Christ and his conversion as a teenager. "That simple repentance and open commitment changed my life," he said. "If we have accomplished anything at all in life since then, it has only been because of the grace and mercy of God."
The evangelist then called the nation to renewal and repentance on the National Day of Prayer and delivered a strong evangelistic message. Thanking God for our heritage of freedom and abundant blessings, Graham noted that America has many good qualities, but asked if the first recipients of this award would recognize the society they sacrificed to establish. "I fear not," he said. "We have confused liberty with license--and we are paying the awful price. We are a society perched on the brink of self-destruction."
Speaking from Psalm 23, Graham pointed to three causes of our national woes: emptiness, guilt and the fear of death, which haunts our souls. "I believe the fundamental crisis of our time is a crisis of the spirit," he said. "We have lost sight of the moral and spiritual principles on which this nation was established--princiuples drawn largely from the Judeo-Christian tradition found in the Bible."
Graham said the country's hope is found in spiritual rebirth, and gave a three-fold challenge. "First we must repent; second, we must commit our lives to God, and to the moral and spiritual truths that have made this nation great; and third, we must translate that commitment into action--in our homes, neighborhoods and our society," he said.
Billy Graham being led through crowds gathered to greet him in Communist-ruled Romania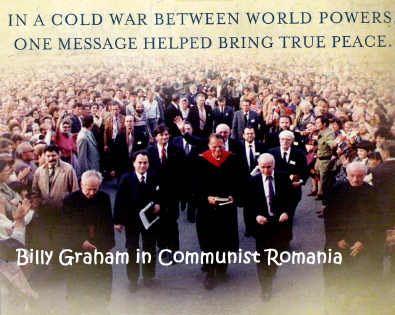 Note: Vice President Gore's remarks are most surprising, in that they were so good, whereas Newt Gingrich's remarks were insipid--Billy Graham a "civic leader"? Hardly! He was a history changer, a nation changer, as events proved out, when the Soviet Union collapsed and even the hardline Communist regime of Romania was overthrown not long after Billy Graham's crusade in that terribly oppressed nation. The world, if not America, will never be the same after Billy Graham--he was such a gigantic force for preaching of the Gospel and for the spread of the Kingdom of Christ on this dying, sin-sick earth.
As for Gore's remark about Billy Graham aspiring early in life to play in the big leagues of baseball, it is possible that could have been a notable career for him. He had the fire and oratorial ability to astound audiences, captivate them in fact, which was noted by Hollywood, but he would not go to Hollywood as an actor, and turned down a tremendous career there for the Gospel's sake. Krushchev, head of the Soviet Union, once spoke with grudging admiration for Graham, who had the power to speak like a "machine gun," he observed. Yes, he did have that power from God, and the Soviets feared him enough not to try to stop him from coming in and preaching within the confines of the Iron Curtain on a number of occasions. Did they fear any other man in the West as much as Billy Graham. It is hard to think of another.--Ed.
Format Only: (c) 2009, Butterfly Productions, All Rights Reserved

---